Switzerland is renowned for its breathtaking natural beauty, lush green landscapes, and majestic snow-capped mountains. With its stunning peaks and crystal clear lakes, this alpine country offers some of the most beautiful places in Europe.
From towering mountains to hidden valleys, Switzerland has something for everyone. Whether you're a nature lover or city dweller, there's no denying that this small yet captivating country is home to some truly incredible sights! So if you're looking to explore the great outdoors and experience all that Switzerland has to offer, here are just a few of the must-see destinations it boasts.
Lauterbrunnen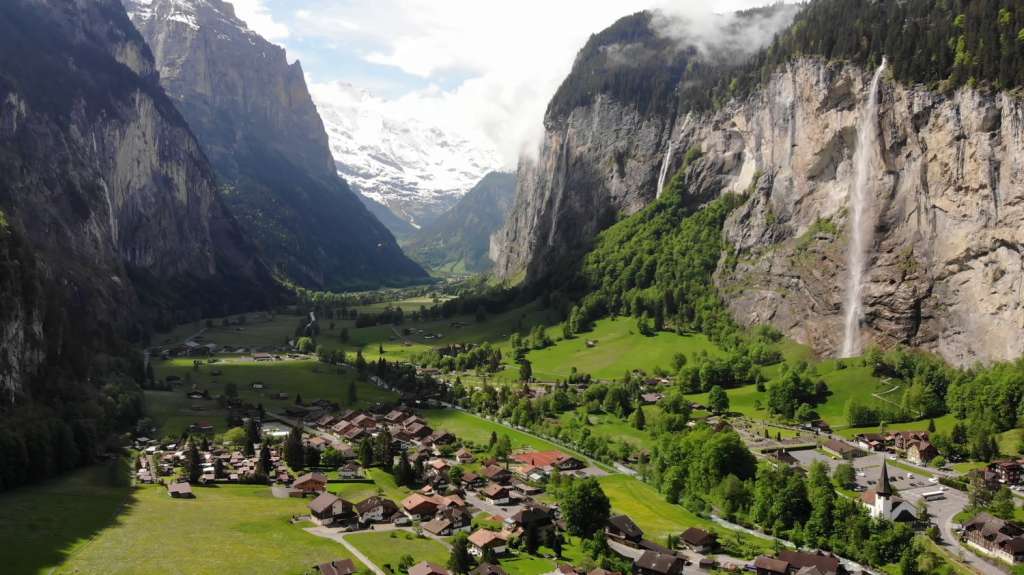 Lauterbrunnen is a beautiful village in Switzerland, tucked away between towering cliffs and lush meadows. It's an awe-inspiring sight that calls to mind words like sublime, ethereal and majestic.
The village is surrounded by 72 waterfalls – the most famous being the Staubbach waterfall – that cascade down from the surrounding cliffs. This stunning natural spectacle will take your breath away and make you feel as though you've been transported to another world.
Lauterbrunnen is also home to some of Switzerland's best ski resorts, with plenty of runs for all levels. In the summer, the ski lifts take on a new life as they transport hikers to breathtaking mountain peaks with panoramic views of the Alps and valleys below.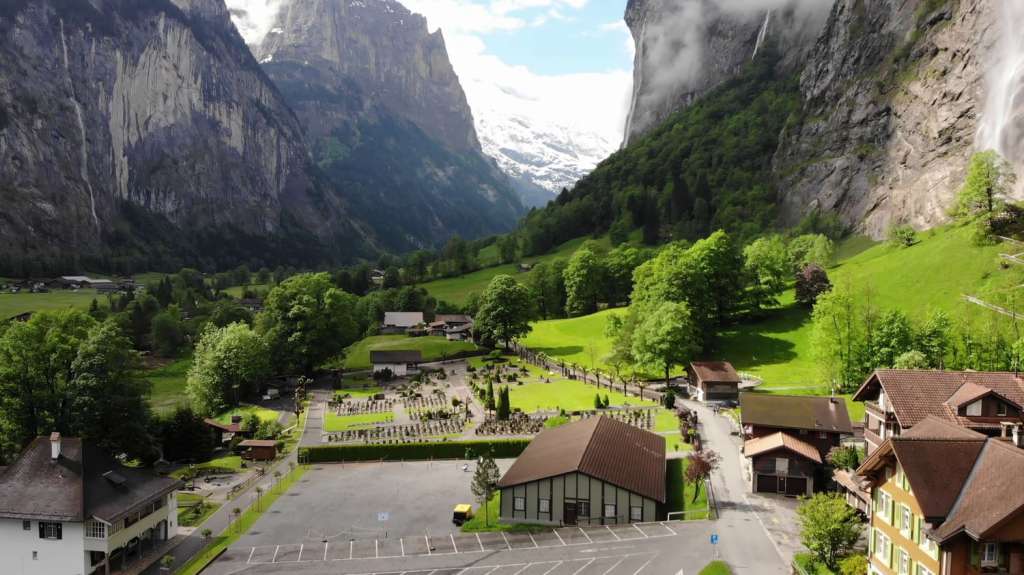 For those looking for a peaceful getaway, Lauterbrunnen is an ideal destination. With its breathtaking scenery, excellent skiing and hiking opportunities, it's sure to leave you feeling refreshed and recharged. Continuing along this path of beauty, Blausee is our next stop…
Blausee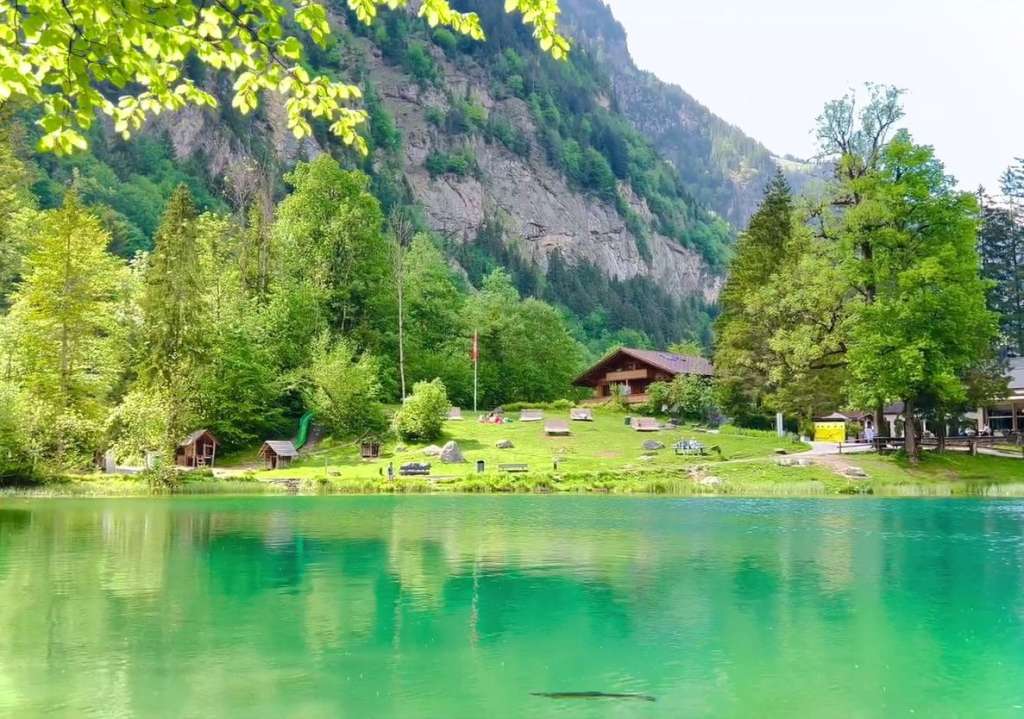 Blausee is a stunningly beautiful lake situated in the Bernese Oberland region of Switzerland. Its crystal-clear turquoise waters are surrounded by lush, green forests that are home to an array of wildlife. The lake is fed by a mountain stream, providing the perfect backdrop for a tranquil stroll along its shores. There's also a restaurant located onsite offering traditional Swiss dishes and drinks.
For those seeking adventure, there are plenty of activities to enjoy in Blausee. The lake offers great swimming opportunities and boat rentals for visitors looking to explore its depths. Fishing enthusiasts can take advantage of the lake's rich stock of trout and char, while nature lovers can go bird-watching or take a guided tour through the surrounding countryside.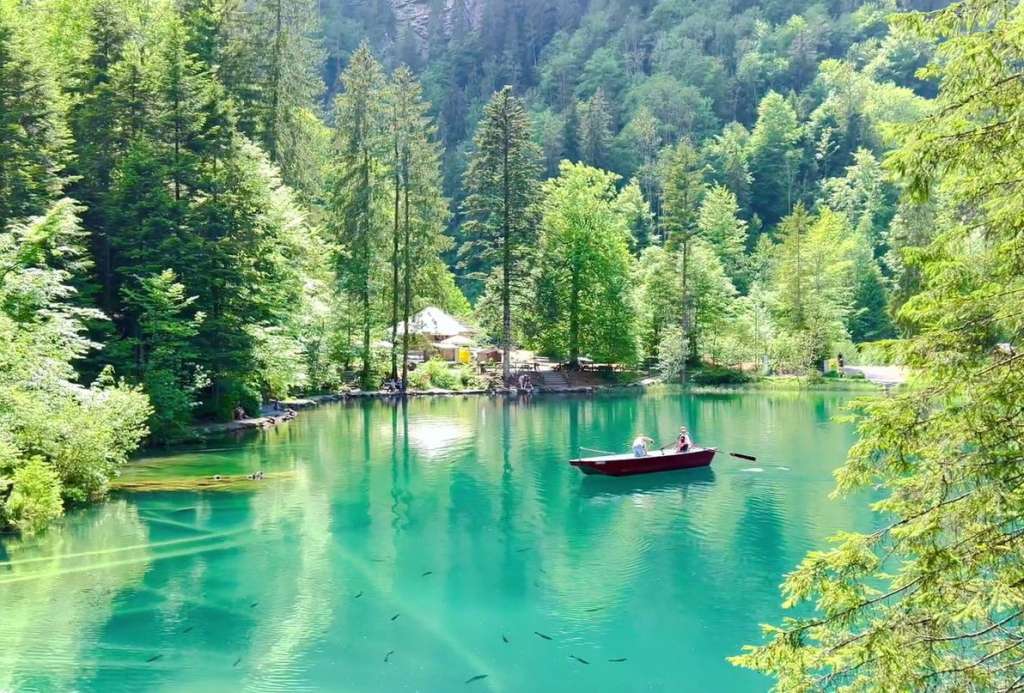 Accommodation options near Blausee include holiday homes, camping sites and hotels. Whether you're looking for a luxury stay or just want to soak up the beauty of this place, Blausee has something for everyone.
The combination of breathtaking scenery and plentiful leisure activities makes Blausee an ideal destination for both active adventurers and those seeking some rest and relaxation. From here, it's easy to explore other nearby attractions such as Gstaad and Interlaken before heading off to Unterbach for more picturesque views.
Unterbach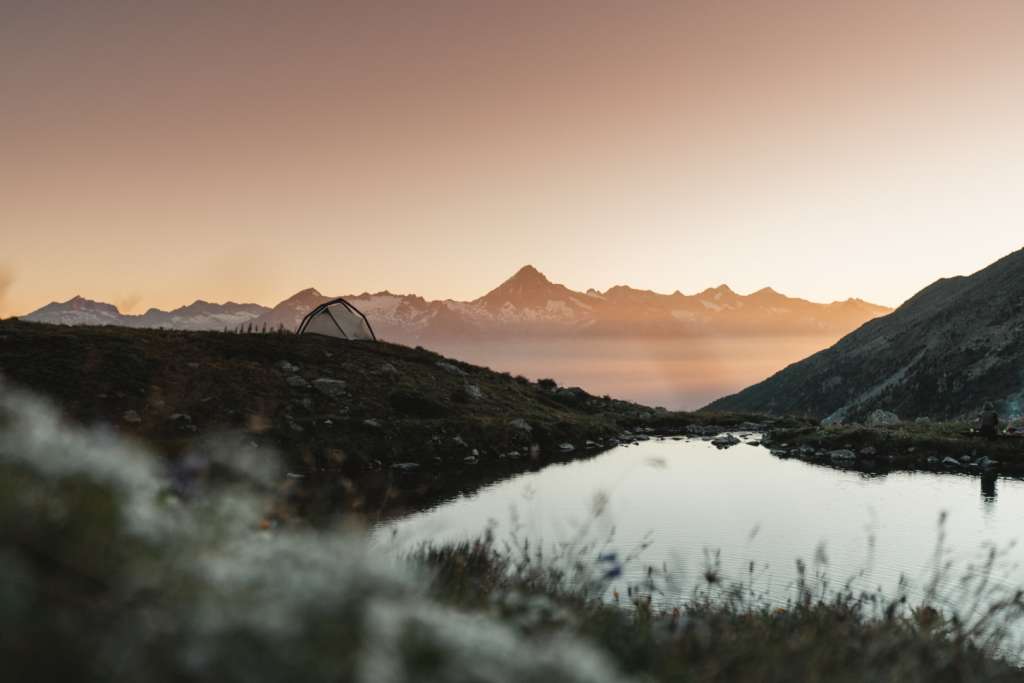 As the saying goes, "A journey of a thousand miles begins with a single step," the next beautiful place in Switzerland to explore is Unterbach. This picturesque valley is located at the foot of the Bernese Alps near Lake Brienz and offers breathtaking views of the surrounding mountains.
Unterbach's scenery, crisp air, and tranquil atmosphere make it an ideal spot for relaxation. Visitors can hike along well-marked trails, enjoy lunch or dinner at one of the local restaurants, and take part in various water sports activities in Lake Brienz. During winter months, snow lovers can ski or snowboard on nearby slopes.
This stunning area also boasts some spectacular landmarks such as the historic castle of Schloss Oberhofen and several churches dating back to medieval times. Nature lovers will appreciate Unterbach's diverse flora and fauna which includes wild deer, ibexes, marmots and foxes. In addition to its natural beauty, this region is home to numerous art galleries that display traditional Swiss crafts such as woodcarving and embroidery.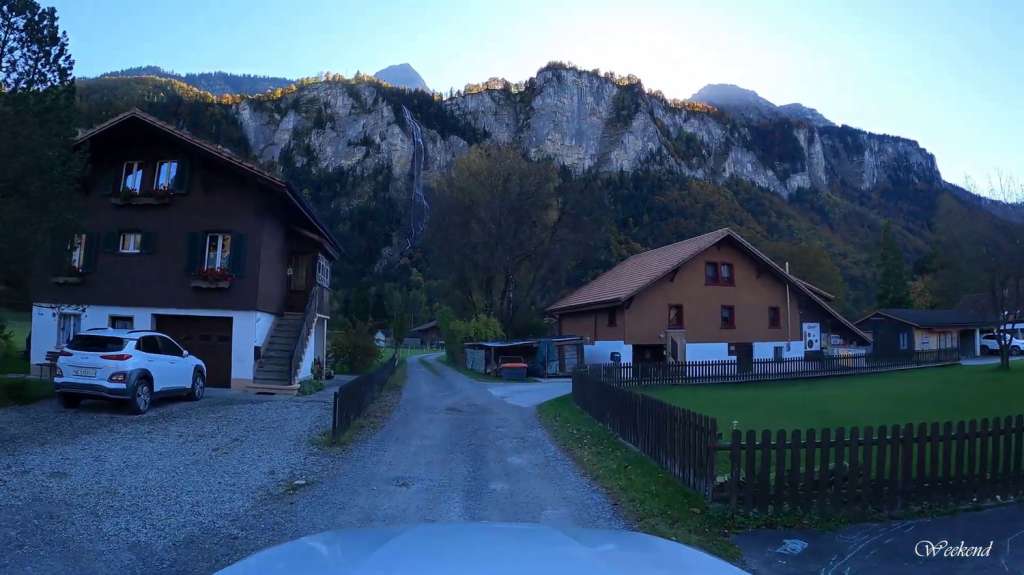 Whether you're looking for a peaceful retreat or an outdoor adventure, Unterbach has something for everyone. From its majestic mountains and crystal clear lake to its captivating culture and vibrant wildlife, this destination is sure to impress even the most discerning traveler. Next up is Lungern – a charming village nestled deep in the heart of Switzerland's alpine region!
Lungern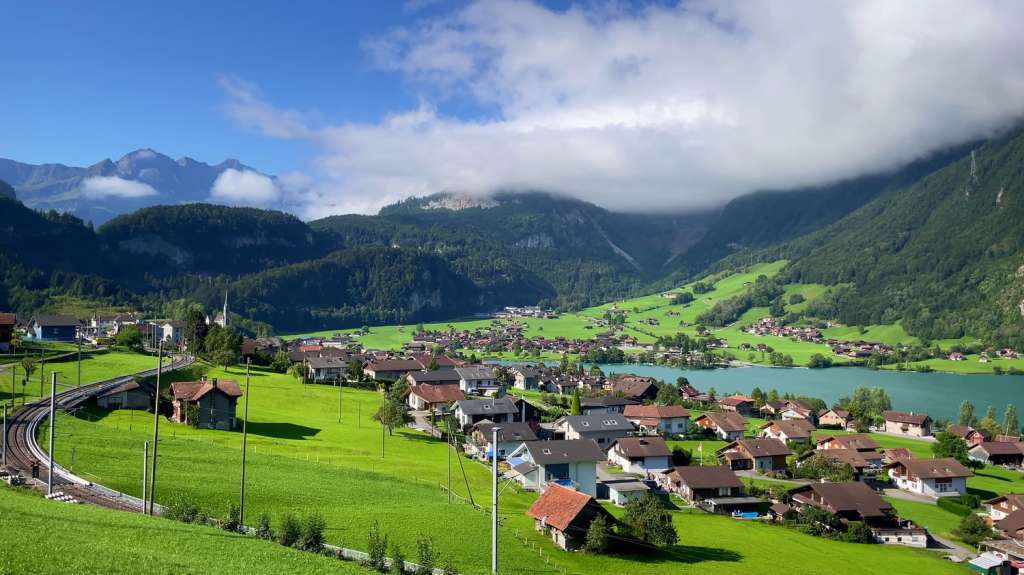 Lungern is a small village in the Swiss Alps, located within the canton of Obwalden. It's one of the most beautiful places in Switzerland and well worth a visit. The village is surrounded by stunning mountain peaks, lush green pastures and crystal clear lakes. The atmosphere here is peaceful and serene, with traditional alpine architecture and cobbled streets lined with colorful flower boxes. There are plenty of activities to do here; from leisurely walks along the lakefront to more adventurous hikes up into the mountains.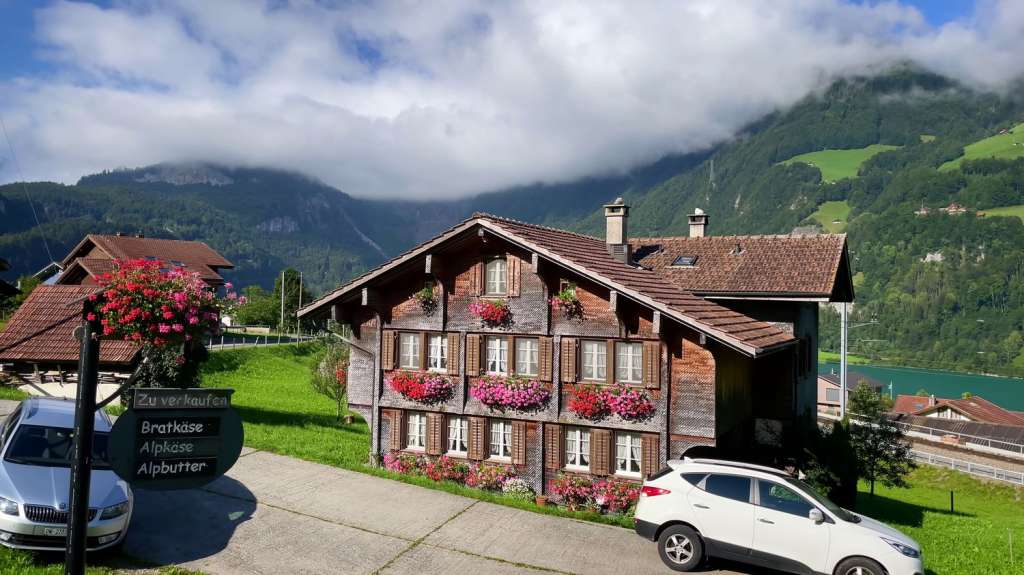 For those looking for something more relaxing, there are boat trips available on Lake Lungern or horse riding excursions through the lush valleys. Whatever you choose to do here, make sure you don't miss out on the breathtaking views that Lungern has to offer. With its quaint atmosphere and stunning scenery, it's easy to see why so many visitors flock to this spot year after year. From Lungern, take a step into Morcote – an idyllic town nestled on the shores of Lago di Lugano.
Morcote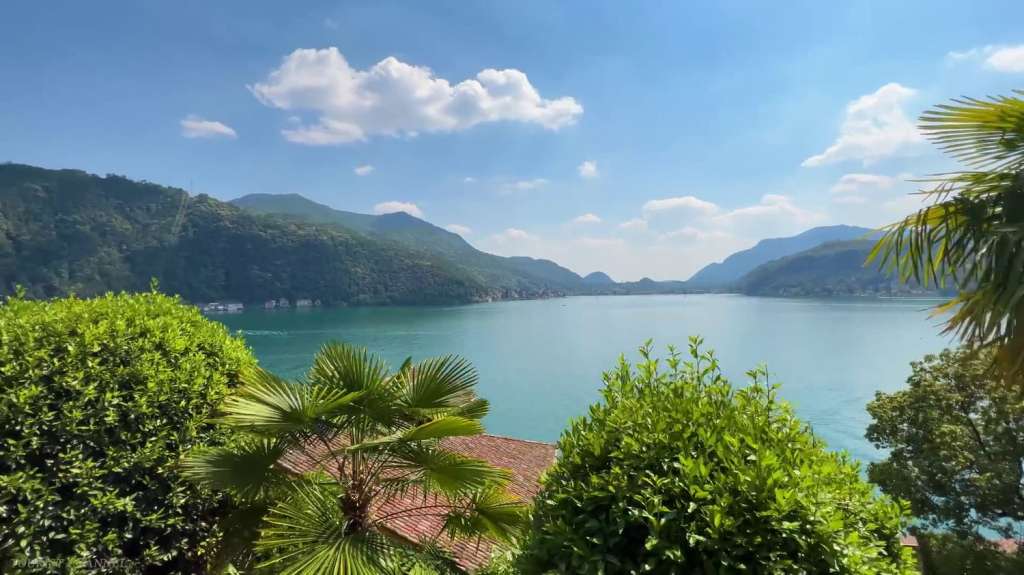 Nestled on the shores of Lake Lugano, Morcote is a charming little village that will transport you to a fairytale land. Its cobbled streets, pastel-colored houses, and picturesque waterfront make it a sight to behold. And if you're a fan of Italian architecture, you'll be delighted to know that Morcote has plenty of it, thanks to its proximity to the Italian border.
But that's not all. Morcote is also home to the most beautiful church in Switzerland, the Santa Maria del Sasso. This 15th-century church is perched on a hill overlooking the village and the lake, offering breathtaking views. The church's interior is just as stunning as its exterior, with intricate frescoes and a magnificent altar.
But let's talk about the real star of the show: Lake Lugano. This glacial lake is one of the most beautiful lakes in Europe, and Morcote is the perfect place to enjoy it. Take a stroll along the lakefront promenade, rent a boat and explore the lake, or simply sit by the water and enjoy the view. If you're feeling adventurous, you can even take a dip in the crystal-clear waters.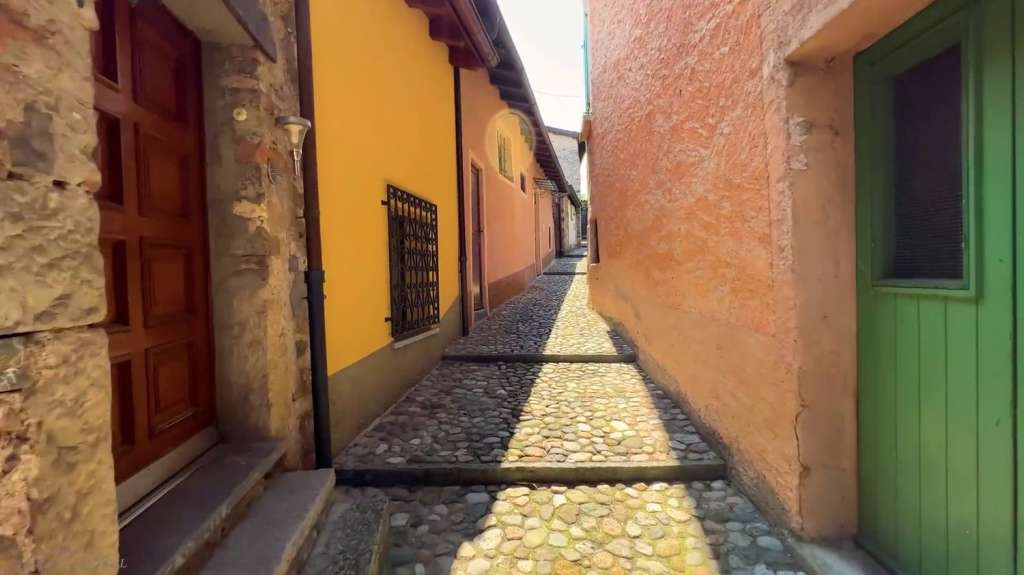 And if you're a foodie, Morcote won't disappoint. This charming village is home to several excellent restaurants, serving up delicious Italian and Swiss cuisine. You can indulge in some of Switzerland's finest cheese and chocolate, or try some of the fresh seafood from the lake.
But the best thing about Morcote? Its people. The locals are friendly, welcoming, and proud of their village. They'll happily tell you about the history and culture of Morcote, and recommend the best places to visit.
Grindelwald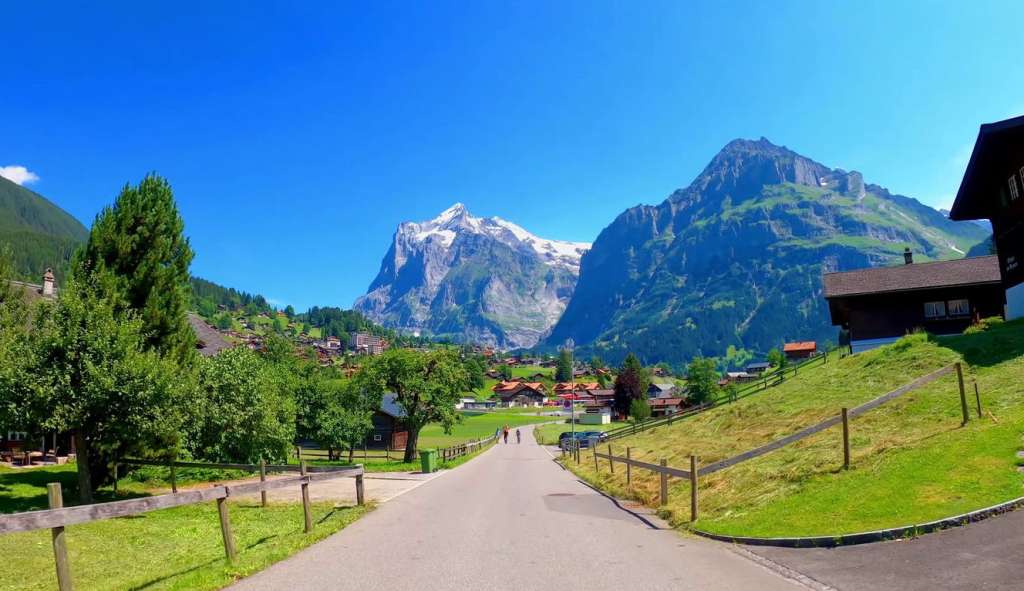 Grindelwald is a picturesque village located in the Bernese Oberland region of Switzerland. As the saying goes, Grindelwald is 'where nature meets culture'. This stunning Swiss village is nestled between majestic snow-capped peaks and offers visitors breathtaking views of the Eiger, Mönch and Jungfrau mountain range.
The village itself is a unique blend of modern and traditional architecture. Colorful chalets, old churches and quaint shops make up the charming streetscape. The cobbled main street is lined with cafes, restaurants and stores selling local goods such as cheese, chocolate and souvenirs. Visitors can also take cable cars or gondolas to explore the surrounding mountains for spectacular views and hiking trails.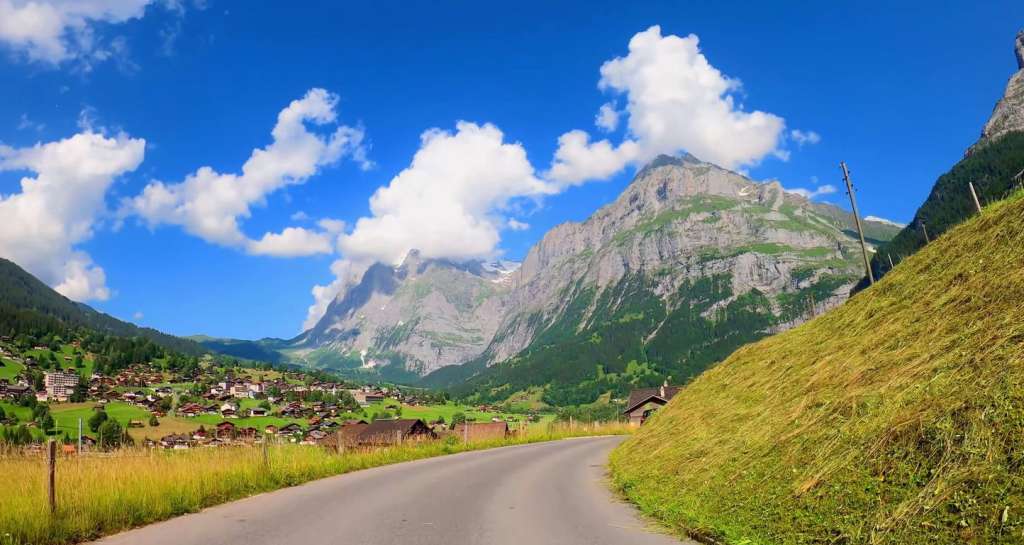 In addition to its natural beauty, Grindelwald offers a variety of activities for all ages. In summer months, guests can enjoy biking, rock climbing, paragliding or even glacier trekking at the nearby Kleine Scheidegg ski area. For those looking for something tamer, there are plenty of relaxing activities such as golfing or horseback riding through meadows of wildflowers.
Klöntalersee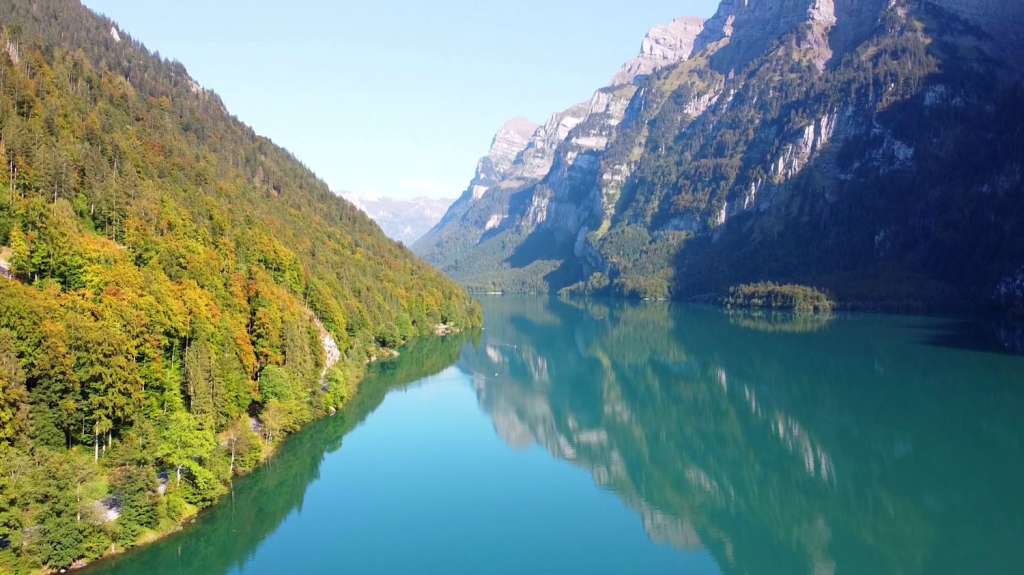 Klöntalersee is a stunning lake nestled in the Swiss Alps. Its glacial waters are so clear that you can see right down to the bottom. It's surrounded by lush meadows and towering mountains, providing a perfect backdrop for outdoor activities like hiking or biking.
The lake itself is 2 km long and 1 km wide, making it ideal for swimming and boating. There's a small beach on the eastern shore, with a cafe nearby serving up delicious snacks and drinks. The views from here are incredible – you'll be able to spot mountain peaks, wildlife, and even waterfalls!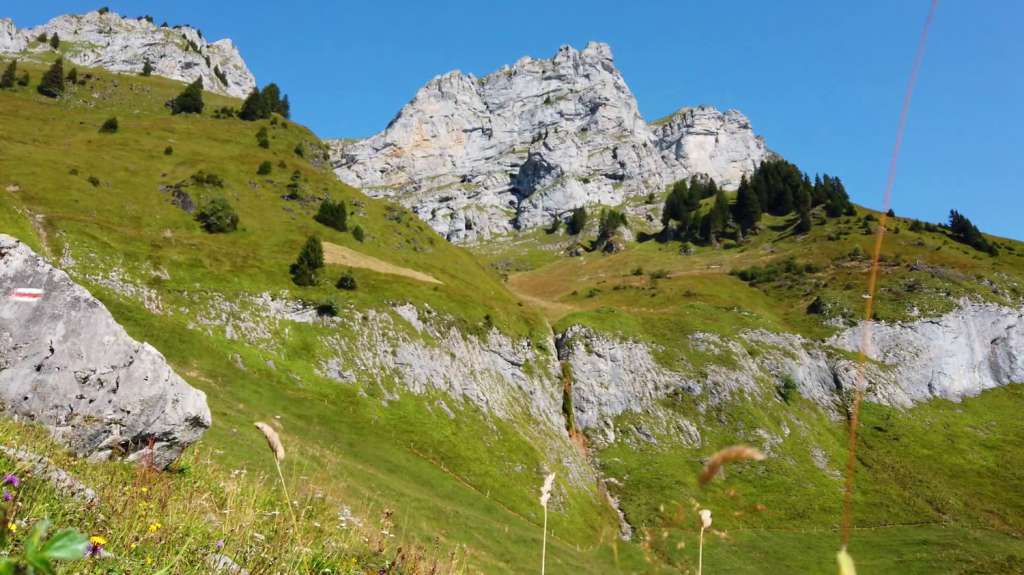 If you're looking for an adrenaline rush, try kayaking or stand-up paddleboarding on Klöntalersee. You'll find plenty of companies offering guided tours of the lake as well as lessons for beginners. It's also one of the best places in Switzerland to go fishing – with trout, char, and perch all present in its waters.
Klöntalersee is a must-visit destination during your time in Switzerland. With its stunning scenery and endless activities to choose from, it's sure to be an unforgettable experience! Next up we explore Adelboden – another Alpine paradise just waiting to be discovered…
Adelboden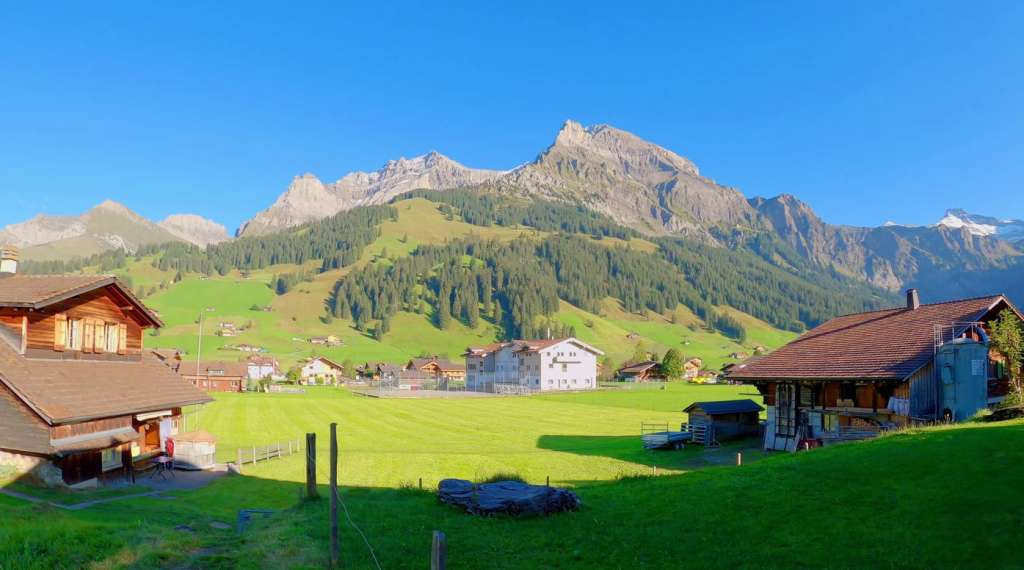 Adelboden is a stunning mountain resort town located in the Bernese Oberland region of Switzerland. With over 18,000 visitors annually, Adelboden is one of the most popular holiday destinations in the country. The picturesque alpine village, with traditional chalets and rustic wooden buildings, offers an idyllic retreat from everyday life.
The landscape surrounding Adelboden is one of pristine natural beauty. From wildflower meadows to soaring peaks, there are many different ways to explore this stunning area. Visitors can take advantage of activities such as skiing, snowboarding, paragliding, hiking and biking – all with unbeatable views of the surrounding mountains.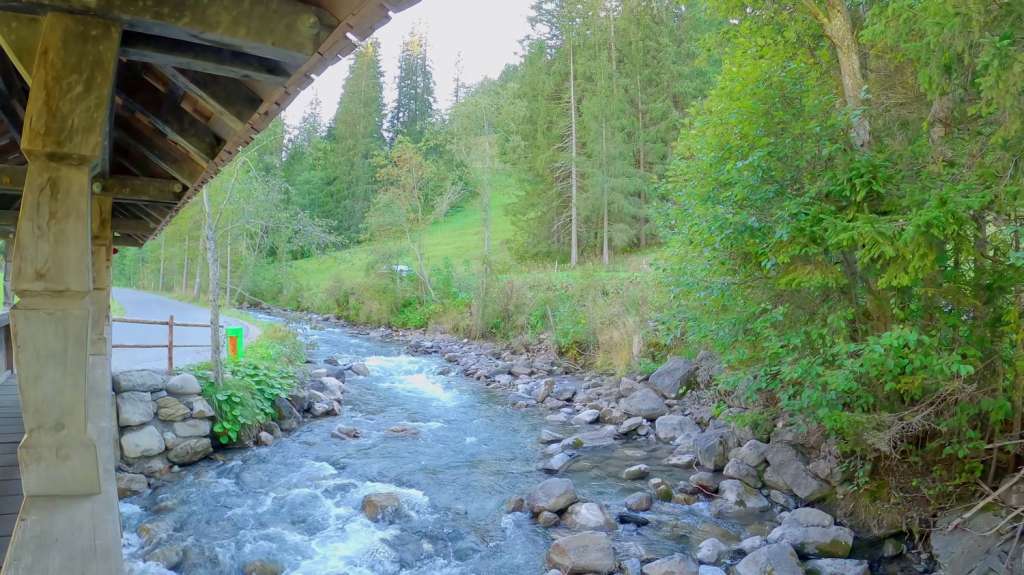 Adelboden's reputation for outdoor activities has led to it being named a top international ski resort by various publications. It has hosted several major competitions including the FIS Alpine World Ski Championships in 2003 and 2017 – making it a must-visit destination for winter sports enthusiasts.
Rosenlaui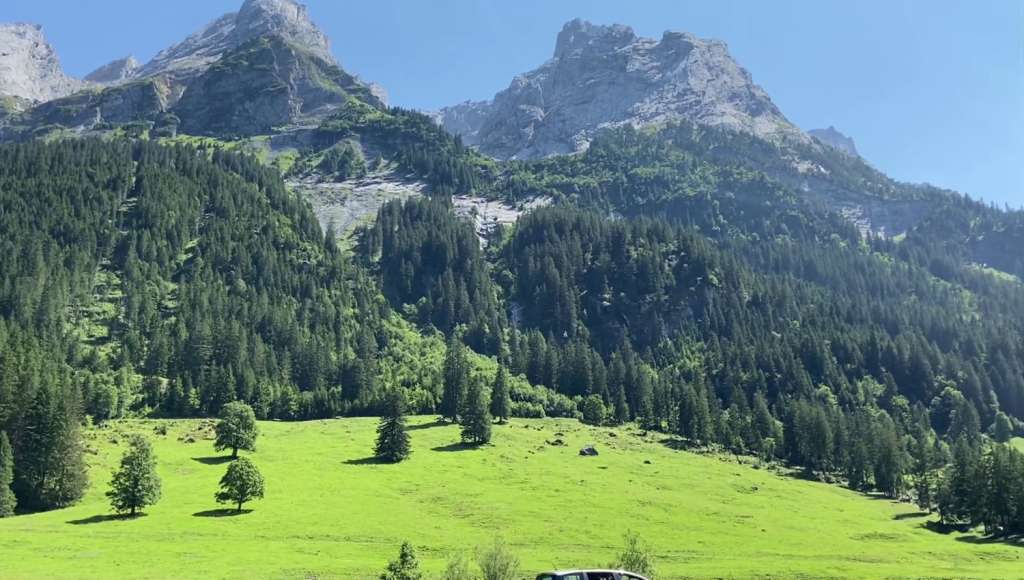 Rosenlaui is a breathtaking landscape located in the Bernese Oberland region of Switzerland. With lush alpine meadows, a picturesque glacial lake, and quaint hamlets, it's easy to see why this area has been attracting tourists for centuries.
The iconic Rosenlaui Gorge is one of the main attractions here. The gorge is filled with fascinating rock formations, cascading waterfalls and stunning views of the surrounding mountains. Visitors can take guided tours along the trails or opt for a more adventurous hike through the gorge itself.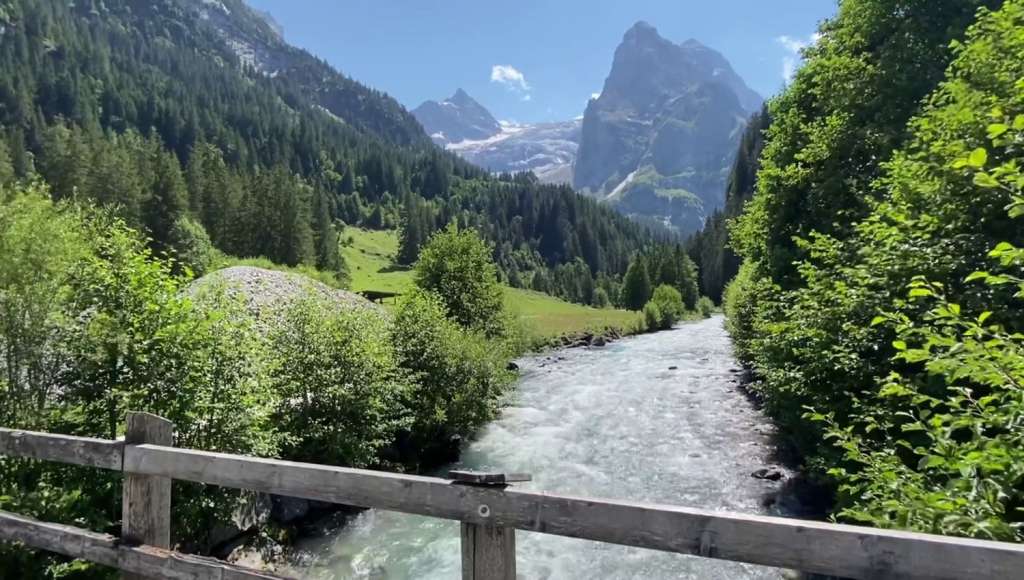 In addition to its natural beauty, Rosenlaui also has plenty of cultural offerings. From traditional festivals to folk music concerts, there's something for everyone here. A visit to this Swiss paradise should not be underestimated! Unterschächen awaits just around the corner with its lively nightlife scene and historic sights.
Unterschächen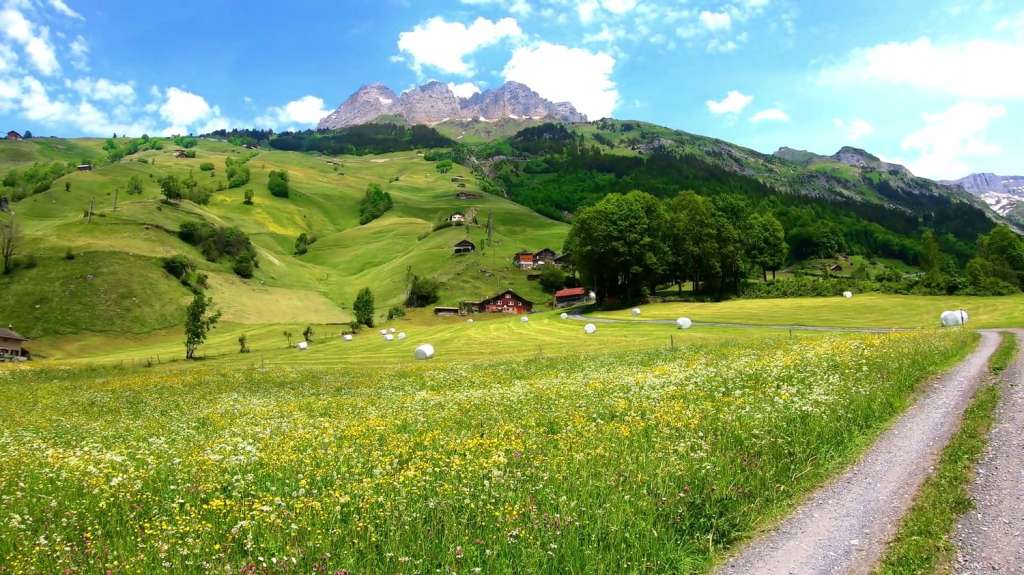 Nestled in the meandering alpine valleys of Switzerland, Unterschächen is an ethereal landscape of beauty. It is home to vast swathes of lush green meadows and majestic mountain peaks, with shimmering rivers winding their way through the terrain. The air is crisp and clean, with a hint of pine and wildflowers, creating an atmosphere that's both tranquil and invigorating.
Unterschächen has long been a popular destination for outdoor enthusiasts due to its diverse range of activities. From hiking to skiing, there's something for everyone here. The trails are well-marked and easy to follow so you can explore at your own pace. Alternatively, you can take advantage of the numerous guided walks and tours that are available in the area.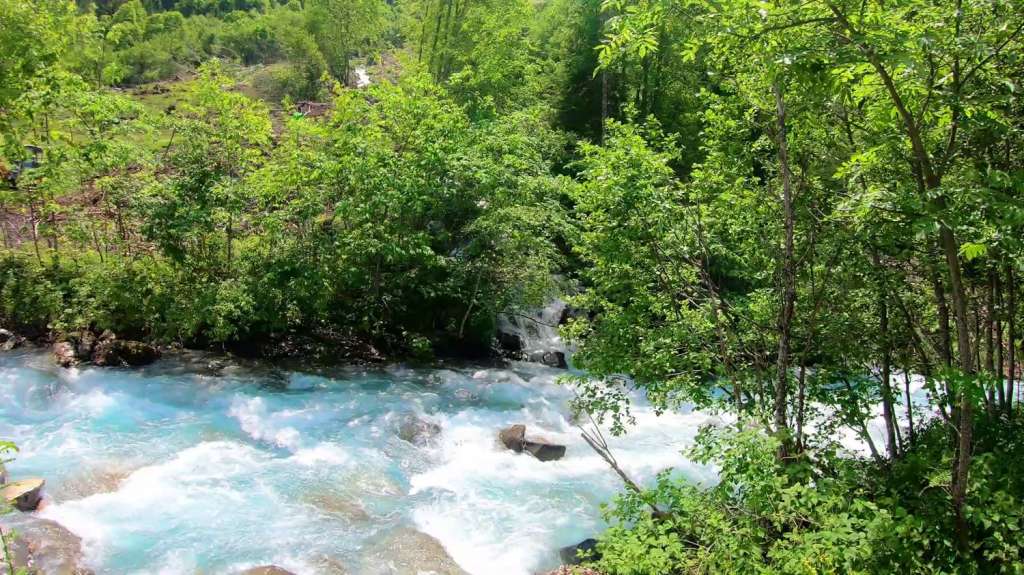 The local culture is also something worth experiencing while in Unterschächen. With its traditional Swiss architecture and charming villages, this picturesque town provides a unique insight into life in the Swiss Alps. There are plenty of cafes, restaurants and bars located throughout the village that serve up delicious regional cuisine – perfect for refueling after a day spent exploring the great outdoors!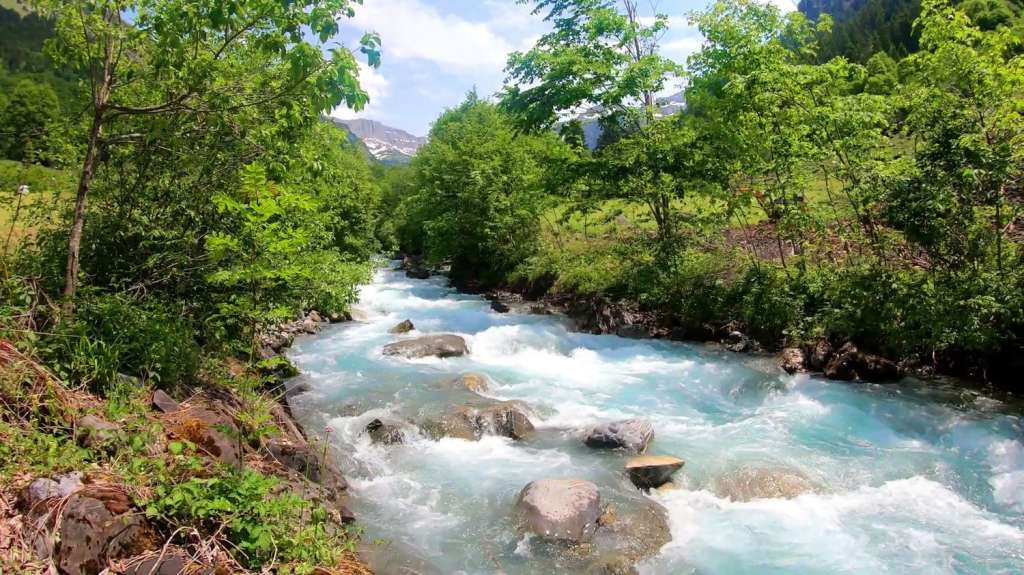 Unterschächen is an enchanting destination that offers visitors a chance to reconnect with nature while enjoying all that Switzerland has to offer. Next up on our tour is Albulapass – another stunning location on this magical journey through Switzerland!
Albula Pass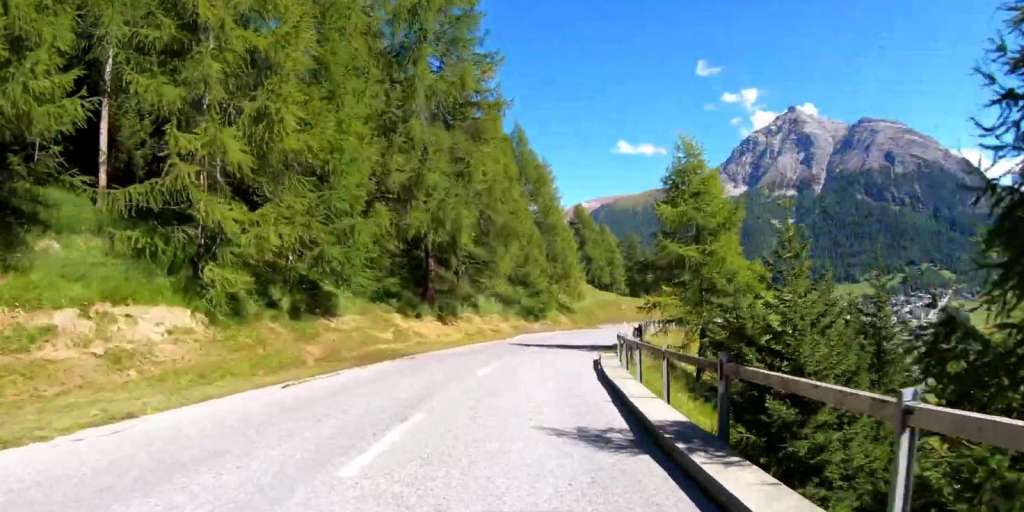 The Albula Pass is a stunning route that takes you through the eastern Swiss Alps. It's known for its rugged beauty and spectacular views. There's plenty of downhill riding, with some sections reaching up to an elevation of 2,300 metres. The pass is one of the most popular routes in Switzerland for both cyclists and motorcyclists alike.
Once you reach the summit, you can take in the breath-taking panorama of snow-capped peaks, pristine meadows and glacial lakes below. There are plenty of places to stop along the way to enjoy a picnic or take a few photos. If you're lucky, you may even spot some chamois or ibex grazing on the grassy slopes above.
The descent from Albulapass is thrilling and exhilarating, winding through lush forests and open alpine meadows with some lovely curves along the way. The road surface is generally good so it's important to take your time as there are often unexpected blind corners and steep drops just around them.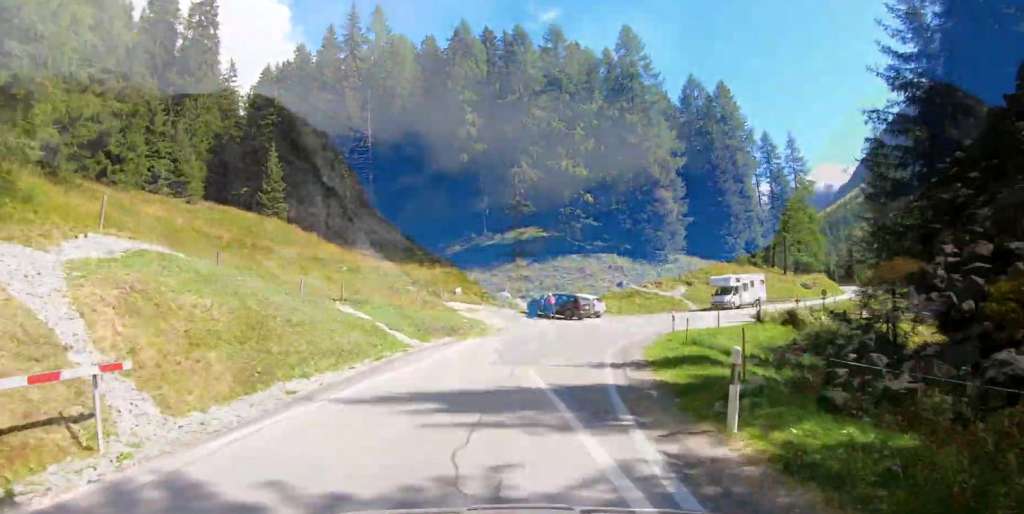 The Albulapass experience is truly unforgettable – from its majestic views to its adrenaline-pumping descents – it's sure to leave an impression on anyone who visits. To top it off, it's easy to reach from major cities such as Zurich or Chur by car or train making it an ideal day trip destination for those seeking adventure in Switzerland. From here, we move on to Appenzell – another beautiful area in Switzerland that shouldn't be missed!
Appenzell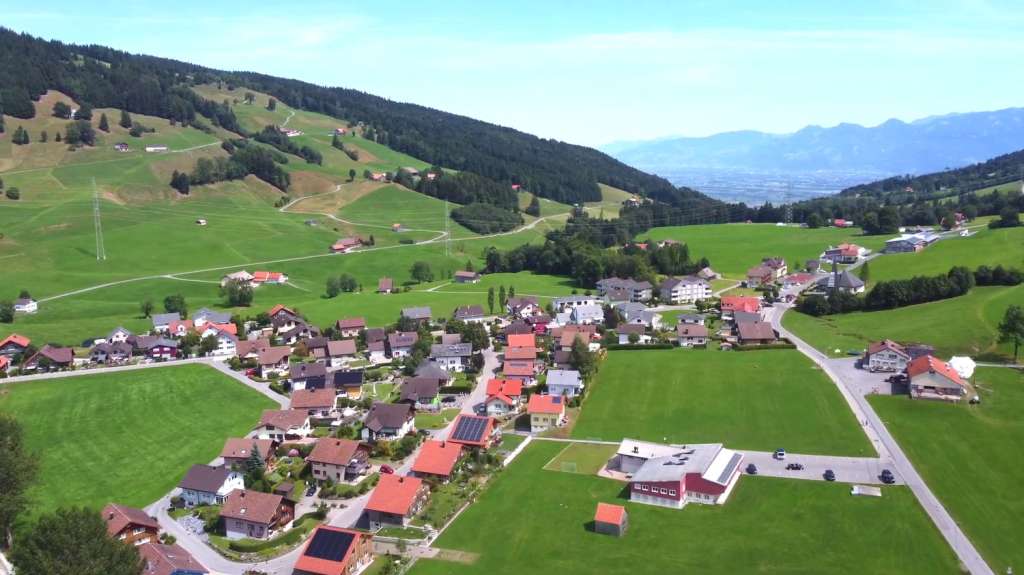 One of the first things you'll notice about Appenzell is the stunningly colorful houses. Bright greens, pinks, blues, and yellows dot the streets, creating a rainbow-like effect that's impossible to miss. And the best part? Each house is adorned with intricate murals, depicting everything from pastoral scenes to religious motifs. As a writer, I can tell you that there's nothing quite like strolling through these streets and feeling like you've stepped into a storybook.
But Appenzell isn't just about pretty buildings. This village is also famous for its cheese, and let me tell you, it's worth the trip just for a taste. Appenzeller cheese is made using traditional methods, and its distinct flavor comes from the mix of herbs and spices used during the aging process. If you're a cheese lover like me, you'll definitely want to try some of the local specialties, such as the Appenzeller Extra, which has been aged for at least six months and has a rich, nutty taste.
Of course, no trip to Appenzell would be complete without experiencing the local culture. This village is steeped in tradition, and you'll find plenty of opportunities to witness it firsthand. From folk dances to yodeling, there's always something going on in Appenzell. And if you're lucky enough to be there during one of the village's many festivals, you're in for a real treat. The Appenzell Silvesterklaus, for example, is a New Year's Eve celebration that involves locals dressing up in elaborate costumes and parading through the streets with cowbells, creating an unforgettable atmosphere.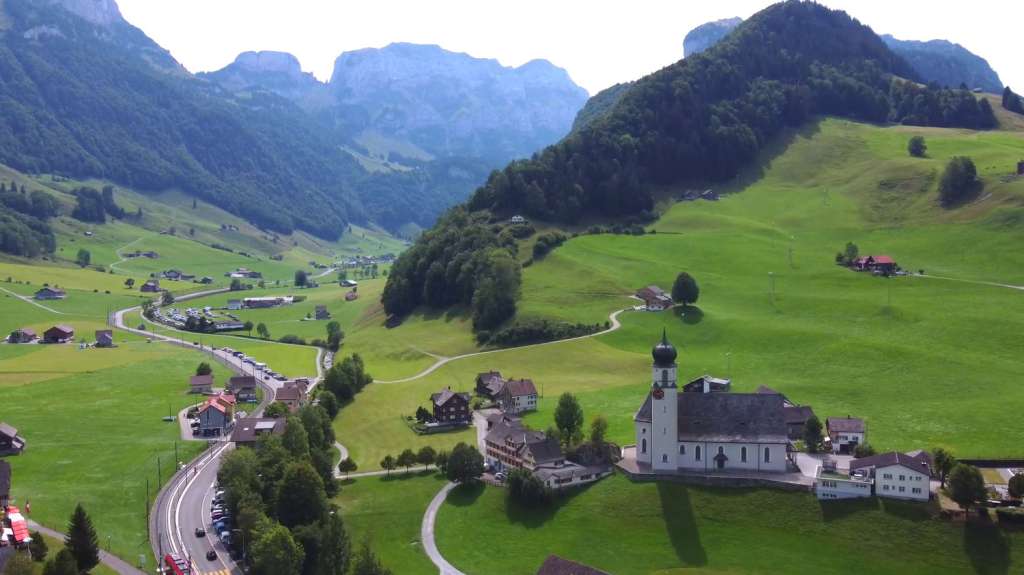 But perhaps my favorite thing about Appenzell is the sense of peace and tranquility that permeates every corner of the village. Whether you're wandering through the quiet streets, taking a leisurely hike through the surrounding mountains, or simply sitting outside and enjoying the view, there's a sense of calm that's hard to find anywhere else. As a writer, I often find myself drawn to places that offer this kind of respite from the hustle and bustle of everyday life, and Appenzell definitely fits the bill.
What Is The Best Time Of Year To Visit Switzerland?
Switzerland is a dream destination for many, with its iconic alpine peaks, glistening lakes and quaint villages. When it comes to picking the perfect time of year to visit this incredible country, there are many factors to consider.
From the peak of summer through to the depths of winter, Switzerland offers something special for each season. If you're looking for an idyllic summer escape, then June-September should be top of your list. From warmer temperatures and extended daylight hours, to vibrant green meadows and picturesque mountain views – all make for an unforgettable experience.
If you'd prefer a more wintery getaway then November-February is when you'll find snow-capped mountains and crisp winter air. Enjoying activities such as skiing or snowshoeing during this season can be a breath-taking adventure. The festive atmosphere also adds to the charm of this magical period.
No matter what time of year you decide to come, Switzerland will never fail to provide an unforgettable experience full of beauty and wonder. Whether it's taking in mountain views from the lookout points or strolling around traditional Swiss villages, there really is something here for everyone. So why not start planning your trip today?
How Much Does Accommodation In Switzerland Typically Cost?
Accommodation in Switzerland can be quite expensive, so it is important to research your options before heading to the country. Depending on where you are staying and when you visit, there are a few things to consider:
Location:
Urban areas such as Geneva, Zurich and Basel tend to cost more than smaller towns or rural areas.
Prices also vary depending on how close you are to popular attractions or ski resorts.
Seasonality:
Prices often rise during peak seasons such as December to March for skiing and June for hiking.
Accommodation costs will be much lower if travelling outside of these periods.
Travelers should expect prices between $50-200 per night for budget accommodations such as hostels or Airbnb's, while luxury hotels could cost anywhere from $200-400 per night. For those looking for something in between, there are plenty of mid-range hotels that offer decent quality at an affordable price point.
Swiss cities have a variety of accommodation options ranging from camping grounds to five-star resorts, so it is best to take into account your personal preferences and budget when deciding where to stay. Many hotels offer package deals that include discounted rates and freebies like lift passes or spa treatments which can save travelers time and money in the long run. With careful planning, travelers can find great deals on accommodation in Switzerland no matter what their budget may be!
Are There Any Special Activities To Enjoy In Switzerland?
If you're an outdoor enthusiast, then Switzerland is the place for you. From hiking in the Swiss Alps to mountain biking, there are plenty of ways to explore the great outdoors. For those who love water sports, you can kayak or canoe down the many rivers that snake their way through Switzerland's breathtaking landscapes.
For something a little different, why not try paragliding or hang-gliding? Witness Switzerland's majestic beauty from high above as you soar above its snow-capped peaks, dense forests and pristine lakes. Or take a hot air balloon ride and get an unforgettable bird's eye view of the country.
Switzerland also has plenty of cultural activities on offer; take a leisurely stroll through one of its medieval towns and soak up the atmosphere or visit one of its many museums and galleries to learn more about Swiss history and culture. You can even sample some traditional Swiss cheese at one of its many cheese factories! No matter what type of activity you choose, there are plenty of ways to make your stay in Switzerland memorable.
Are There Any Safety Concerns In Traveling To Switzerland?
Traveling to Switzerland is an exciting and rewarding experience, but it's important to take into account any safety concerns. Whether you're visiting for a few days or longer, here are four tips to keep in mind during your trip:
Be aware of pickpockets – Touristy areas are prime targets for pickpockets, so always be aware of your surroundings. Keep your bag close and don't carry too much cash with you.
Don't leave valuables in plain sight– Leaving items such as cameras and laptops in cars or hotel rooms can make them vulnerable, so make sure they're stored out of sight.
Understand local laws – Swiss laws are quite strict compared to other countries and visitors can be fined if they violate them, so brush up on the regulations before you go.
Know where the emergency services are located – In case of an emergency, make sure you know where the nearest hospitals, police stations, and fire stations are located.
It's also helpful to familiarize yourself with local customs before traveling to Switzerland; for example, some restaurants will require diners to take their shoes off when entering and leaving the premises. And while Switzerland is generally a safe place to visit, it's always best practice to stay alert at all times and trust your instincts if something doesn't feel right.
So whether you're exploring the cities or hiking in the Alps, keep these tips in mind for a safe and enjoyable visit!
Is It Easy To Find Vegan/Vegetarian Food Options In Switzerland?
Sitting atop the list of stunningly beautiful places in the world is Switzerland. But for many, the thought of traveling to this gorgeous country brings up questions about safety and food options. For vegetarian and vegan travelers, it can be difficult to find suitable meals when on the road. Thankfully, though, Switzerland offers delicious and plentiful vegan and vegetarian dining options that make it easy for travelers to enjoy their time there.
Navigating the roads of Switzerland can be like taking a journey through a fairytale. The lush green hillsides are dotted with quaint villages and breathtaking mountain views that will take your breath away. With all of these enchanting sights, it's no wonder people flock to this magical land each year.
But while you're in search of the perfect sunset vista or cozy chalet to call home, what kind of food will you find? Here's where vegan and vegetarian travelers rejoice: Switzerland has an abundance of fresh produce, an array of plant-based dishes available at restaurants across the country, and plenty of healthful options that even meat-eaters will love! From cheese fondue made with non-dairy substitutes to array of vegan pastries, everyone can find something tasty in Switzerland.
Switzerland has a long-standing reputation for being both incredibly safe and incredibly delicious; so don't let concerns about finding vegan/vegetarian meals keep you from enjoying all that this incredible country has to offer! With its stunning scenery and culinary delights around every corner, Switzerland is sure to become your favorite destination yet!
It's easy to see why Switzerland is such a popular destination. With its spectacular views, unique activities and incredible hospitality, it's no wonder that so many people travel here each year.
If you're looking to make the most of your Swiss holiday, visit during the summer months when the weather is at its best. You'll also find that accommodation in Switzerland is surprisingly affordable, with something to suit everyone's budget. And of course, there are plenty of special activities to enjoy such as skiing, snowboarding and hiking – ideal for those who want to get out and explore!
Finally, despite the many wonderful things about Switzerland, it's important to remember that safety should always come first. Thankfully there are plenty of vegan/vegetarian options available for those with dietary requirements, making it easy to eat well while you're away from home. All in all, Switzerland promises an unforgettable experience – a paradise on Earth just waiting for you to explore! With its awe-inspiring landscapes and warm-hearted locals, Switzerland is an adventure like no other – one that will leave you with memories that will last a lifetime.