Are you dreaming of a night under the stars, away from all the hustle and bustle of modern life? If so, glamping may be just what you need. Imagine yourself in an intimate setting, surrounded by nature with no one else around to hear your thoughts or join in on your conversations. With this guide to the world's most remote glamping sites, that dream could become reality!
Glamping is the perfect opportunity for adventurers who want to explore without sacrificing comfort — think luxury camping tents, cozy beds, and delicious meals prepared over an open fire. It's also great for those looking for some privacy; many spots are tucked away in wild places where there won't be any crowds getting between you and nature. Whether you're seeking secluded beaches or lush forests, we'll show you how to get away from it all while still experiencing creature comforts.
So read on if you're ready to make your dreams come true! These incredible destinations will have your soul singing — not only because they offer stunning views but also because they give us a chance to reconnect with ourselves and our surroundings. Get ready for an unforgettable experience as we take a deep dive into the best remote glamping sites around the world!
Table of Contents
What Is Glamping?
So, what is glamping exactly? Put simply, it's glamorous camping – taking traditional camping up a notch by adding some extra amenities for comfort. Think rustic cabins, yurts, safari tents, airstreams…the list goes on! You can even find fully equipped luxury treehouses in remote locations around the world. With glamping, you get to experience nature without having to compromise on creature comforts such as soft beds and hot showers.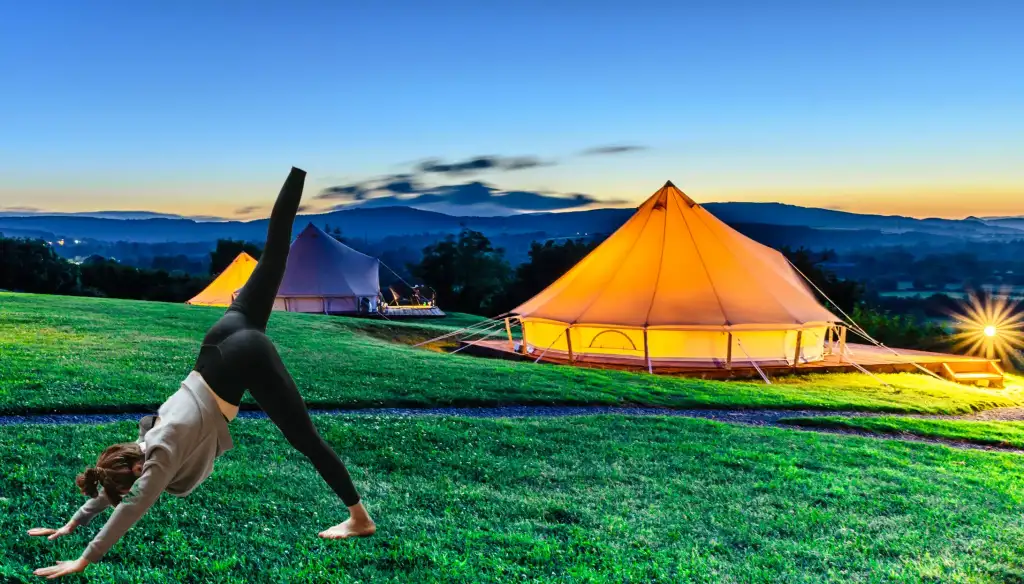 No matter where you choose to go or how much money you want to spend, there are options out there that will fit into any budget while still providing an unforgettable experience. From cozy camper vans tucked away in lush forests to plush beachfront villas overlooking rolling hills – whatever type of outdoor adventure you're looking for, glamping has something for everyone. Let this guide be your ticket to discovering new places and creating memories that will last a lifetime!
Planning Your Trip
Planning your glamping trip doesn't have to be complicated. In fact, it can be quite simple and enjoyable! Start by researching the destination you'd like to visit – look for reviews from other travelers and find out what amenities are available in the area. Once you've chosen a spot, make sure you book your stay ahead of time so that all details are sorted before arrival.
Next, get organized: pack everything necessary for an unforgettable experience under the stars. Think about what type of clothing will keep you comfortable during the day and night, as well as any accessories or extras (like binoculars) that will enhance your journey. Be prepared to bring food supplies with you if there won't be access to restaurants nearby. Don't forget toiletries either – many remote campsites don't provide them onsite.
Finally, take some time to familiarize yourself with local customs surrounding camping in general and any additional regulations specific to the site where you'll be staying. This way, you're aware of any rules beforehand and ready to enjoy a safe and secure adventure! Now that we know how to plan our perfect glamping trip, let's talk about essential gear…
Top Remote Glamping Sites Around The World
Now will take you on a journey to discover exotic locations perfect for glamping. Whether it's soaking up views from the Swiss Alps or exploring wildlife along Australia's coastlines, each destination offers something special. You'll learn about what makes them so appealing as well as how best to prepare for your trip. Plus, we'll provide useful tips on how to make sure you have an incredible time while being conscious of environmental impact.
1. Sahara Desert, Morocco: Erg Chigaga Luxury Desert Camp
The Sahara Desert is a vision of beauty and mystery, like an ocean of sand sprawling across the horizon. Erg Chigaga Luxury Desert Camp in Morocco allows travelers to experience this majestic landscape up close. The camp offers luxury tents with private bathrooms and comfortable beds for visitors seeking to relax after exploring the desert by camel or 4×4.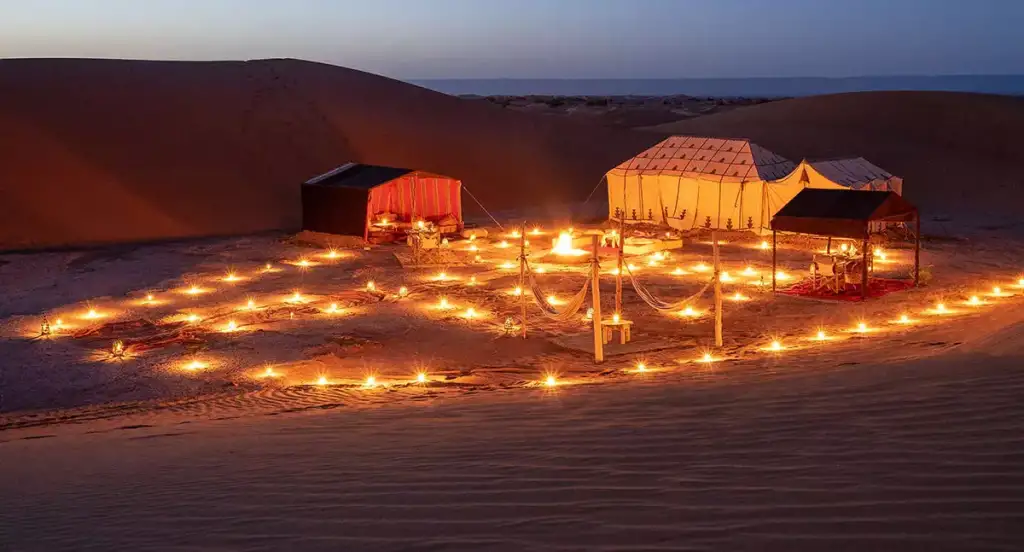 At night, guests can marvel at the stars from the outdoor lounge area while sipping on traditional Moroccan mint tea. For those who seek adventure, there are activities such as horse riding, hiking and dune trekking available throughout the day. There's also a spa offering massages and treatments using natural ingredients found in the desert.
Erg Chigaga Luxury Desert Camp invites glampers to rediscover their connection with nature – to be one with the raw beauty that surrounds them. With its breathtaking sunsets, starlit nights and awe-inspiring landscapes, it's no surprise that many people come here for peace and tranquility away from everyday life. From here, we move onto Namib Desert, Namibia: Sossusvlei Desert Lodge…
2. Namib Desert, Namibia: andBeyond Sossusvlei Desert Lodge
Nestled in the heart of Namibia's majestic Namib Desert lies andBeyond Sossusvlei Desert Lodge. This luxurious glamping site boasts breathtaking views, and is a perfect place to experience the beauty and serenity of nature. With breathtaking panoramic vistas stretching out over vast sand dunes, this unique spot provides guests with an unparalleled desert adventure. The lodge features comfortable accommodations for up to 6 people, including air-conditioned tents, spacious bathrooms and lounges with fireplaces.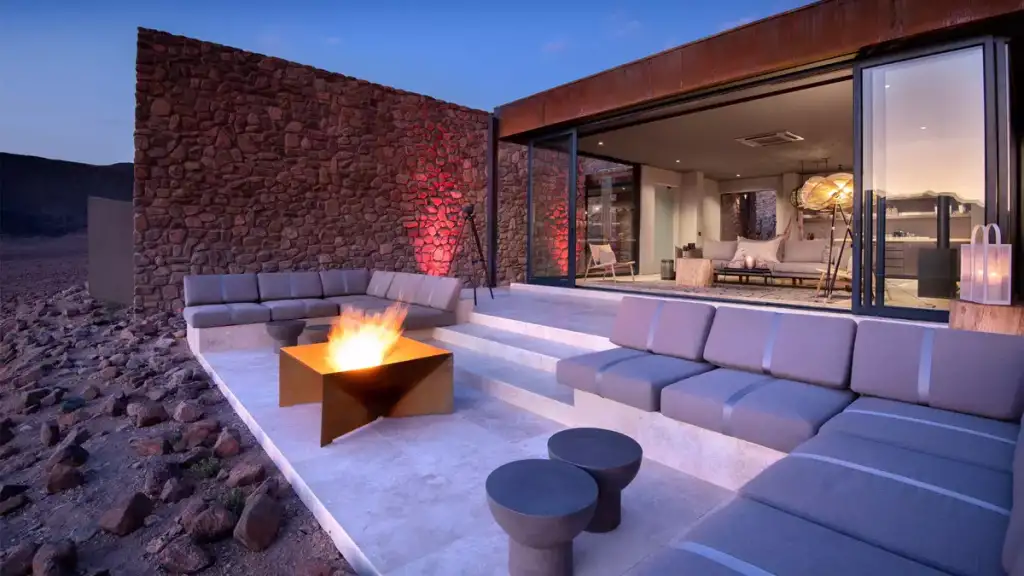 Guests can also enjoy delicious meals prepared by the onsite chef in between exploring the area's many attractions. From soaring red-edged mountains to towering palm trees that provide shade from the scorching sun, visitors are sure to be mesmerized by their surroundings at andBeyond Sossusvlei Desert Lodge. Whether you're looking for a romantic getaway or an adventurous exploration into one of Africa's most stunning deserts, you'll find it all here!
3. Gobi Desert, Mongolia: Three Camel Lodge
Gobi Desert, Mongolia: Three Camel Lodge is an unforgettable glamping experience. Located in the heart of the desert, its unique setting offers a chance to truly appreciate nature's beauty and serenity. The lodge itself has been carefully designed with sustainable materials that make it both comfortable and eco-friendly. It features traditional Mongolian yurts as well as luxury tents equipped with air conditioning, heating, and even Wi-Fi access.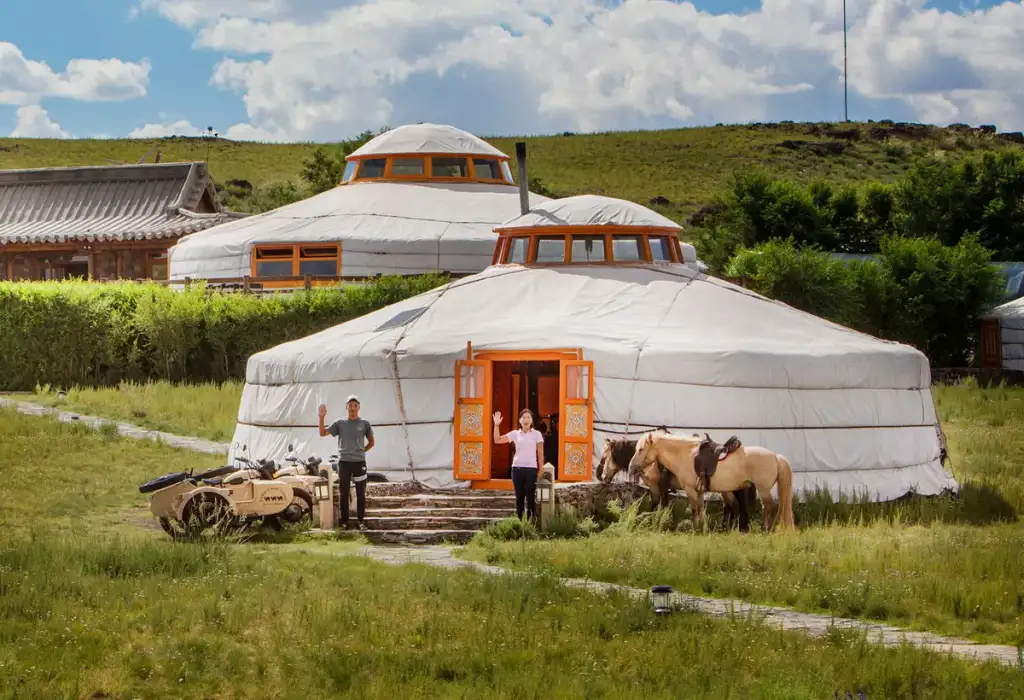 Visitors can take part in activities such as camel rides, hikes across the dunes or simply sit back and relax under the stars. This location provides an opportunity for guests to immerse themselves in a completely different culture and lifestyle while still enjoying all the comforts of home. With stunning views of dunes stretching into infinity, there's no better place to escape from reality than here.
The staff at Three Camel Lodge are dedicated to ensuring their guests have an unforgettable experience. They offer personalized service tailored to each guest's needs and provide helpful tips on exploring this remarkable region of Mongolia. From arranging local tours to helping plan meals using authentic ingredients, they will ensure your stay is everything you hoped for and more. Whether you're looking for adventure or simply want to recharge away from civilization, the Gobi Desert delivers an unparalleled glamping experience sure to leave lasting memories far beyond what words can describe. As night falls upon this majestic landscape, be prepared for some spectacular stargazing beneath clear skies, unlike any other destination on Earth.
4. Kimberley, Western Australia: El Questro Homestead
El Questro Homestead is a remote glamping site in the Kimberley region of Western Australia – an unspoiled expanse of red rock, pristine blue pools and ruggedly beautiful wilderness. It's like stepping into a postcard: sunsets that look as if they were painted by Monet; vast savannahs filled with kangaroos bounding across the plains; and stars so bright you could reach out and touch them.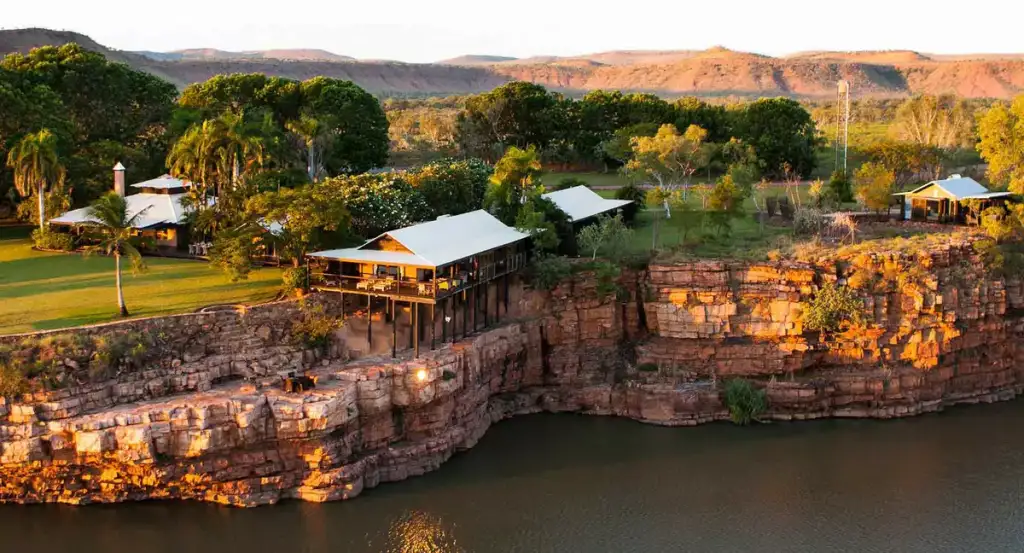 Accommodations at El Questro Homstead range from luxury tents to exclusive villas, each providing guests with all the comforts of home while allowing them to experience nature up close. With amenities such as onsite restaurants, spas and swimming pools, visitors will feel spoiled yet connected to their surroundings throughout their stay. Whether it's taking a helicopter ride over spectacular gorges or exploring hidden waterfalls tucked away in ancient caves, there are plenty of ways for adventurous-seekers to satisfy their wanderlust here.
The serenity and remoteness make El Questro Homestead one of the most unforgettable places to visit around the world. This stunning paradise offers something unique for everyone – whether you're seeking relaxation or exploration – making it perfect for this once-in-a-lifetime experience. From its majestic landscapes to its lush accommodations, El Questro Homestead is sure to captivate anyone lucky enough to explore it. Onward now to Flinders Ranges, South Australia: Arkaba…
5. Flinders Ranges, South Australia: Arkaba
Nestled in the Flinders Ranges of South Australia is Arkaba, a stunning glamping destination for those seeking comfort and privacy. The area offers visitors panoramic views of the rugged outback landscape as well as access to an array of wildlife. Guests can enjoy activities like bird watching, bush walking and star gazing from the seclusion of their luxury tents or private cabins.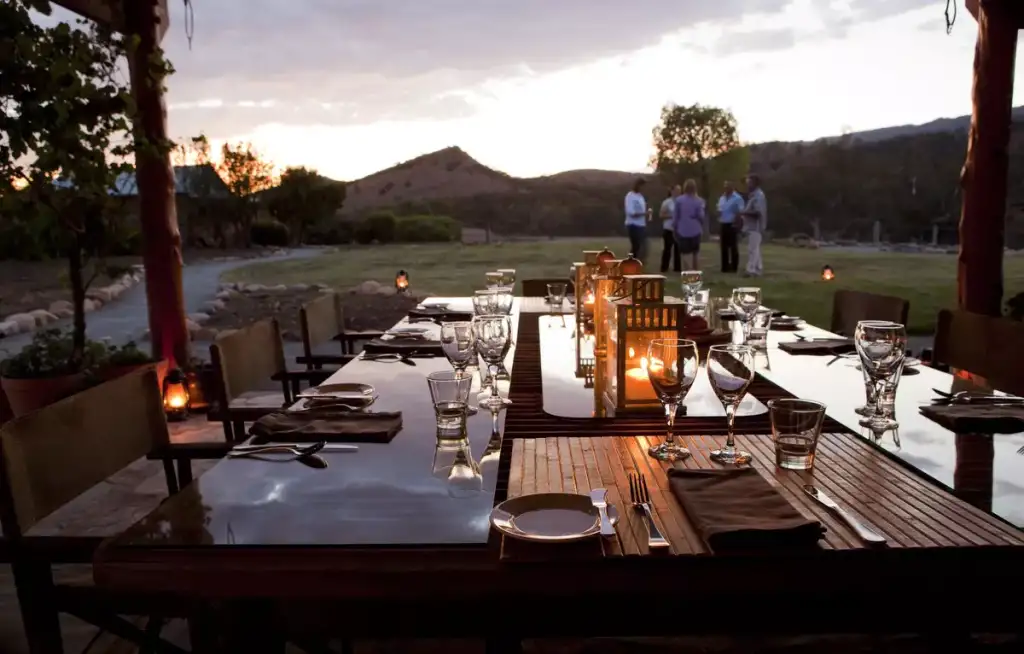 The accommodations at Arkaba are luxuriously decorated with plush furniture and all the amenities needed for a comfortable stay. With spacious king-size beds, large showers and cozy wood burning fireplaces guests will feel right at home while enjoying this remote location. Additionally, each tent has its own outdoor deck that's perfect for relaxing under the stars after a day spent exploring the area.
Arkaba also offers exclusive experiences such as sunset safaris and guided walks through nearby National Parks. If you're looking to get away from it all while still living in style, then look no further than this rustic Australian retreat!
From luxurious lodgings to unique excursions, Arkaba provides an unforgettable experience sure to leave lasting memories. To top it off, there's nothing quite like waking up to breathtaking sunrises over the red desert landscape. With so much on offer here, it's easy to see why Arkaba is one of top remote glamping sites around the world. Next up: Swedish Lapland – Arctic Retreat…
6. Swedish Lapland: Arctic Retreat
Swedish Lapland is a remote glamping paradise. It's like stepping into an undiscovered wonderland that captivates the imagination and beckons with its beauty, offering visitors the chance to escape reality and reconnect with nature in one of Europe's last true wildernesses. With snow-covered mountains painted against the horizon, it's no surprise why this destination has been dubbed "the Arctic Retreat".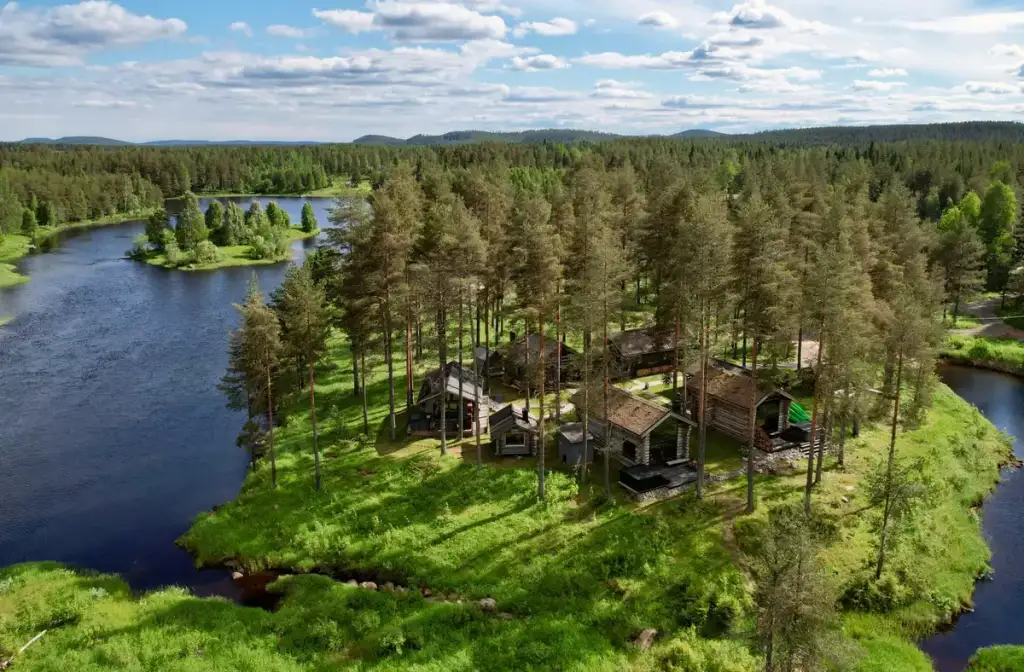 For those seeking adventure, Swedish Lapland offers activities such as dog sledding, ice fishing, cross country skiing and more! From reindeer safaris to northern lights tours – there are endless opportunities for exploration here. Plus, you can take in stunning views from your luxury accommodation set amidst miles of untouched natural scenery. Imagine spending time outdoors communing with nature beneath starry night skies – what could be more magical?
Swedish Lapland provides all the necessary comforts to make sure your stay is unforgettable. Guests can enjoy cozy beds nestled inside traditional cabins or tipis equipped with fireplaces – truly creating a perfect atmosphere for relaxation after a day spent adventuring through the arctic landscape!
This unique winter retreat is not just enchanting; it also gives us insight on how we can live harmoniously alongside our natural environment while experiencing its wonders firsthand. From unparalleled hospitality to breathtakingly beautiful surroundings – Swedish Lapland promises an experience unlike any other; allowing travelers to discover their own personal slice of heaven on earth. Ready to explore Iceland: The 5 Million Star Hotel?
7. Iceland: The 5 Million Star Hotel
If Sweden Lapland was an Arctic Retreat, Iceland is the 5 million star hotel. This country is home to some of the most breathtaking and secluded glamping spots in the world. From hot springs and volcanoes to lava fields and glaciers, its diverse landscape offers something for everyone.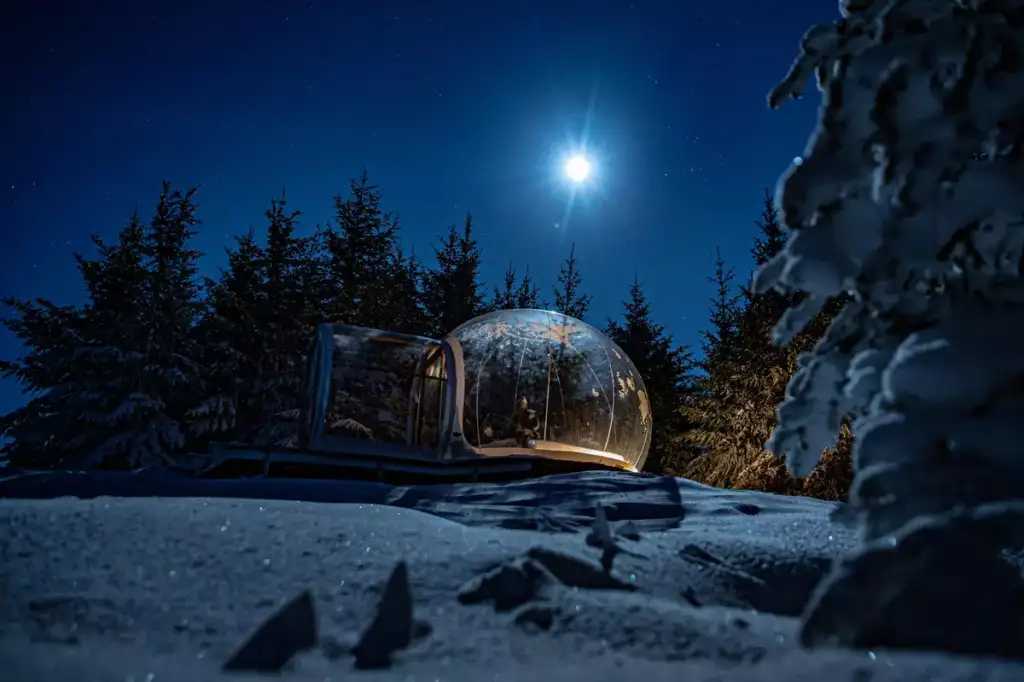 Exploring this picturesque paradise can be done by taking a luxury road trip or participating in activities like whale watching, glacier trekking and kayaking along fjords. For those who prefer not to venture too far from their campsite, there are plenty of opportunities to relax; think fishing off a tranquil beach or sipping drinks around a crackling fire pit. After dark, you'll find yourself surrounded by millions of stars that light up the night sky in stunning fashion.
At any point during your stay here, it's easy to lose track of time as you get lost in the sublime beauty of Iceland's natural wonders. With so much on offer, one camping adventure will never feel enough! Ready to take things up a notch? Head North-West towards British Columbia, Canada where Clayoquot Wilderness Resort awaits.
8. British Columbia, Canada: Clayoquot Wilderness Lodge
Nestled in the temperate rainforest of British Columbia, Canada, Clayoquot Wilderness Lodge is a remote luxury glamping destination for those seeking an intimate and luxurious wilderness experience. Here you can find yourself surrounded by lush green meadows, serene lakes, and epic mountain vistas that will take your breath away. With luxurious canvas tents perched on raised wooden platforms all equipped with private bathrooms and showers, electricity, air conditioning, plenty of amenities, and even Wi-Fi access – this resort offers high-end comfort while still keeping its natural charm intact. Whether it be fishing or horseback riding through the stunning scenery; kayaking amidst sea stacks jutting out from the horizon; hiking through ancient spruce forests; bird watching or simply enjoying some peace and quiet – there's something here to satisfy everyone's outdoor desires.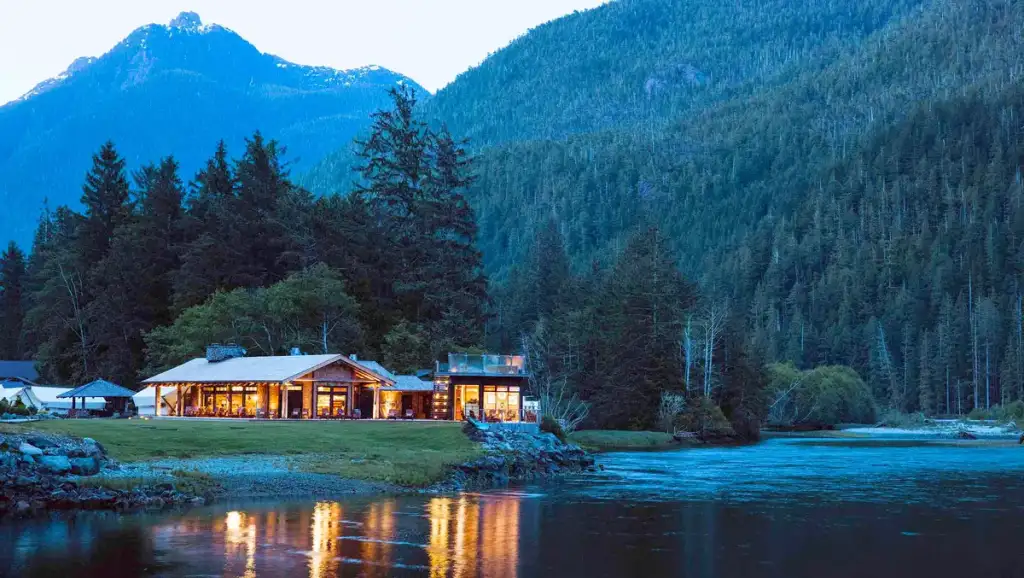 The resort also boasts two gourmet restaurants featuring locally sourced ingredients where guests can enjoy exquisite meals prepared by world-class chefs as well as numerous bars offering signature cocktails inspired by nature. A variety of activities are available ranging from spa treatments to yoga classes offered at their luxe Wellness Centre making sure your body gets pampered too!
And when night falls, visitors have the option of stargazing in one of their many fire pits scattered around the grounds or taking part in nightly events like music performances or movie nights under the stars.
Clayoquot Wilderness Lodge sets itself apart from other glamping sites with its commitment to sustainability and eco-tourism values: they use solar power for electricity generation, utilize composting toilets, and actively work towards reducing waste production throughout the property ensuring minimal environmental impact while providing maximum guest satisfaction. From its awe-inspiring views to its indulgent services – this unique spot promises nothing short of pure blissful escapism. It's no wonder then why people flock here year after year! To truly experience what this remarkable place has to offer, book your stay today! Next up: Montana USA – The Resort At Paws Up awaits…
9. Montana, USA: The Resort At Paws Up
Set amongst the sprawling mountains of Montana, The Resort at Paws Up offers 30,000 acres of luxury camping. It boasts a range of amenities that transport campers to an entirely different world – one where glamping is more than just a buzzword. With over 37 accommodations ranging from five-star tents to fully equipped lodges, there's something for everyone. And with breathtaking views and plenty of outdoor activities to keep you busy, it's no wonder this remote glamping site attracts visitors from all around the globe every year.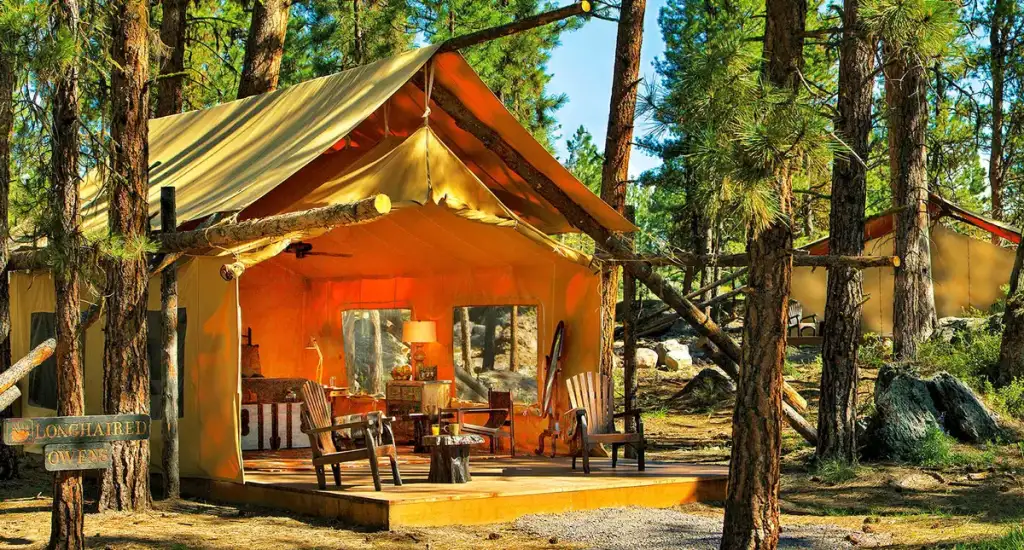 The resort also features a luxurious spa set against the natural backdrop of its wild settings. From yoga classes to massages, guests can indulge in pampering treatments surrounded by nature's beauty. Plus, their private chefs are on hand 24/7 providing restaurant-quality meals customized to your needs – perfect if you're looking for an unforgettable escape without having to sacrifice top-quality service or cuisine.
All these elements come together to create a unique experience unlike any other – one that lets guests savor both comfort and adventure during their stay. So why not choose The Resort at Paws Up as your next destination? After all, what better way is there to get away from it all than waking up each morning surrounded by stunning mountain vistas? As such, it's easy to see why so many people want nothing more than to relax and take in the grandeur of nature here – making it the ideal spot for those seeking out some much-needed peace and quiet when they travel.
Tips For Choosing The Perfect Remote Glamping Site
Choosing the perfect remote glamping site is key to making sure your experience is memorable and enjoyable. There are a few things to consider when selecting the right spot, such as location, cost, amenities, and safety.
First and foremost, you should think about the location of your chosen site. It's essential that it meets all your needs; whether that be proximity to certain attractions or activities like hiking trails, beaches, or national parks. You may also want to make sure that there is nearby access to food stores and other supplies if needed. Additionally, take into account any local regulations regarding camping before booking a particular area – this will ensure you're not breaking any laws during your stay!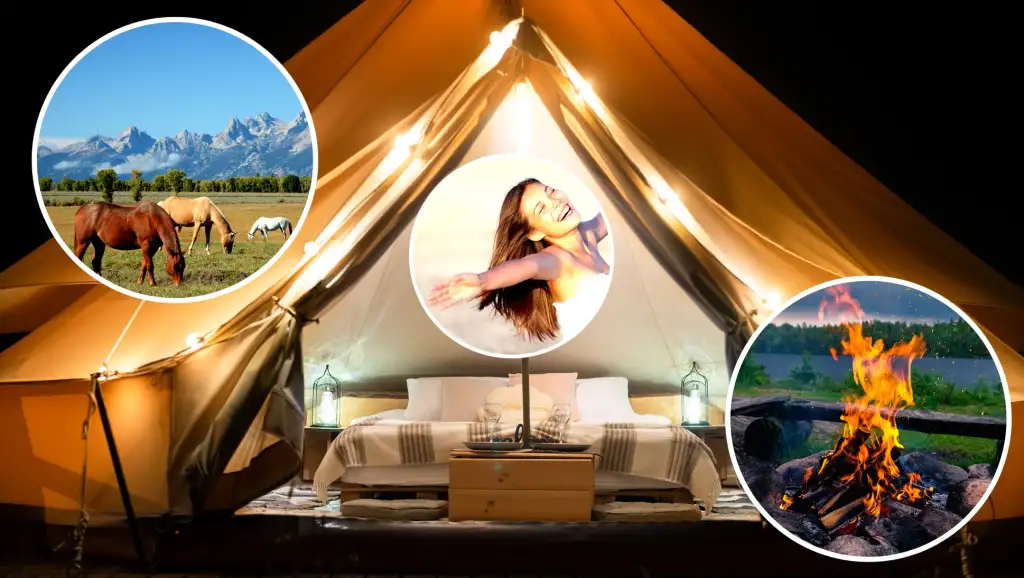 When considering the budget for your trip, research different sites to find one that fits within your spending range. Many places offer discounts depending on seasonality or group size – so it pays off to do some digging! Make sure you get an accurate idea of what amenities are included with each option too; from Wi-Fi availability to private bathrooms and hot tubs – these can add up but could be worth splurging for if desired.
Finally, check out reviews online for every potential destination to help confirm its safety standards. Reading feedback left by past guests can give insight into their overall satisfaction with the property and staff members' commitment to providing quality customer service – both of which should be taken seriously when deciding where you'll rest your head at night!
With these tips in mind, travelers can confidently select just the right place for a peaceful getaway surrounded by nature's beauty. Knowing how best to prepare for a successful excursion can set the stage for an unforgettable experience that will remain cherished long after returning home.
Glamping Etiquette And Responsible Travel
Our lives are often filled with distractions and obligations, making it difficult to find the time to reconnect with ourselves and nature. Glamping offers an opportunity to escape our daily routines while enjoying a luxurious experience in some of the world's most beautiful places. But before you go glamping, there are certain etiquette guidelines and responsible travel practices that should be followed.
🏕️ Respect the Environment
Stick to designated paths and trails
Dispose of waste responsibly
Avoid disturbing wildlife
Minimize campfire impact
🏕️ Choose an Eco-Friendly Glampsite
Research glampsites' sustainability practices
Support locally owned and operated sites
Opt for eco-friendly accommodations and amenities
🏕️ Be a Considerate Neighbor
Observe quiet hours
Maintain a tidy campsite
Respect privacy and personal space
Keep pets under control
🏕️ Conserve Water and Energy
Use biodegradable products
Limit water usage
Utilize solar-powered devices
Turn off lights and unplug electronics when not in use
🏕️ Shop and Eat Local
Support local businesses and farmers' markets
Opt for locally sourced, organic food
Embrace regional cuisine and customs
🏕️ Leave No Trace
Pack out all trash and waste
Leave natural and cultural features undisturbed
Restore the campsite to its original condition
🏕️ Engage in Responsible Activities
Participate in low-impact outdoor pursuits
Follow established rules and guidelines for each activity
Use eco-friendly equipment and gear
🏕️ Educate Yourself and Others
Learn about the local environment and culture
Share your knowledge with fellow travelers
Encourage responsible travel practices
🏕️ Give Back to the Community
Volunteer for local conservation efforts
Donate to organizations supporting the area
Spread awareness about sustainable tourism
🏕️ Embrace Slow Travel
Immerse yourself in the local environment and culture
Choose quality experiences over quantity
Plan a longer stay to minimize travel emissions
---
Whether you are seeking adventure, relaxation or an escape from the hustle and bustle of everyday life, remote glamping sites can provide it all. With so many spectacular options around the world to explore, it's easy to find a destination that perfectly fits your travel desires. To get the most out of your experience, be sure to research each site carefully before booking and follow guidelines for responsible travel while there.
From Morocco's Erg Chigaga Luxury Desert Camp to Montana's The Resort at Paws Up, no matter which remote glamping site you choose, my advice is this: take time to immerse yourself in nature and enjoy every moment of your stay. Let go of stress, disconnect completely and revel in the beauty that surrounds you – these experiences will last a lifetime!
So what are you waiting for? Start planning your trip today and get ready for an unforgettable journey through some of the world's top remote glamping spots.