Are you looking for an unforgettable hotel experience? One that will make your vacation truly unique and memorable? Then look no further! From a revolving restaurant in Dubai to an ice cave resort in Finland, this article will introduce some of the most extraordinary hotels around the world. So get ready to explore these unusual locations – there's something for everyone!
We take you to the following accommodation:
1. The Treehouse At Winvian Farm – Morris, Connecticut
2. Gili Lankanfushi – Maldives
3. Kakslauttanen Arctic Resort East Village – Saariselkä, Finland
4. Historic Route 66 Motel – Seligman, Arizona, USA
5. North Island, A Luxury Collection Resort – Seychelles
6. Haima In Dakhla Spirit Camp – Morocco
7. Finn Lough Resort – Northern Ireland
8. Cocoon Cave Suites Santorini – Imerovigli, Greece
9. Forest Lodge Log Cabin – Ireland, Ballyconnell
10. Sailing Boat
11. Sebatu Sanctuary Eco-Resort – Sebetu, Bali, Indonesia
12. Giraffe Manor – Gogo Falls Road, Nairobi, Kenya
13. Kilkea Castle Hotel – Kilkea, Ireland
14. Fairmont Banff Springs Haunted Hotel – Banff, Canada
15. Intercontinental Shanghai Wonderland – Songjiang District, Songjiang, China
16. Casa Delfina – Tuscany, Italy
17. The Oberoi Udaivilas – Udaipur, India
18. Skylodge Adventure Suites – Ollantaytambo, Peru
19. Namiri Plains Camp – Serengeti National Park, Tanzania
20. Cozy Glamping – Banks, Oregon, USA
21. Hotel Villa Honegg – Ennetbürgen, Switzerland
22. 727 Fuselage Home – Manuel Antonio, Costa Rica
1. The Treehouse At Winvian Farm – Morris, Connecticut
Have you ever wanted to feel like a kid in a treehouse again? With the Treehouse at Winvian Farm, your wish can come true! Located in Morris, Connecticut, this luxury hotel comprises of 18 cottages set on 113 acres of lush nature. Each cottage is designed with inspiration from fairy tales and fantasies, offering guests an unforgettable experience.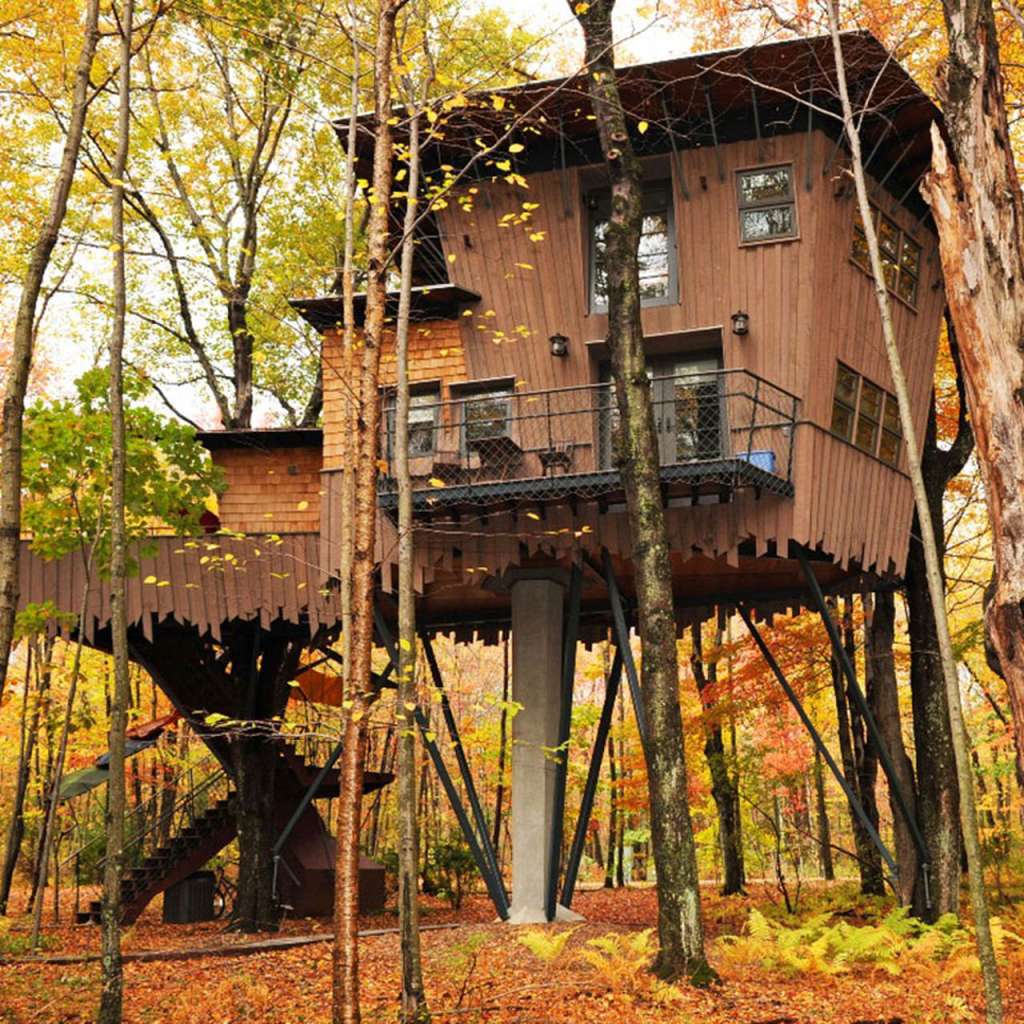 The Treehouse suite features one bedroom and two bathrooms along with its own private balcony overlooking the forest. It also has full kitchen amenities for those who would like to rustle up their own meals during their stay. The master bathroom boasts a Jacuzzi tub under a skylight that overlooks the treetops – perfect for evenings spent stargazing!
Guests will find plenty of activities available; from exploring hiking trails or canoeing around lakes to visiting nearby scenic sites such as Kent Falls State Park or Lake Waramaug.
If it's pampering you're after then look no further than the spa facilities located within Winvian Farm itself. From body treatments to massages, there's something suitable for everyone looking to relax and unwind while away from home. There are also fine dining options where guests can enjoy delicious cuisine made using local ingredients grown fresh onsite by the farm's very own gardeners.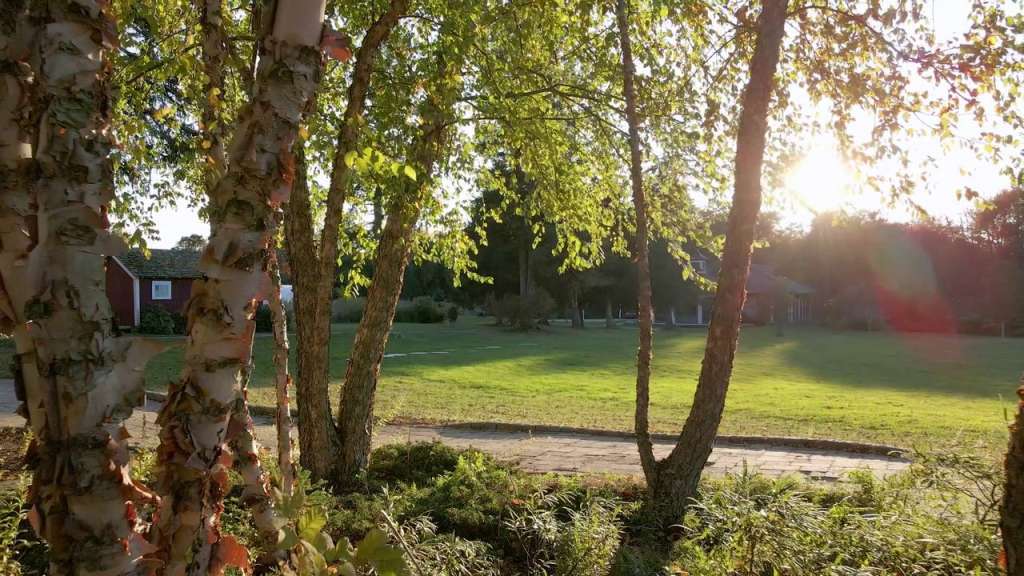 With so much fun and relaxation to be had here surrounded by nature, it's no wonder why many people return year after year. So why not escape reality for a few days and explore all that the Treehouse at Winvian Farm has to offer? Your inner child won't regret it! Now onto Gili Lankanfushi- Maldives…
2. Gili Lankanfushi – Maldives
Leaving the Treehouse at Winvian Farm behind, our next destination is Gili Lankanfushi – an exclusive resort located in the Maldives. As soon as we arrived, it was clear that this luxury hotel like no other had been designed with relaxation and tranquility in mind.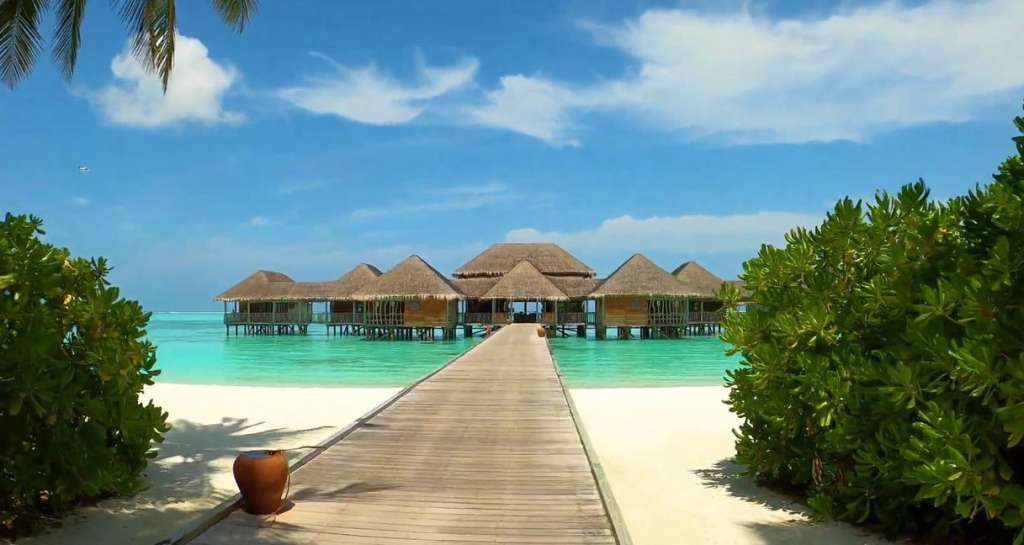 From its stunning overwater villas to its ocean view restaurants, every inch of this paradise island has been crafted for guests to enjoy a truly unique experience. The rooms boast luxurious king-sized beds and outdoor showers, while private decks offer direct access to the crystal blue waters below. But there's more than just serenity here; you can also take part in some exciting activities such as snorkeling or kayaking around the nearby coral reefs. Plus, if you're looking for complete privacy then why not hire one of their totally private 'water villa' boats?
At Gili Lankanfushi, dining options are equally exquisite. Enjoy delicious international cuisine from their various restaurants or opt for something local with a beachside barbecue on your own stretch of sand. And don't forget about all those tropical cocktails! There's even a bar built into the lagoon itself where you can relax and watch the sunset after dark – it doesn't get much better than that!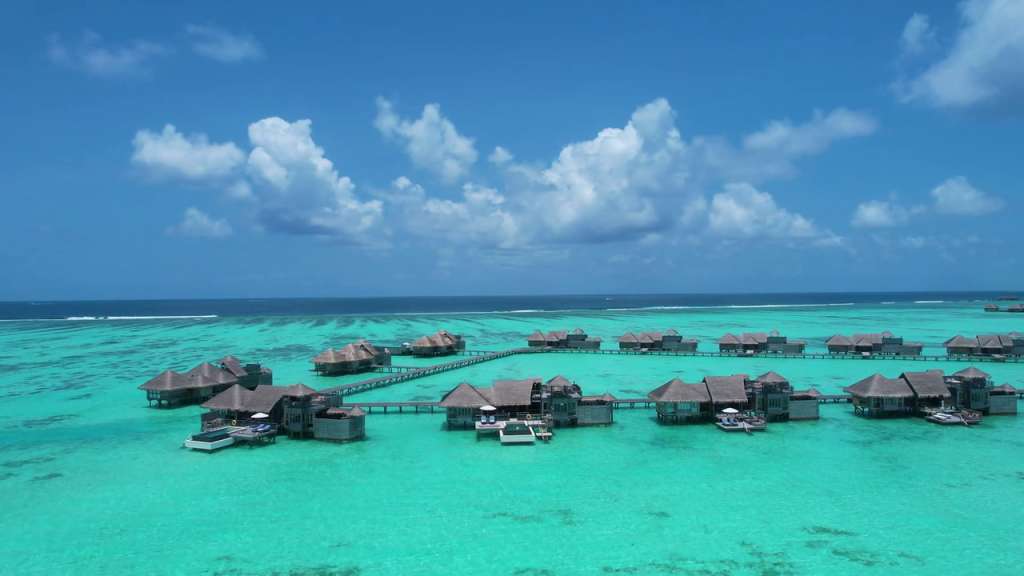 Gili Lankanfushi provides everything needed for a perfect holiday: incredible scenery, indulgent amenities and unrivalled hospitality. In short, it's an ideal escape for anyone who wants to put aside life's stresses and simply enjoy nature's beauty in absolute comfort. Ready to explore what else these magnificent islands have to offer? Then let's head east towards Kakslauttanen Arctic Resort East Village – Saariselkä, Finland!
3. Kakslauttanen Arctic Resort East Village – Saariselkä, Finland
Tucked away in the rolling hills and snow-covered forests of Northern Finland, lies Kakslauttanen Arctic Resort East Village. This unique destination is nestled deep within a mountain range and offers unparalleled views of the vast Finnish landscape as far as the eye can see.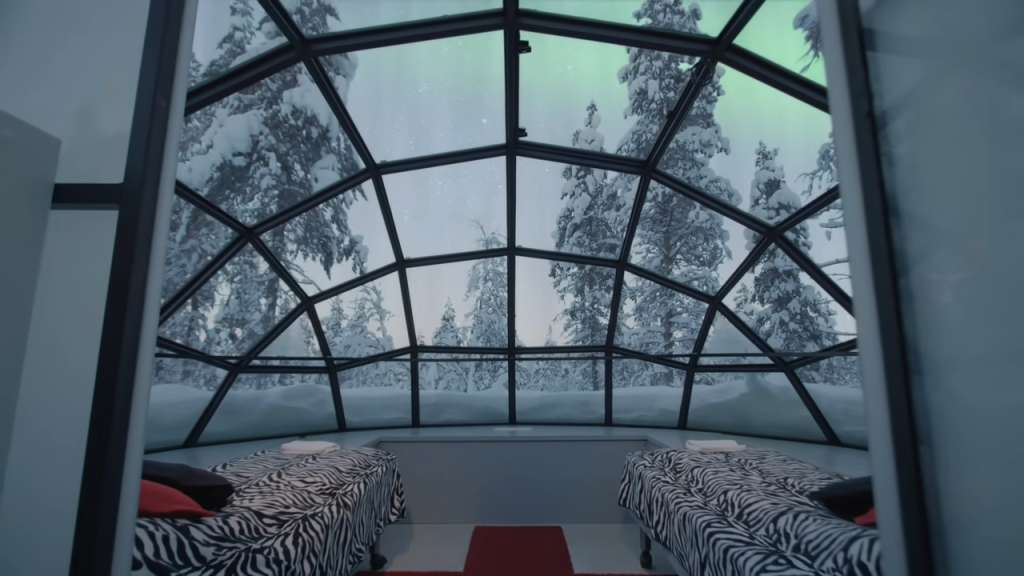 Guests can stay in one of its traditional igloos or glass igloo suites that offer an unforgettable glamping experience beneath the sky full of stars. For those looking for a more active holiday, there are activities like husky safaris, reindeer sleigh rides, and ice fishing excursions all available nearby.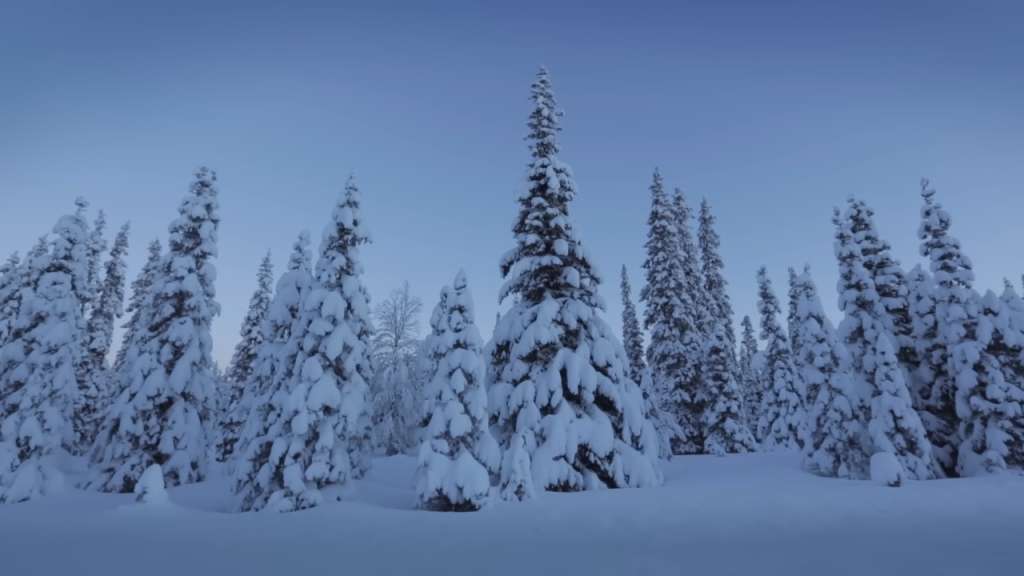 The resort also features onsite restaurants to enjoy some traditional oulankan cuisine while taking in stunning panoramic views from their windows. With so much to explore, it's no wonder why Kakslauttanen Arctic Resort has become such a popular retreat for adventurers and nature lovers alike! From its breathtaking vistas to its cozy accommodations, it's easy to see why this special spot is unlike any other hotel around the world. Transitioning now into Historic Route 66 Motel – one of America's most iconic road trips awaits travelers who want to take a journey through time.
4. Historic Route 66 Motel – Seligman, Arizona, USA
From the northern reaches of Finland to an entirely different kind of experience, Historic Route 66 Motel in Seligman, Arizona is sure to provide a memorable stay. This small town was founded in 1886 and was included on the original route for the iconic U.S. highway known as "The Mother Road" or "Route 66" during its heyday in the 1940s-1960s.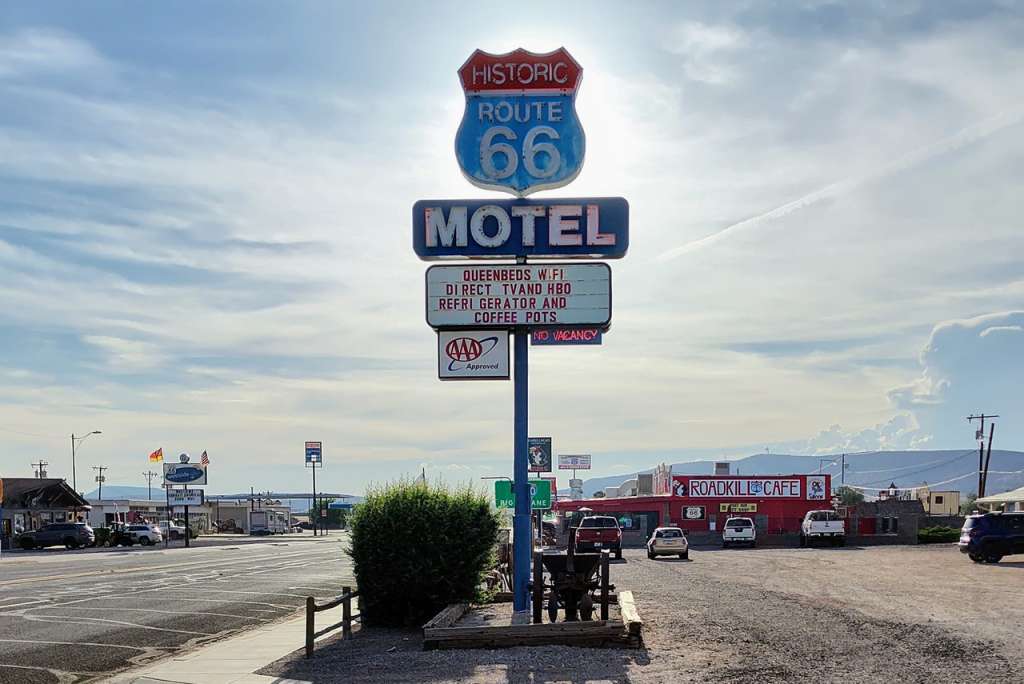 Today travelers can still explore this historic road and discover charming attractions like Zippo's Cafe and Hackberry General Store.
The motel itself has been around since 1952 and features 10 vintage rooms that look just like they did back then – with brightly colored walls, funky furniture and plenty of roadside kitsch.
Guests will also enjoy amenities such as private bathrooms, air conditioning and satellite TV.
In addition to all these classic touches, guests will appreciate modern conveniences such as free Wi-Fi throughout the property, along with complimentary coffee and tea in the mornings. There are even outdoor grills available for use so you can whip up some delicious barbecued meals under those starry desert skies at night!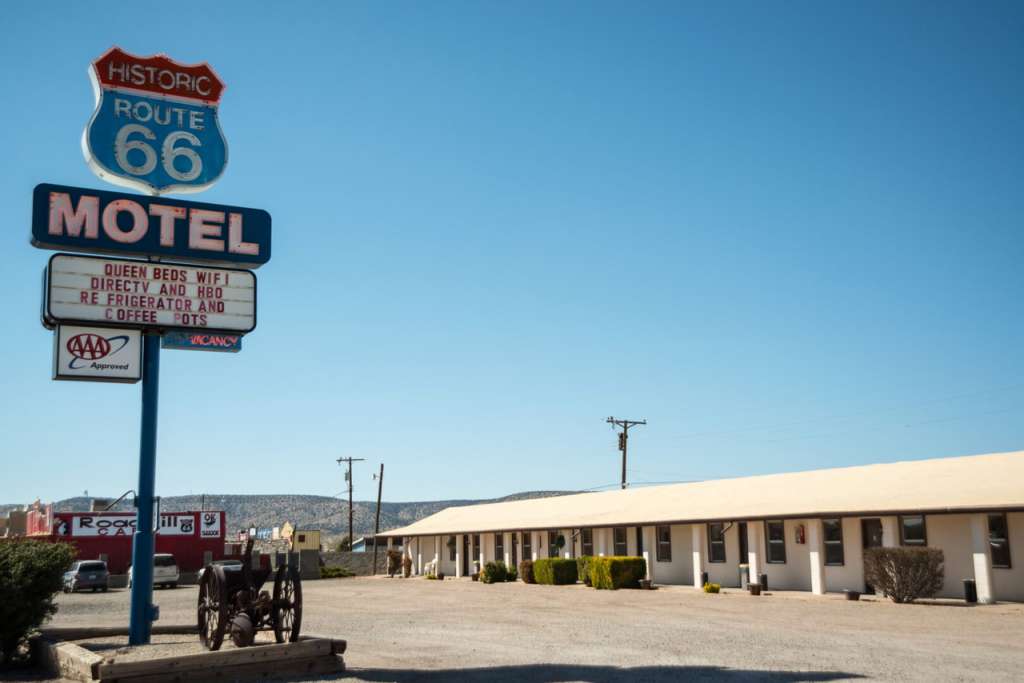 For those looking for a taste of nostalgia from bygone days combined with contemporary comforts, Historic Route 66 Motel provides it all in spades. It's no wonder why this place continues to draw visitors from near and far who want to experience life on one of America's most famous roads. Next stop: North Island, Seychelles – a paradisiacal tropical getaway located off East Africa's east coast.
5. North Island, A Luxury Collection Resort – Seychelles
North Island, a Luxury Collection Resort – Ile Du Nord North Island, Seychelles is like an oasis in the midst of turquoise waters. This exclusive resort offers visitors a chance to relax and indulge in luxury. Nestled among lush tropical vegetation, guests can explore all that this paradise has to offer, from pristine beaches to world-class dining experiences. Every detail of North Island was carefully crafted with serenity and relaxation at its core.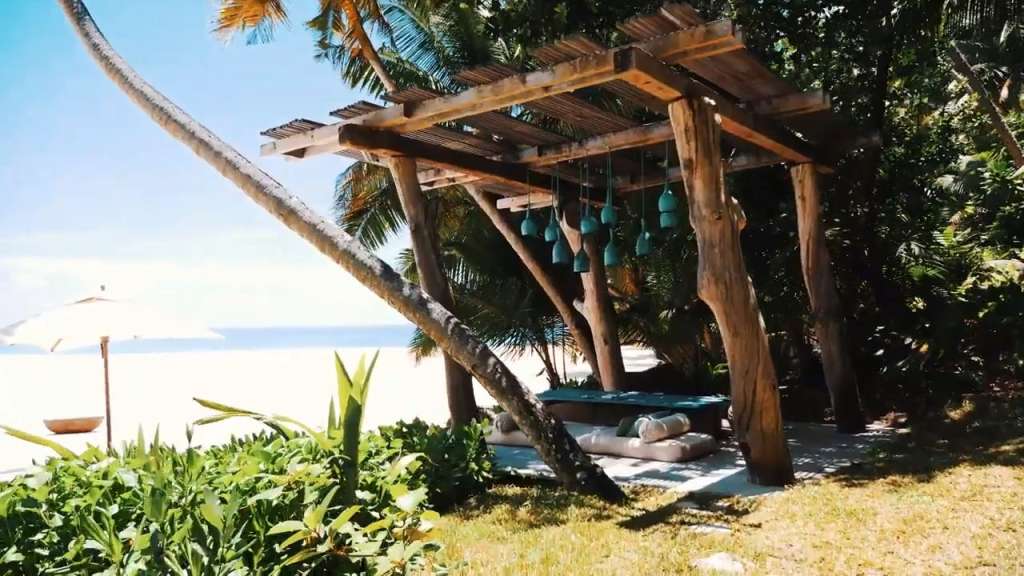 The accommodations are modern yet traditional; each villa comes fitted with private plunge pools or outdoor Jacuzzis for added comfort. There's also a variety of activities available onsite such as snorkeling and scuba diving, yoga classes and spa treatments. If one wishes to venture out further into nature then they can partake in guided excursions around the island by local experts who will provide insight into the unique landscape.
A range of international cuisines are served up daily at the restaurants located on the property, making use of locally sourced ingredients including freshly caught seafood from nearby fishermen. For those looking for something extra special there's even a chef's table where you can enjoy specially designed meals prepared for your group alone.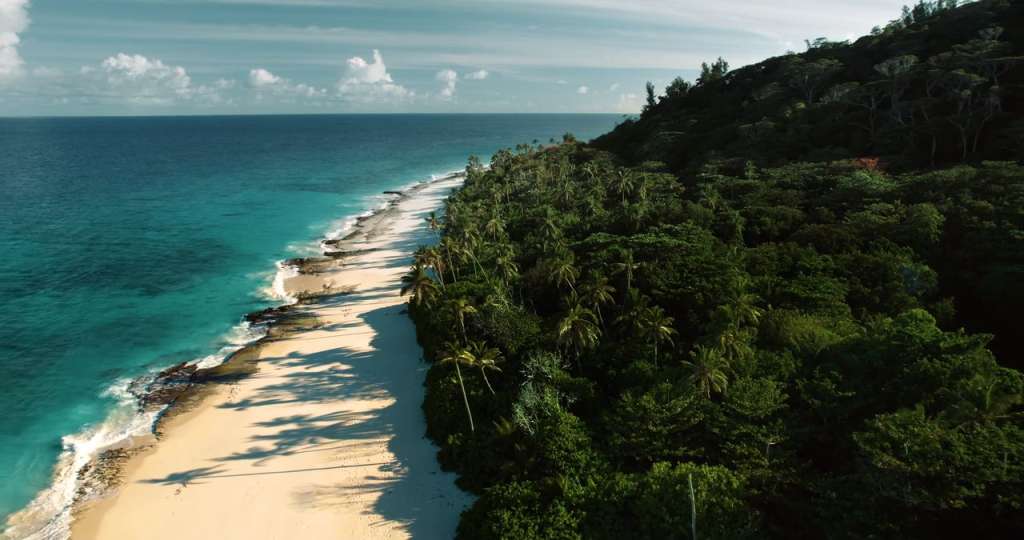 At night time, star gazing is made easy thanks to the lack of light pollution found here so if you're lucky enough you might spot some shooting stars too! Enjoying a stay at North Island truly feels like being treated like royalty – every detail has been thoughtfully considered for maximum pleasure during your visit. With nothing but peace and tranquility surrounding it, it's no wonder why this destination has become popular amongst travelers seeking solace away from home. From luxurious amenities to stunning natural beauty, North Island is simply unmatched in terms of opulence and elegance. Onwards now to Haima In Dakhla Spirit Camp – Morocco!
6. Haima In Dakhla Spirit Camp – Morocco
Leaving the serene beauty of North Island behind, we travelled to Morocco and arrived at Haima in Dakhla Spirit Camp. This unique "hotel" is nestled on a beautiful stretch of beach fronting onto the Atlantic Ocean. The camp provides tents that are equipped with luxurious amenities such as air conditioning, hot showers and Wi-Fi.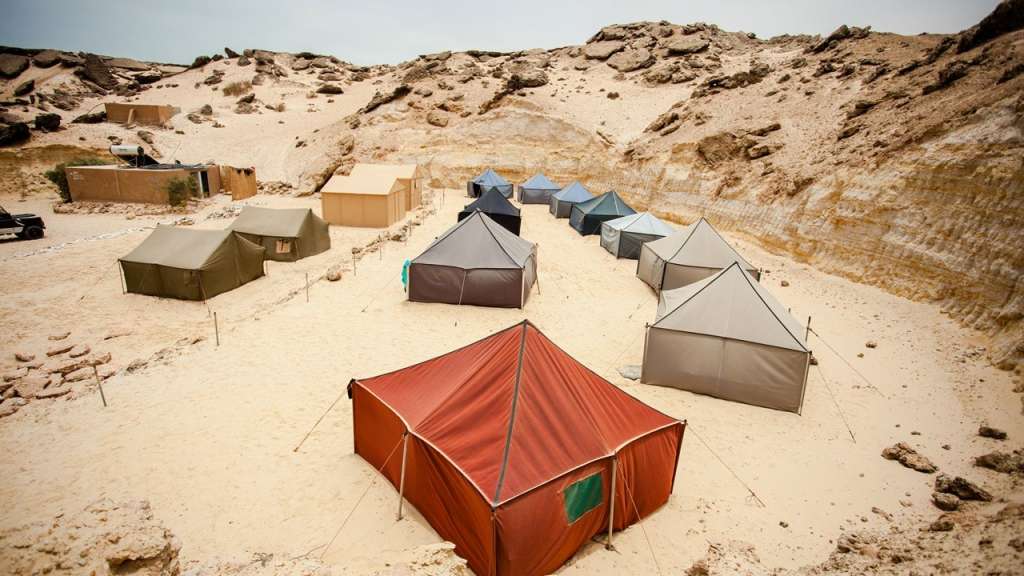 But the real magic happens outside the tent. Dakhla Spirit Camp offers a wide variety of activities to keep you entertained, from sandboarding to kitesurfing. And the best part? The stunning views of the Sahara Desert that surround you at every turn.
Take a camel ride through the dunes and watch the sun set over the horizon. Or, if you're feeling daring, take a quad bike out for a spin and feel the rush of adrenaline as you race over the sand. And when you're ready to wind down, relax by the campfire and listen to traditional music under the starry night sky.
But what sets the Haima tents apart from other camping experiences is the hospitality and warmth of the staff. They go above and beyond to make sure you feel at home and have everything you need to make your stay unforgettable. From serving up delicious meals to organizing excursions, they truly make you feel like family.
After a few days spent relaxing in this tranquil paradise, it was time to move on to our next destination – Finn Lough Resort in Northern Ireland.
7. Finn Lough Resort – Northern Ireland
As the saying goes, "A journey of a thousand miles begins with one step." That first step can lead to some pretty incredible places. One such destination is Finn Lough Resort in Northern Ireland. Located on an 88-acre estate near Lower Lough Erne, this unique hotel offers guests a world away from their everyday lives.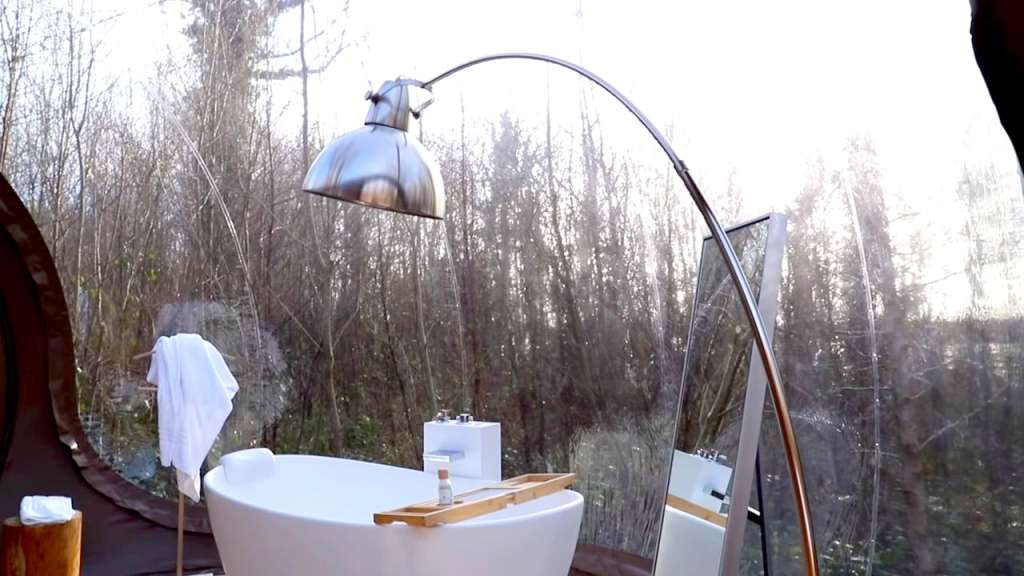 The resort features 60 luxury suites and cabins nestled among woodlands and connected by illuminated pathways. Each suite has been carefully designed to blend in with its natural surroundings while offering modern amenities like complimentary Wi-Fi, flat-screen TVs, underfloor heating, and tea & coffee making facilities. Guests can also enjoy delicious meals at two restaurants or relax in the spa with saunas, steam rooms, hot tubs, and more.
Finn Lough Resort doesn't just offer a relaxing atmosphere – they also have plenty of activities for visitors to explore.
Guests can take part in outdoor pursuits like archery and clay pigeon shooting or try their hand at falconry or fishing onsite. For those looking for something less adrenaline-pumping there are yoga classes available as well as boat trips around the lake.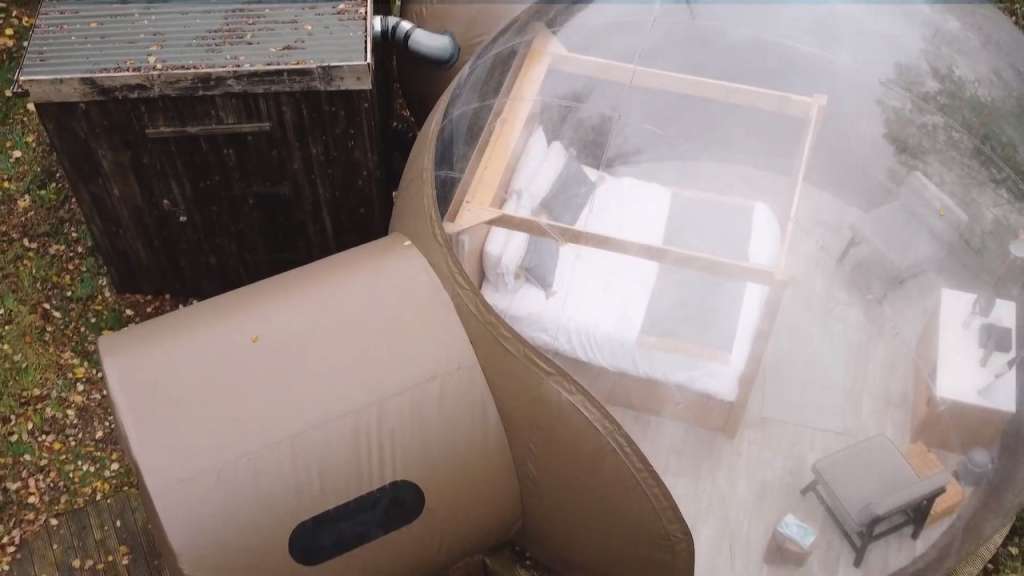 However you choose to spend your time here, Finn Lough Resort promises a truly memorable stay that will make you want to come back again soon. With its serene setting and wide range of activities, it's no wonder this place is so popular! Transitioning now into Cocoon Cave Suites Santorini; where travelers will discover another hidden gem tucked away amongst stunning scenery….
8. Cocoon Cave Suites Santorini – Imerovigli, Greece
Situated on a cliff top in the Cyclades Islands of Greece, Cocoon Cave Suites Santorini is a paradise for luxury travelers. Offering an unforgettable experience that combines breathtaking views and modern amenities, this unique hotel promises to make your stay one you will never forget.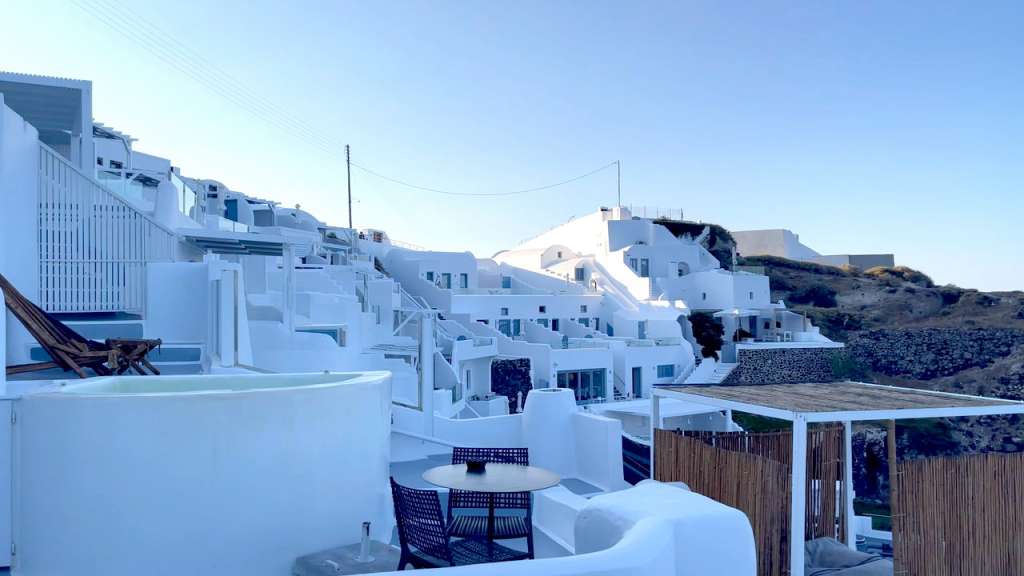 From its incredible location overlooking the sea to its chic yet comfortable vibe, Cocoon Cave Suites is truly something special. Here are three reasons why:
Unparalleled Views – Every suite offers stunning panoramic views of both caldera and volcano from their private terrace or balcony. With every sunrise comes a new perspective so you can really appreciate just how beautiful this part of the world is.
Luxurious Comfort – The suites come equipped with state-of-the-art furnishings and amenities such as air conditioning, satellite TV, mini bar, Wi-Fi access, complimentary welcome drink and more. Not only do they provide everything needed for a luxurious stay but also guarantee ultimate comfort throughout your visit.
Attentive Service – Personalized service is at the core of what makes staying here so special; each guest's needs are taken into account by staff who go above and beyond to ensure satisfaction during your vacation. Whether it's organizing car rental or suggesting activities around town, there's always someone available to help make your trip even more memorable.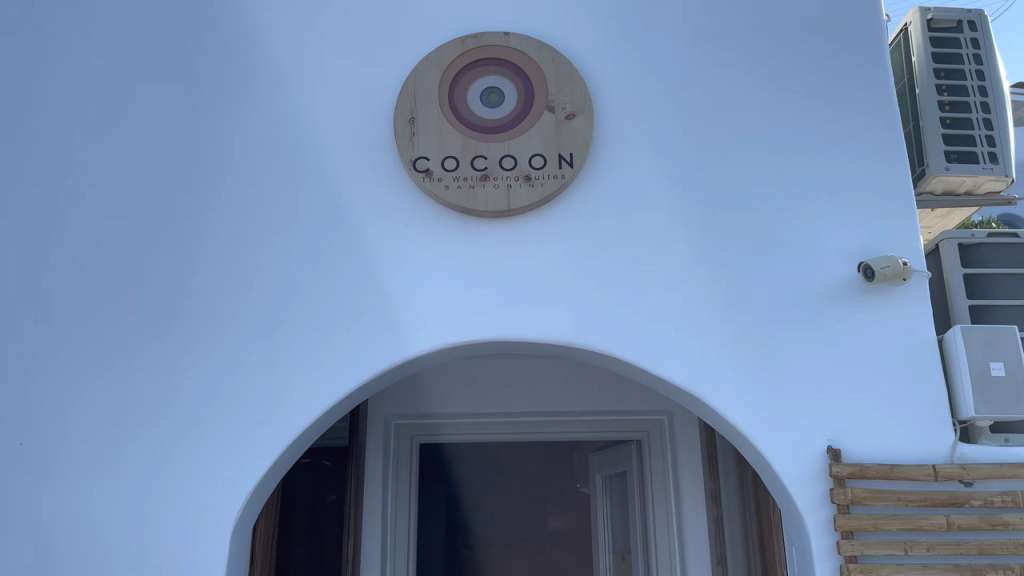 In short, Cocoon Cave Suites Santorini provides guests with all the luxuries expected from a high end accommodation combined with exceptional customer service for an unparalleled holiday experience. From its picturesque setting to its attentive staff members, this secluded retreat ensures visitors have an amazing time while enjoying some much deserved relaxation away from home. Ready for another adventure? Next stop – Forest Lodge Log Cabin in Ballyconnell, Ireland!
9. Forest Lodge Log Cabin – Ireland, Ballyconnell
Nestled away in the idyllic countryside of Ballyconnell, Ireland lies the Forest Lodge Log Cabin. This quaint accommodation offers visitors a unique opportunity to experience luxury and seclusion in a remote location.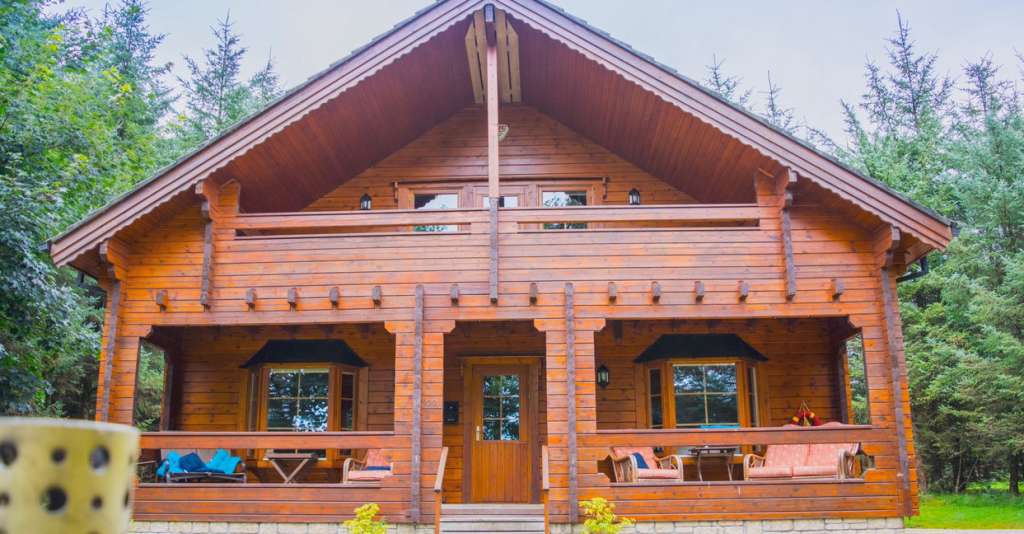 The cabin itself is constructed from locally sourced materials like Douglas fir logs and Canadian cedar shingles that make up its exterior walls. Inside, guests are welcomed by modern amenities such as an open-plan kitchen with granite countertops and top-of-the-line appliances. The bedrooms offer cozy beds dressed with plush linens, while the bathrooms feature deep soaking tubs and separate showers for ultimate relaxation. Additionally, there is access to free Wi-Fi throughout the entire property.
| Amenities | Features |
| --- | --- |
| Open Plan Kitchen | Granite Countertops |
| Cozy Bedrooms | Plush Linens |
| Deep Soaking Tubs | Separate Showers |
| Free WiFi Access | Modern Appliances |
The lodge also boasts stunning views of both the Irish Sea and nearby mountainside. Guests can take advantage of this magnificent setting by exploring nature trails or simply enjoying some peace and quiet on one of the many decks outside of their cabin. In addition, they have access to fishing spots located along the riverbank just behind their resort as well as local attractions like golf courses, horse riding facilities, and spas all within easy reach.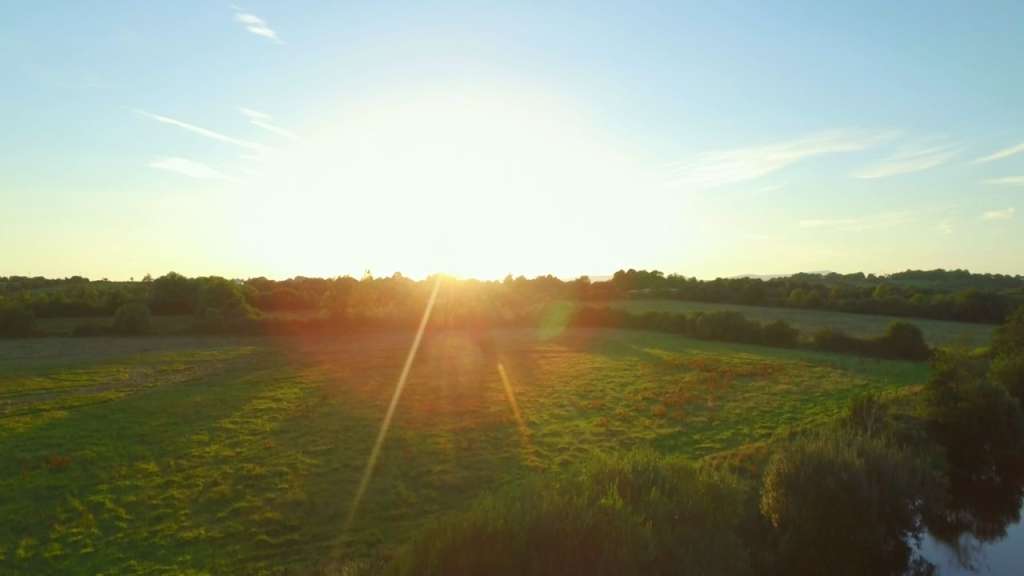 Guests looking for a truly unique holiday destination will find it at Forest Lodge Log Cabin. With its luxurious amenities combined with breathtaking natural beauty, it's no wonder why so many people come back year after year to relax and rejuvenate here in Ballyconnell, Ireland. Transitioning into leisure activities available near the area, sailing boats provide adventurers an extraordinary way to explore coastal regions around Ireland…
10. Sailing Boat
If going from a cabin to a sailing boat sounds like an adventure, it is! With a stay in one of the world's unique sailboats, guests can experience something truly special. From traditional tall ships to modern catamarans and beyond, there are many kinds of boats that offer accommodations around the globe.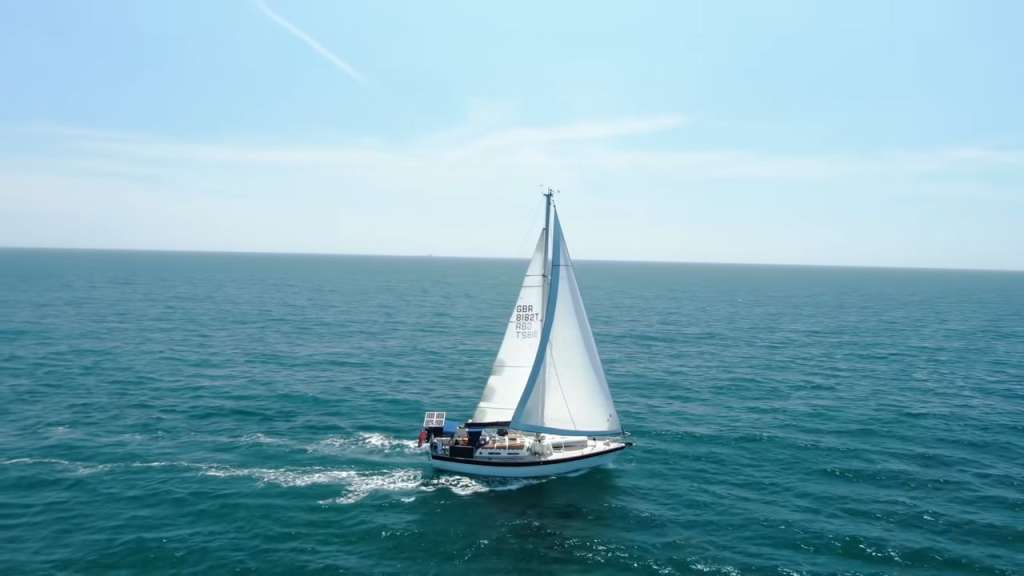 For those with larger groups or families, some companies even provide entire houseboats for rent. These vessels come fully equipped with all the amenities needed to have a comfortable vacation while out on the high seas. Guests can also take part in various activities such as swimming off the boat's private beach area or doing some fishing in nearby waters. For added entertainment, they may choose to explore local islands by kayak or go snorkeling among coral reefs.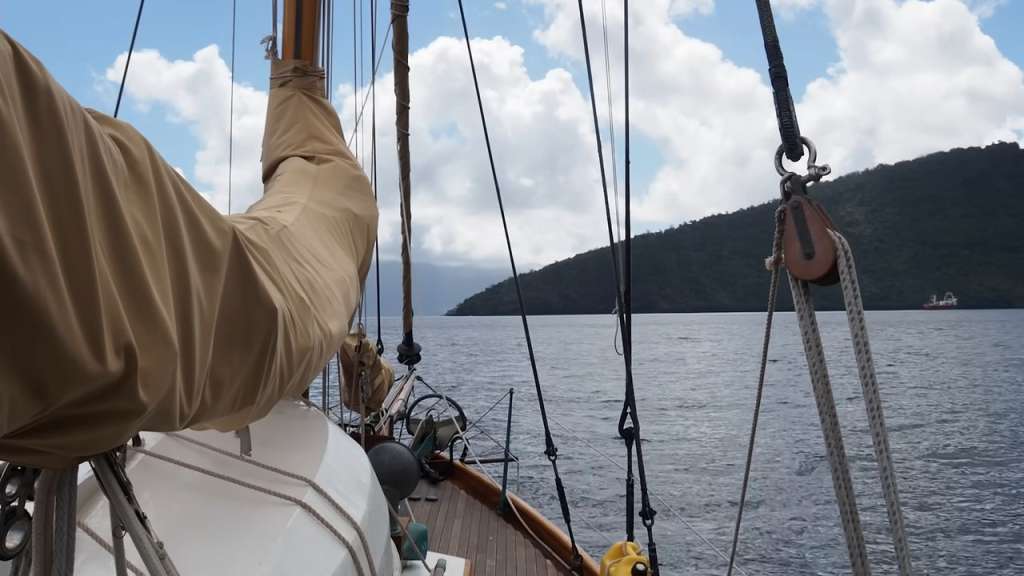 Those wanting to get closer to nature without sacrificing comfort should consider staying aboard one of these floating havens. Whether it's through lounging about on deck under starlit skies or taking in stunning sunsets over open waters, these experiences will be unforgettable ones that won't soon be forgotten.
A journey by sea isn't complete without stopping at exotic ports along the way where travelers can immerse themselves into different cultures and ways of living; often times finding unexpected surprises when least expected. It is this type of exploration that makes sailing so intriguing and why people keep coming back for more adventures year after year. Now onto another exciting destination: Sebatu Sanctuary Eco-Resort – Sebetu, Bali Indonesia!
11. Sebatu Sanctuary Eco-Resort – Sebetu, Bali, Indonesia
The Sebatu Sanctuary Eco-resort offers a truly unique experience for the traveler looking to get away from it all. Like a dreamscape, this resort immerses guests in an exotic world of culture and nature. This hidden gem is located on the outskirts of Ubud, Bali, and its serene beauty will astound you.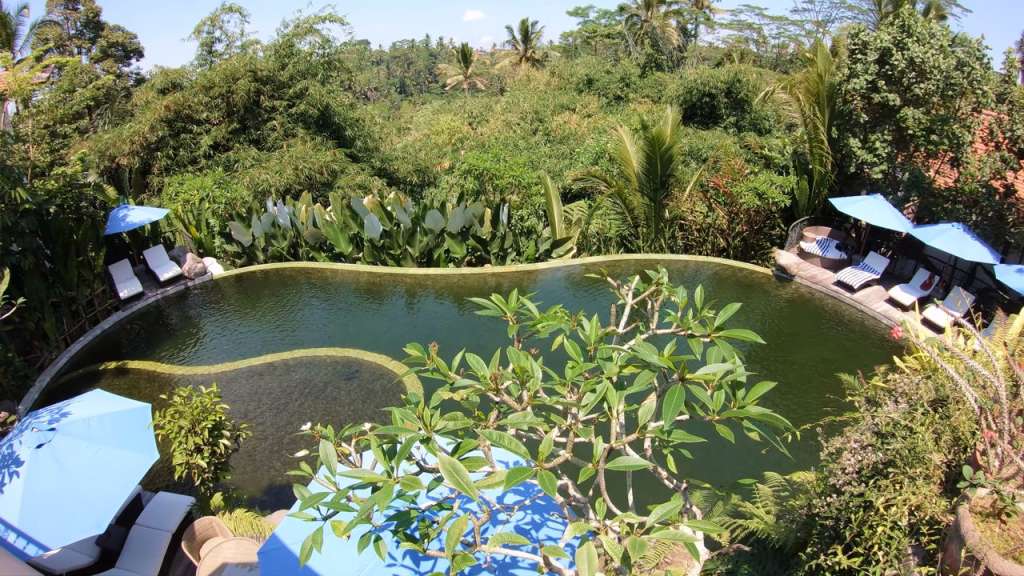 It's easy to feel like royalty upon arriving at this stunning locale. The lush gardens are filled with gorgeous flowers that evoke a feeling of tranquility, while nearby waterfalls provide peaceful backdrops throughout your stay. As you explore the area, there are many temples to visit and cultural experiences to be had. Visitors can enjoy traditional Balinese cuisine or relax by one of the two infinity pools overlooking the valleys below. For those seeking adventure, there are plenty of options such as hiking trails and river rafting excursions to take part in.
At night, visitors can retreat back into their private villas where they'll find luxurious amenities such as air conditioning and flat screen TVs. All rooms come equipped with balconies offering breathtaking views perfect for star gazing under clear skies. Guests also have access to complimentary WiFi so they can share photos and stories about their trip online with friends and family back home.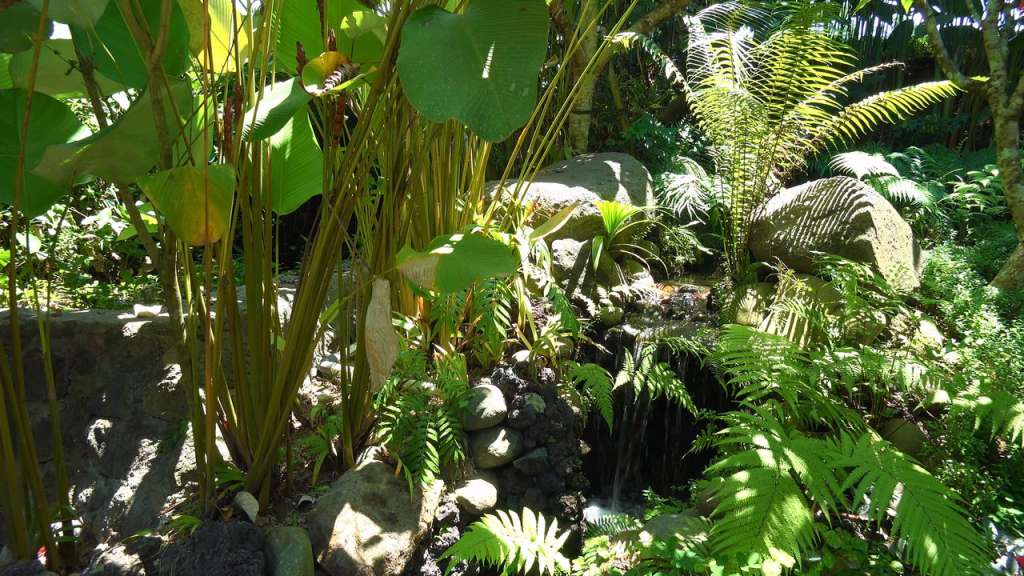 Relaxation comes naturally at Sebatu Sanctuary Eco-resort; not only does this destination offer beautiful natural surroundings but also comfort, luxury, and activities tailored just for you! From the moment you arrive until the time you leave, your journey will be one that stays with you forever – making it an ideal vacation spot for anyone looking for something special and unique in every way imaginable. With fond memories made here at Sebetu, travelers may soon find themselves planning another trip back before too long… Transcending borders and cultures alike, Giraffe Manor awaits in Kenya!
12. Giraffe Manor – Gogo Falls Road, Nairobi, Kenya
Giraffe Manor is one of the most unique hotels in the world. Located on Gogo Falls Road in Nairobi, Kenya, it offers a truly remarkable experience to visitors from around the globe. Here are five things that make this hotel so special: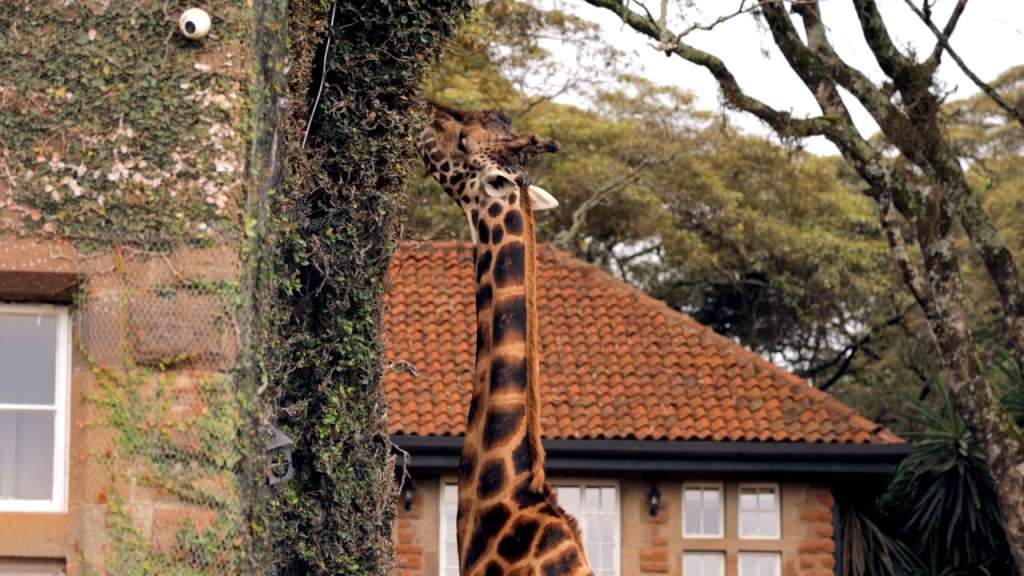 The Giraffes – Guests get an up-close and personal look at some of Africa's tallest mammals as they wander freely in the gardens of the manor, often peeking inside windows looking for treats!
The History – Originally built in 1932 by Sir David Duncan, Giraffe Manor has been restored with modern amenities while still maintaining its original charm and historical character.
The Location – The surrounding area is home to vibrant wildlife habitats teeming with exotic birds and other animals like warthogs and antelopes. It's also close to popular attractions such as the Karen Blixen Museum and Sheldrick Elephant Orphanage.
The Luxury Amenities – Whether you're staying in one of their luxurious suites or enjoying afternoon tea on the terrace, guests can expect nothing but comfort and relaxation during their stay here.
The Dining Experience – Enjoy delicious meals prepared with fresh ingredients from local markets paired with superb wines from all over Europe—all served alfresco under twinkling starlight skies!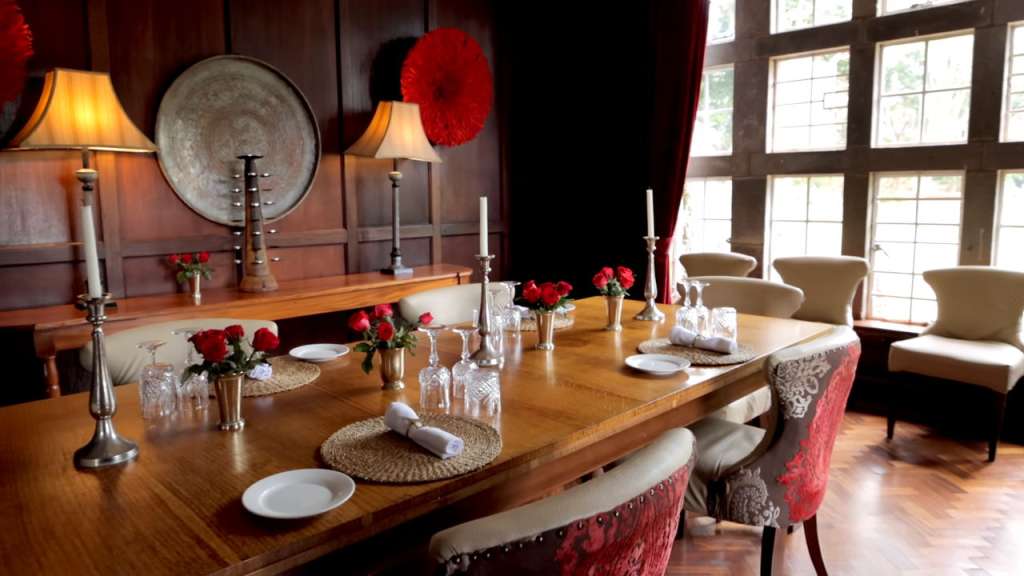 It's no wonder why Giraffe Manor is a favorite destination for travelers seeking out something different than your typical resort vacation experience; it will certainly give them memories that last a lifetime! From its stunning location to its amazing amenities, there's something here for everyone to enjoy—even if you don't spot any giraffes wandering around outside during your stay! With so much beauty and uniqueness packed into just one place, Giraffe Manor stands out among even some of the best luxury hotels around the world. Transitioning seamlessly into the next section about Kilkea Castle Hotel – , this castle hotel promises yet another unforgettable experience beneath Irish skies…
13. Kilkea Castle Hotel – Kilkea, Ireland
Kilkea Castle Hotel is a unique destination, and not just because of its grandeur. Located in Kilkea, Ireland, this 12th-century castle is filled with history and legend. From the moment guests enter through the ancient gates, they are transported to another world.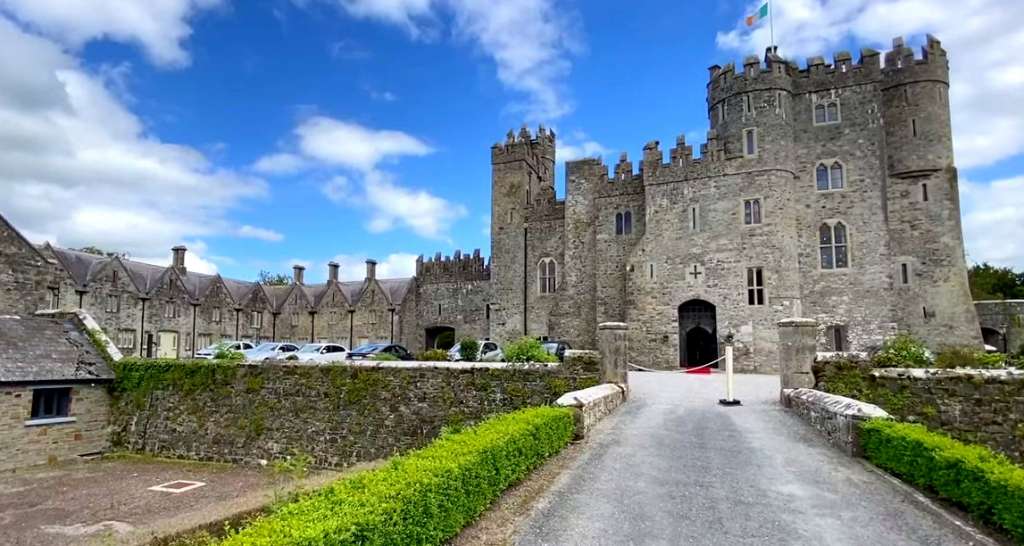 The hotel offers a variety of accommodations ranging from luxury suites to cozy bedrooms all situated throughout the castle grounds. Guests can spend their days exploring the sprawling gardens or taking part in outdoor activities such as clay pigeon shooting, fishing, falconry or archery lessons. Inside the walls lies an impressive range of amenities including two restaurants offering local Irish cuisine served amongst medieval tapestries and candlelight dinners for special occasions. The onsite spa provides extensive treatments within tranquil surroundings while leisurely walks around the estate's lake provide picturesque views along with plenty of opportunities for bird watching.
| Advantage | Disadvantage | Neutral |
| --- | --- | --- |
| Historical charm | Expensive | Variety of activities |
| Luxury suites | Remote location | Onsite spa |
| Local cuisine | | Bird watching |
What really sets Kilkea apart is its rich history and storytelling culture. It's said that ghosts haunt these halls, making it one of Ireland's most haunted castles!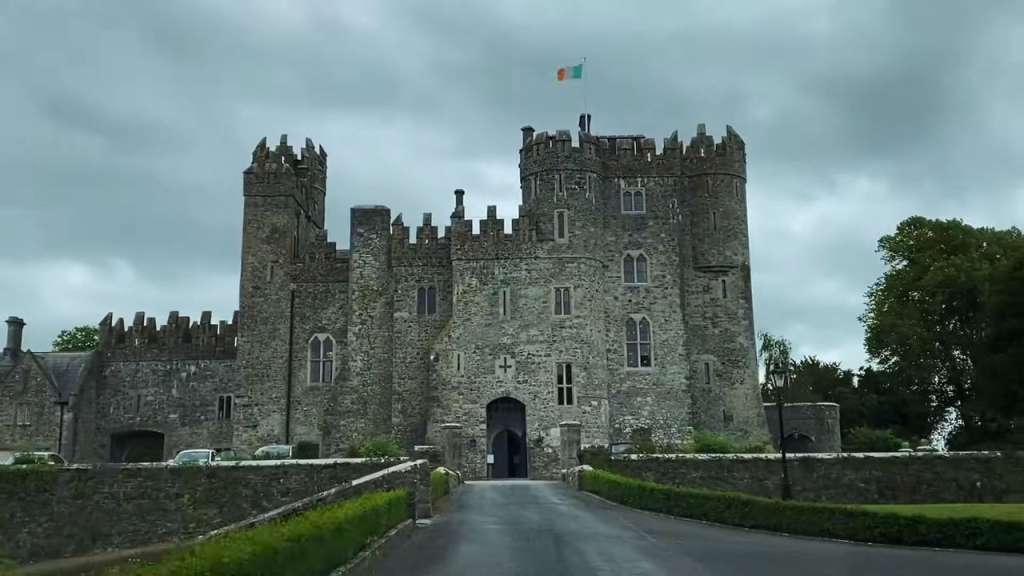 With its mysterious past and luxurious present combined together into one fairytale experience, Kilkea Castle Hotel offers visitors an unforgettable stay unlike any other place in the world. Now onto Fairmont Banff Springs Haunted Hotel – located at Banff Canada…
14. Fairmont Banff Springs Haunted Hotel – Banff, Canada
The Fairmont Banff Springs Haunted Hotel is a sight to behold. Located in the majestic Canadian Rockies, this luxurious hotel has been standing since 1888 and boasts stunning views of Mount Rundle and Bow Valley. It's easy to see why it's one of Canada's most iconic hotels – but what really sets it apart from other establishments are its supernatural secrets. From sightings of ghosts roaming the corridors, to tales of mysterious noises coming from empty rooms, this historic hotel truly has a spooky side.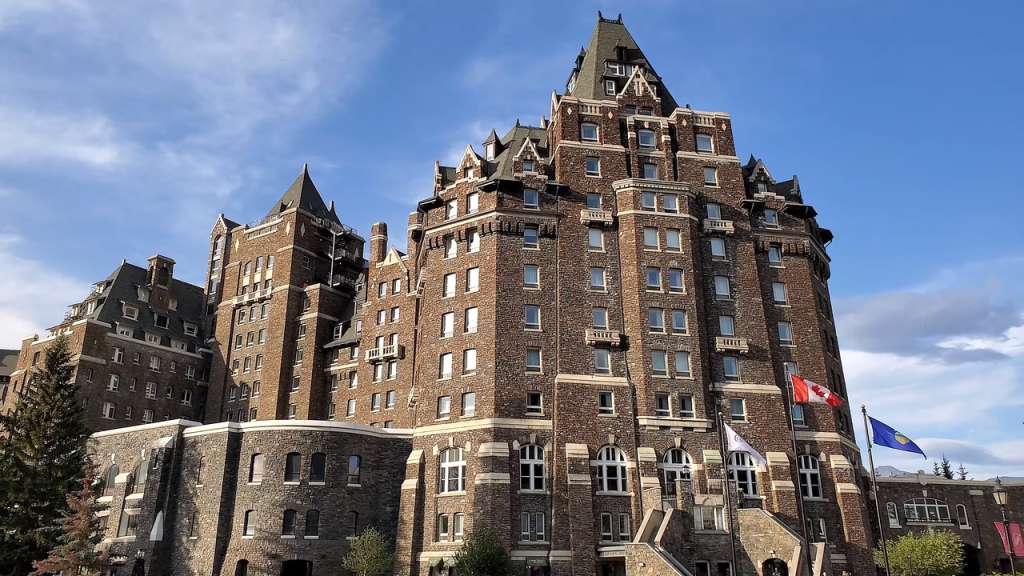 From stories about The Lady in Red who visits guests in their sleep, to reports of an old bellman lurking the halls at night – there are plenty of eerie legends associated with the Fairmont Banff Springs Hotel.
But if you're brave enough to check-in here, you'll be rewarded with some spectacular scenery and excellent service.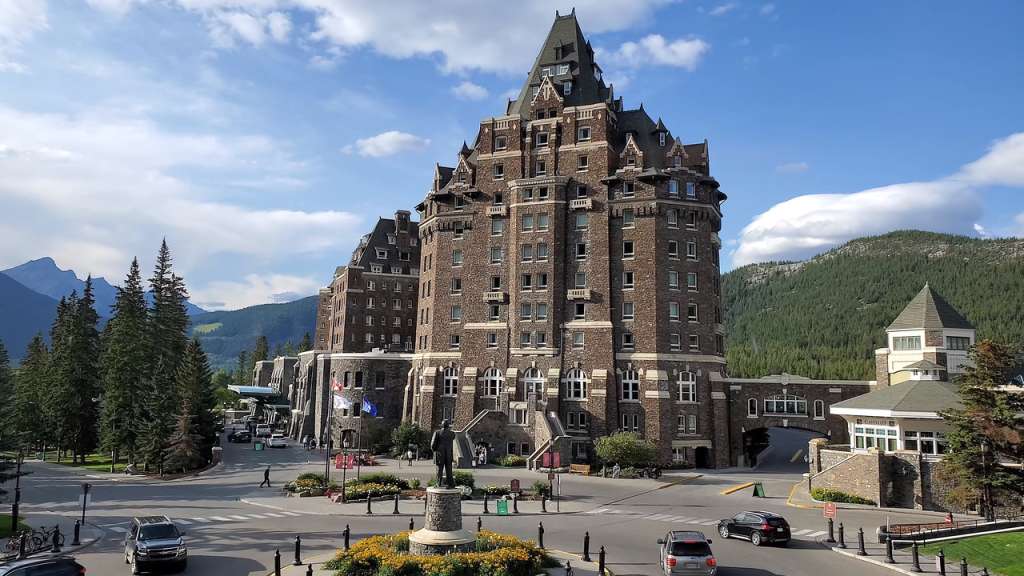 The interior design also stands out as something special; wood panelling adorns many walls while stained glass windows fill the lobby with light during the day. Plus, when darkness falls, you can relax by one of two fireplaces or take a dip in either indoor or outdoor pools if you fancy it! Whether travelling alone or with family and friends – there's no better place than Fairmont Banff Springs for rest and relaxation after a long day exploring Canada's rugged landscapes.
There's certainly no shortage of thrills at this unique destination – so don't miss your chance to explore all that Fairmount Banff Springs has to offer! With its distinctive atmosphere and charm coupled together with first-rate amenities and modern comforts, it makes for an unforgettable experience every time. Next stop: Intercontinental Shanghai Wonderland in China!
15. Intercontinental Shanghai Wonderland – Songjiang District, Songjiang, China
InterContinental Shanghai Wonderland is a unique hotel located in the Songjiang District of China. It stands out from other hotels around the world due to its spectacular construction that blends both nature and architecture together seamlessly.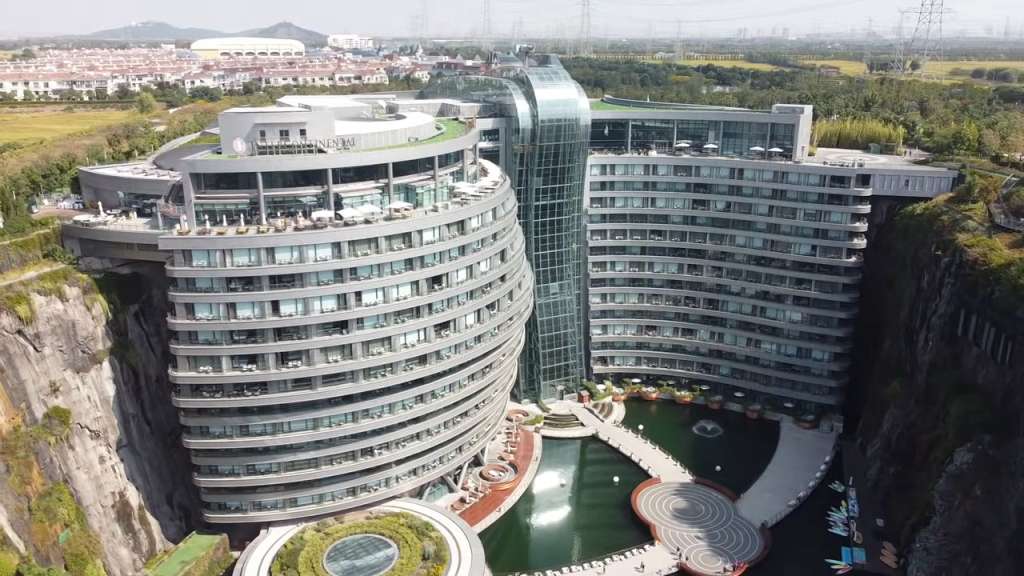 Indeed, it has been dubbed 'the world's first underground luxury resort'. It was built into the side of a quarry and features two parts – an 18-story structure above ground and another 16 stories below surface level.
The most remarkable feature of this hotel is its incredible water park, which sits at the base of the quarry on three levels: an indoor aquatic pool, a lake connected by cascading pools and fountains, and two outdoor swimming pools with terraced decks overlooking the lake. Guests can take advantage of these amazing facilities while also enjoying views of lush green surroundings and grandiose cliffs surrounding them. Not only does InterContinental Shanghai Wonderland offer stunning scenery but they are also very eco-friendly as well; they use solar energy to power their lights in some areas!
Inside the hotel itself, guests will find several luxurious amenities including multiple restaurants serving up delicious Chinese cuisine, state-of-the-art fitness centers complete with personal trainers who provide tailored workouts for each individual guest, spa services featuring traditional Chinese massage techniques amongst other treatments plus great shopping opportunities within their mall complex. The rooms themselves come fully equipped with all kinds of modern comforts such as flat screen TVs, high speed internet access and much more.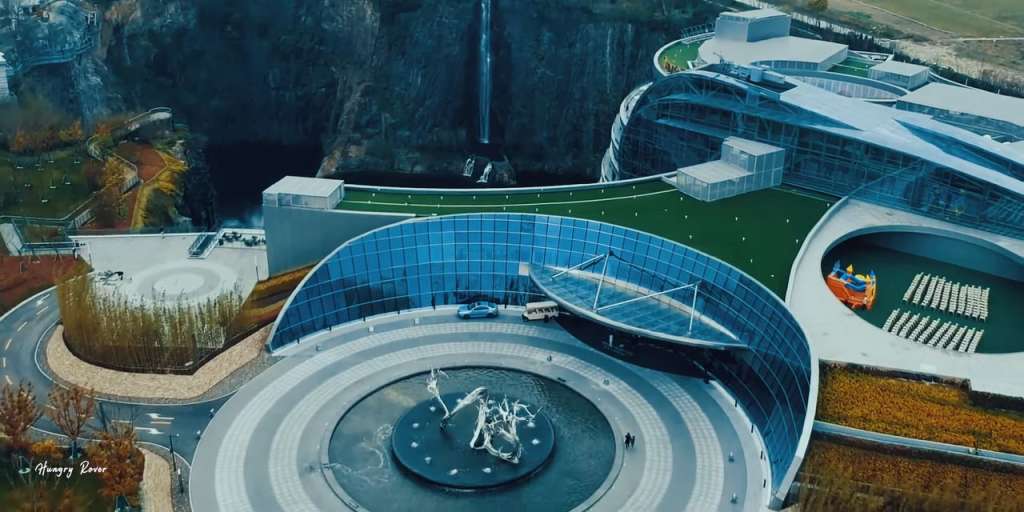 For those looking for something truly special during their stay at InterContinental Shanghai Wonderland there's one thing you cannot miss – taking a dip in the underwater glass tunnel aquarium filled with colorful fish! This experience alone makes this unique hotel worth visiting again and again.
16. Casa Delfina – Tuscany, Italy
Tuscany, Italy is home to the enchanting Casa Delfina. As soon as you arrive, it's like a dream come true – with its lush green gardens and breathtaking views of rolling hills that seem never-ending. Every corner is painted in picture perfect shades of ochre and terracotta, making it an ideal destination for anyone looking for some rest and relaxation.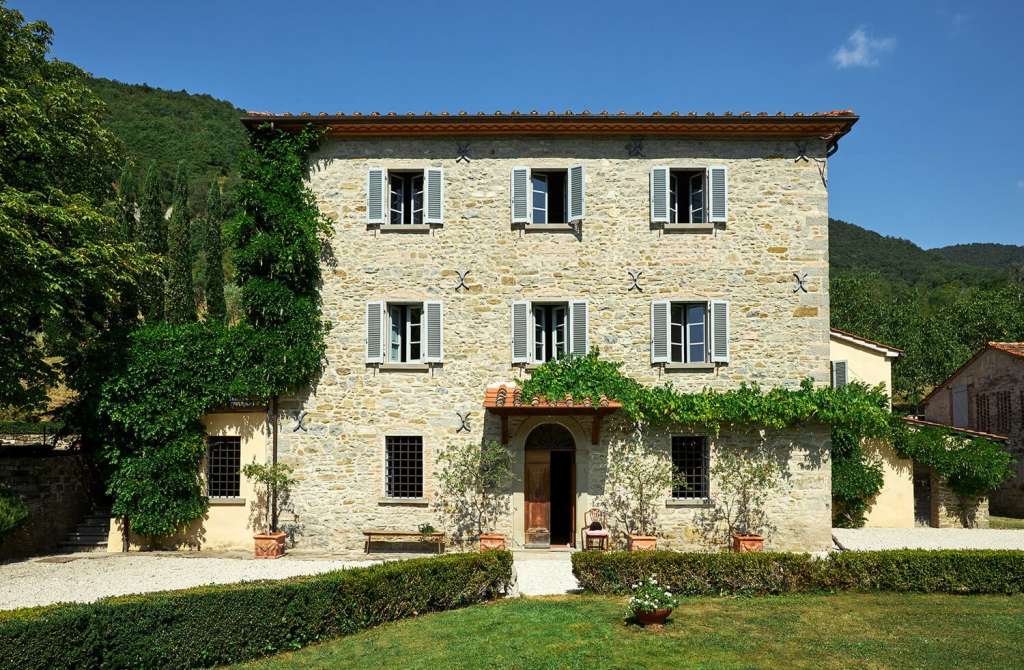 The hotel itself features all the amenities you'd expect from a five star establishment: beautiful rooms fitted with plush furnishings and décor inspired by traditional Tuscan style; excellent restaurants serving up delicious local cuisine; a luxurious spa offering treatments to help you unwind; and even bikes available for guests who want to explore the area. The staff are friendly and accommodating, ensuring your stay at Casa Delfina will be one to remember for years to come.
But what truly sets this place apart is their commitment to sustainability and conservation.
They have implemented numerous eco-friendly practices such as using energy efficient lighting and appliances, recycling waste water, and sourcing produce from local farms whenever possible.
This makes Casa Delfina not only unique but also incredibly responsible when it comes to protecting the environment.
Casa Delfina provides all the comforts of home while still giving you a chance to experience Italian culture firsthand – something no other hotel can offer! With its stunning scenery, warm hospitality, and dedication toward sustainability, there's no better place than Casa Delfina if you're looking for an unforgettable getaway surrounded by natural beauty. Wafting seamlessly into our next topic about 'The Oberoi Udaivilas', let us discover another part of the world where luxury awaits…
17. The Oberoi Udaivilas – Udaipur, India
The Oberoi Udaivilas is a luxurious, world-renowned hotel located in the city of Udaipur, India. It's situated on Lake Pichola with stunning views of majestic palaces and the Aravalli Mountains. The 30 acres of beautiful gardens are home to peacocks, parrots, and other exotic wildlife that add an air of enchantment to this already magical place.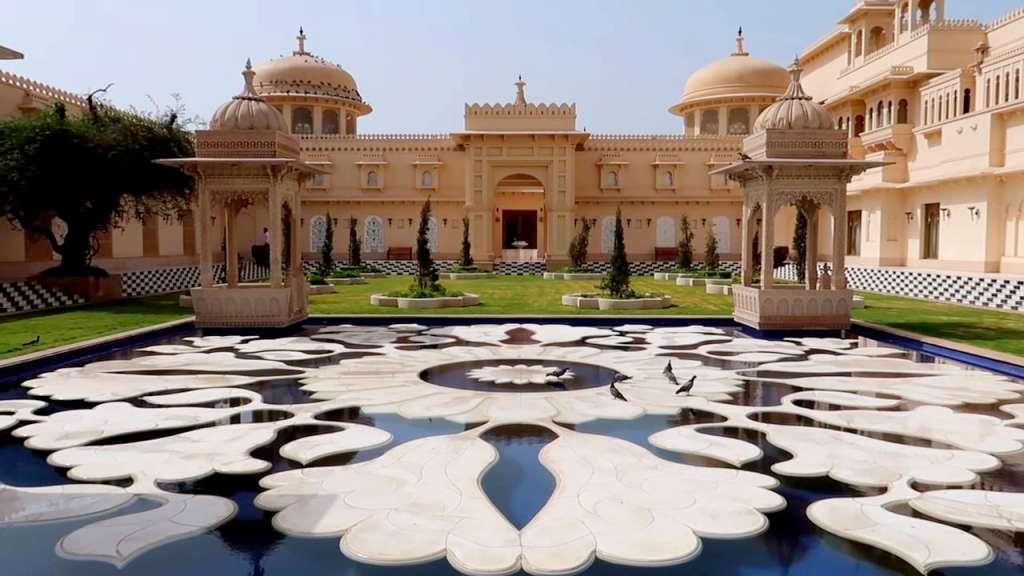 Guests can enjoy five-star amenities such as complimentary high speed Wi-Fi access, a private pool for each villa, 24 hour personal butler service, and fine dining options from the acclaimed restaurant serving traditional Indian cuisine. Luxurious spa treatments offer guests a chance to relax and rejuvenate while taking advantage of numerous health benefits like stress relief. All suites have their own terrace overlooking either the lake or garden where they can take in all the beauty around them.
The Oberoi Udaivilas also offers many activities to keep visitors entertained during their stay including boat rides on Lake Pichola, yoga classes by experienced instructors, sunset cruises aboard luxury boats, cooking demonstrations at local markets and villages, and much more. There's something for everyone here!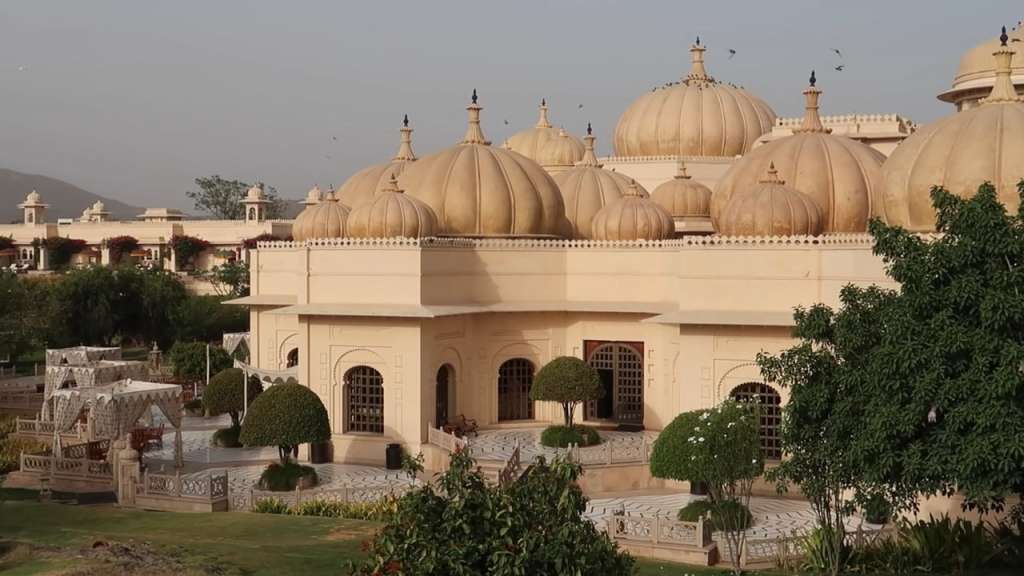 No stay would be complete without experiencing one of the unique cultural performances put on by local performers which truly bring alive the vibrant culture of Rajasthan. Whether you're looking for a romantic getaway or just some time away from your daily life; The Oberoi Udaivilas is sure to exceed expectations. With its unparalleled hospitality and attention to detail it will easily remain etched in memory long after leaving this paradise.
18. Skylodge Adventure Suites – Ollantaytambo, Peru
Skylodge Adventure Suites, located in the Sacred Valley of Ollantaytambo Peru, is an experience like no other. It's a unique and exciting way to get up close and personal with nature while still enjoying all the modern comforts you'd expect from a luxury hotel. Skylodge offers three glass capsules that are suspended 400 ft off the ground on top of a cliff face. Each capsule has four beds, so it's perfect for groups or families who want to enjoy some quality time together in the great outdoors.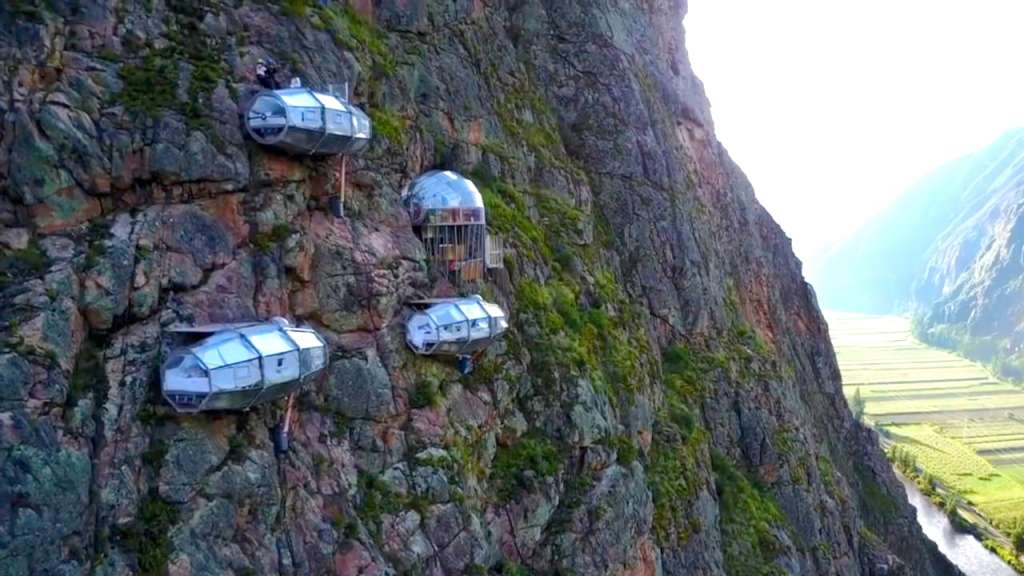 The views from the capsules are absolutely breathtaking—you can see snow-capped peaks, lush green valleys and clear blue skies as far as the eye can see. The suites also come equipped with air conditioning, solar powered lighting and a private bathroom so you don't have to sacrifice comfort for adventure. If you're looking for something truly one-of-a-kind, then Skylodge Adventure Suites is definitely worth checking out!
The journey to your suite starts at Ollantaytambo train station where guests take a short cable car ride up to their destination. From there they climb metal stairs cut into the side of mountain until they reach their lofty perch above the valley floor. After settling into their new home in the sky, guests can relax inside or venture out onto one of several terraces for bird watching or stargazing, depending on what time of day it is. There's even an optional zip line tour that takes riders along cliffsides high above treetops giving them thrilling aerial views of this beautiful region before depositing them safely back at base camp near the train station below.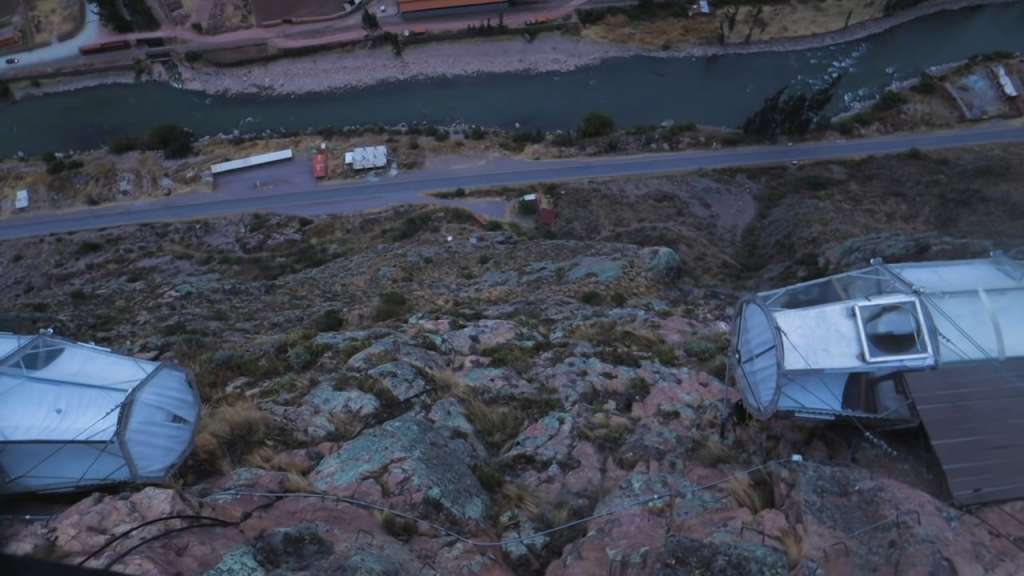 At nightfall guests retreat inside their cozy nests as twinkling stars light up the sky around them – it's an unforgettable sight! In addition to amazing scenery there's plenty more fun activities to keep everyone entertained throughout their stay including hiking trails nearby, horseback riding tours through local villages and hot springs baths complete with stunning vistas overlooking surrounding mountainside villages below.
For those wanting more than just incredible views Skylodge Adventures Suites offer visitors an unparalleled chance to explore this remote part of Peru while getting lost in its pristine beauty – which makes it well worth taking advantage of if given the opportunity! With such convenience coupled with seemingly endless outdoor activities this unique lodging option promises travelers everything they could hope for during their travels abroad making it sure to be remembered long after returning home. Time spent here will guarantee lasting memories that won't soon be forgotten; especially since each visit comes paired with awe inspiring sights and sounds unlike any other place on earth! To kick off your next epic excursion why not begin by heading over to Namiri Plains,Tanzania?
19. Namiri Plains Camp – Serengeti National Park, Tanzania
Namiri Plains Camp is a unique and exotic location, located in the Serengeti National Park of Tanzania. Its natural beauty is unparalleled; the grassy plains sprawl out as far as the eye can see, while towering acacia trees stand tall against an African sky. Symbolically, Namiri Plains Camp represents both freedom and serenity – two things that all travelers seek when visiting this breathtaking destination.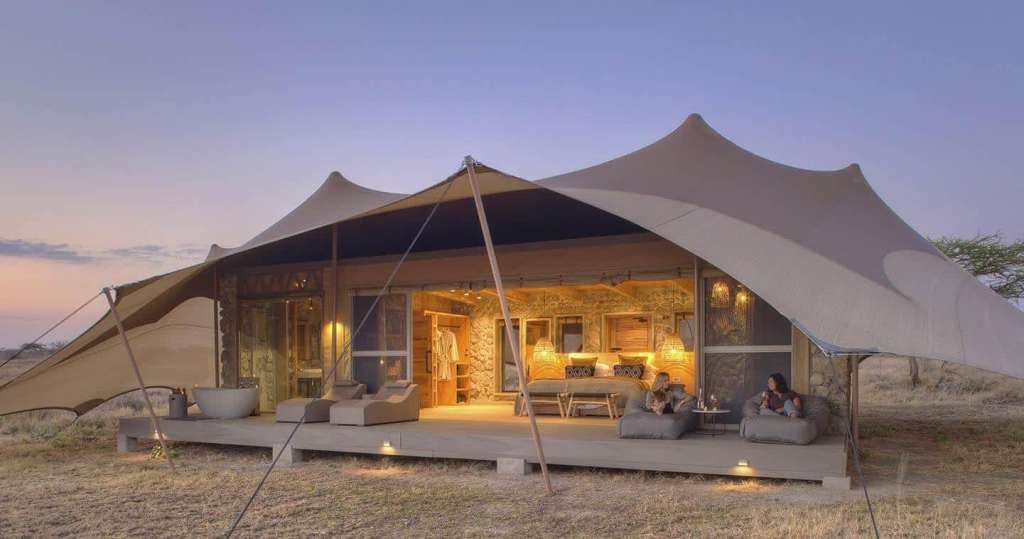 The camp itself offers guests luxurious accommodation with amenities like air-conditioning and private bathrooms to ensure everyone's comfort. Every morning begins with a spectacular sunrise over the savannah and ends with a night filled with stars twinkling above you. This special setting makes it easy to forget your worries and just enjoy nature at its finest.
Activities such as game drives offer visitors an opportunity to observe some of Africa's most famous wildlife up close, including wildebeests, elephants, giraffes, lions, hyenas, zebras and more! There are also guided walking safaris available for those who prefer exploring on foot or simply want a closer look at everything around them.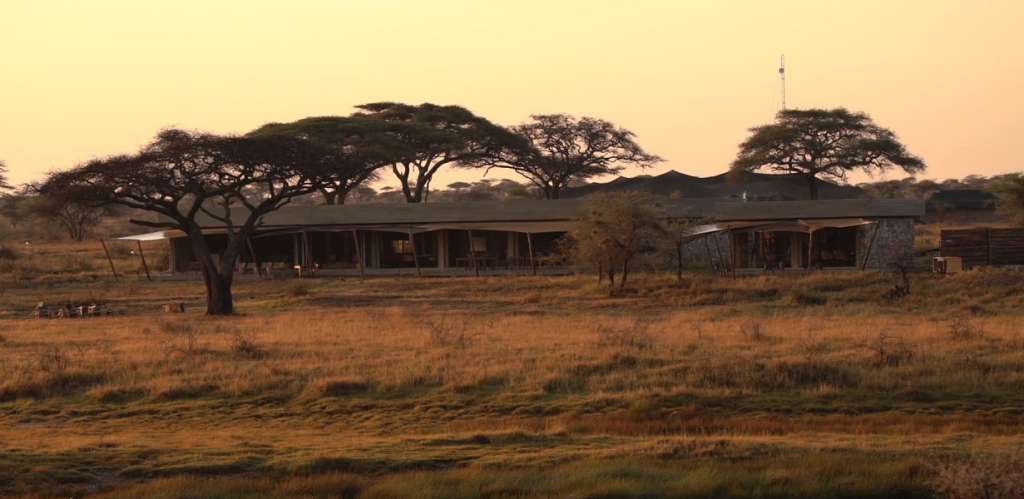 Although it may be difficult to tear yourself away from this magnificent place after experiencing all it has to offer, there will always be something new waiting for you back home – but in your heart you'll never forget how beautiful Namiri Plains Camp really was.
20. Cozy Glamping – Banks, Oregon, USA
Head to the bucolic town of Banks, Oregon for a unique stay at Cozy Glamping. This outdoor lodging offers modern amenities amidst breathtaking nature. Guests can choose from four yurts and one tipi, all outfitted with comfortable beds, rugs, heaters, and fire pits. Each private glamping site has its own picnic table and barbecue grill as well.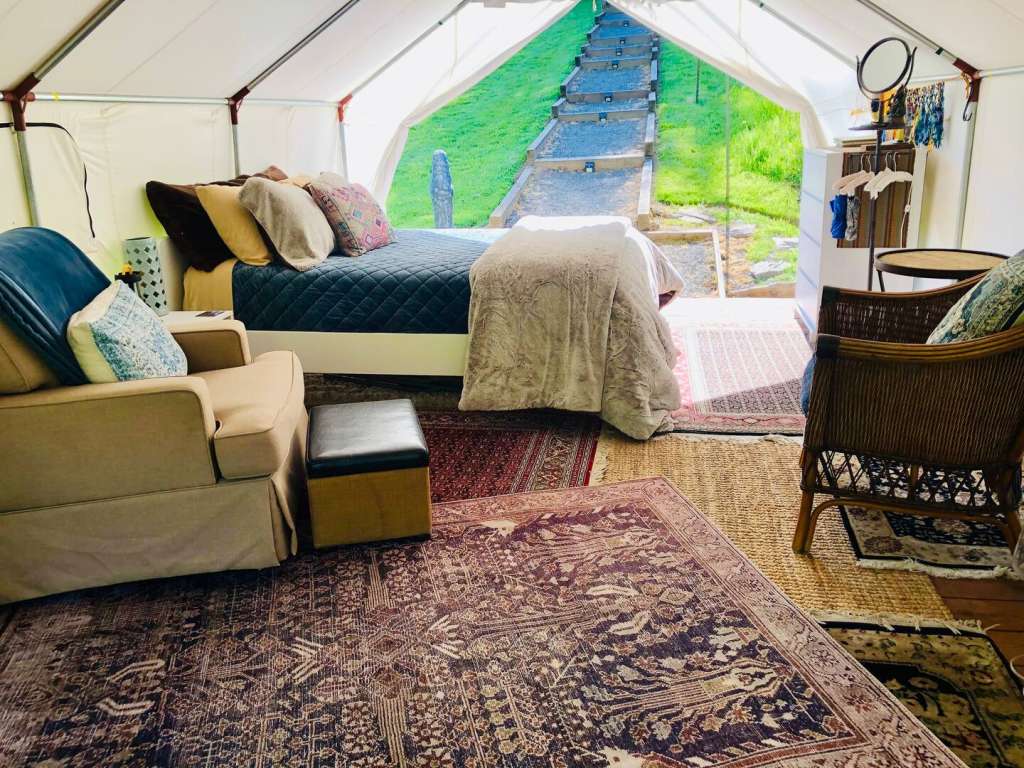 The lush forest surrounding each site is carefully preserved by the knowledgeable staff. Nature trails are onsite so guests can explore the area while spotting wildlife like deer, wild turkeys, or even an occasional elk. For those seeking more active pursuits, fishing in nearby Beaver Creek or mountain biking along steep trails will do just the trick.
For a special treat after a long day of sightseeing, book a massage therapy session right onsite! The experienced masseuse uses natural oils to provide relaxation that won't soon be forgotten. Afterward, take advantage of the hot tub available for rent – perfect for unwinding under the stars before bedtime.
If you're looking for an unforgettable getaway without sacrificing creature comforts, look no further than this cozy glamping spot in Banks, Oregon. From stunning views to tranquil moments spent outdoors – it's truly something special here. Get ready to experience a new way of vacationing that'll make you never want to leave! With miles of rolling hills and endless activities readily available Cozy Glamping provides a memorable escape into nature's beauty; seamlessly blending comfort with adventure…on to Hotel Villa Honegg in Switzerland
21. Hotel Villa Honegg – Ennetbürgen, Switzerland
For travelers looking for unique experiences, look no further than Hotel Villa Honegg at Lake Lucerne in the Swiss Alps. This luxurious 5-star hotel offers all the amenities one could wish for and a breathtaking view of Mt. Pilatus. From its hilltop perch, you can admire stunning vistas of snow-capped peaks or take part in various activities that this region has to offer.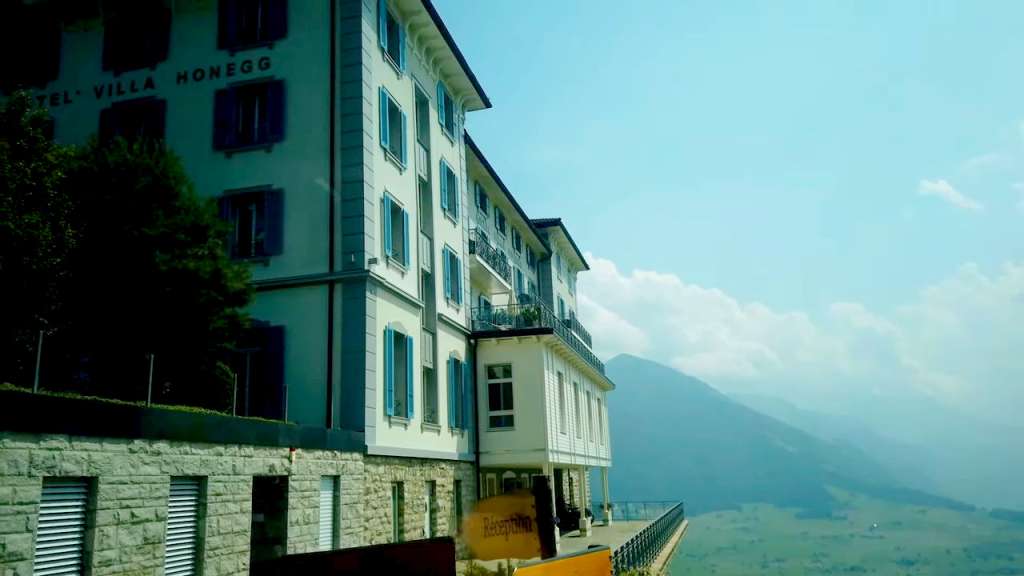 The modern architecture is both inviting and functional with rooms featuring hot tubs as well as balconies overlooking majestic mountain scapes. The spacious suites also feature heated floors, flat screen TVs, plush furnishings, and beautiful lake views. With an onsite restaurant serving regional specialties such as Raclette cheese fondue and Rosti potatoes, guests will be sure to have an unforgettable dining experience. Additionally, there are two bars – one located indoors and another outside near the terrace – so after dinner drinks are always within reach!
Relaxation doesn't get any better than taking a dip in the outdoor pool while admiring the picturesque scenery around you or indulging in a massage treatment at the spa before retiring for the night in your cozy room. For those who love adventure, paragliding over Lake Luzern is an exciting way to enjoy nature from above or skiing down some of Switzerland's finest slopes during winter months makes it feel like you're flying through heaven on earth.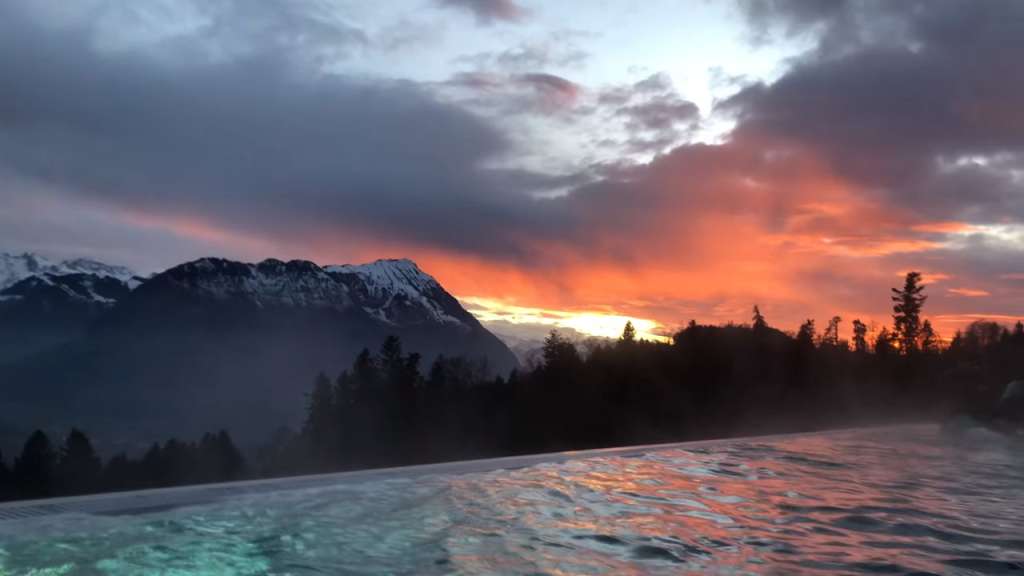 No matter what time of year you visit, Hotel Villa Honegg provides an exceptional stay with plenty of opportunities to explore Europe's most spectacular alpine landscape leaving visitors feeling awe-inspired by their travels. And when ready to move onto your next destination, that same feeling awaits at Fuselage Home in Manuel Antonio Costa Rica where guests can expect nothing short of extraordinary hospitality nestled amongst lush tropical forests!
22. 727 Fuselage Home – Manuel Antonio, Costa Rica
If you're looking for an unforgettable stay in Costa Rica, look no further than Fuselage Home. Located on a secluded hillside overlooking the Manuel Antonio National Park, it's one of the most unique hotels in the world. From its modern design to its breathtaking views, this hotel offers something truly special.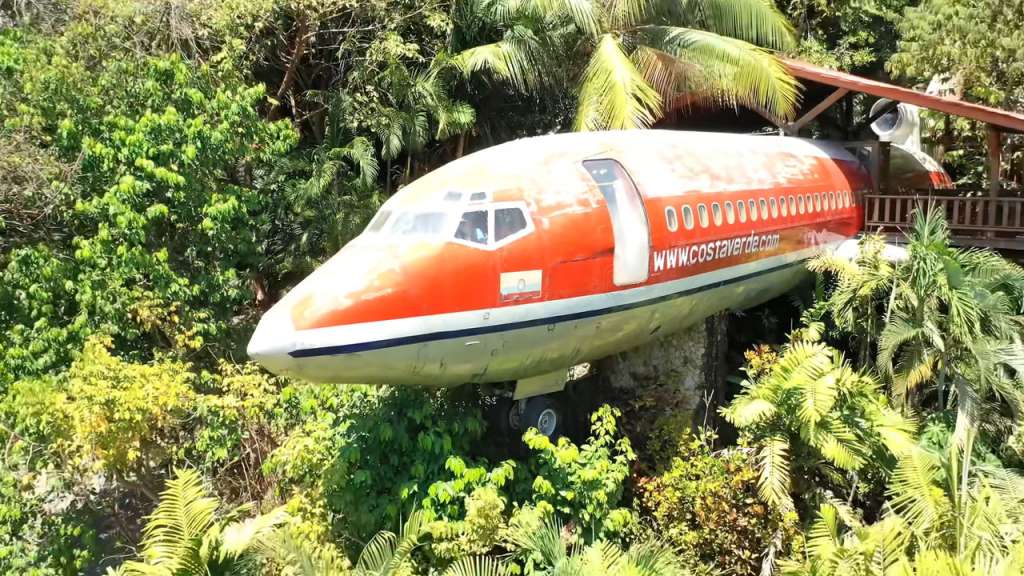 The hotel is made up of several fuselages – or large metal tubes – that have been repurposed from retired Boeing 747s and 727s. Inside each fuselage are two bedrooms, as well as an outdoor terrace with spectacular views of the nearby rainforest and ocean. The rooms offer all the amenities you'd expect from a luxury hotel while still maintaining their original industrial charm.
Fuselage Home also has plenty of activities to keep guests entertained during their stay. There's a pool area where visitors can relax and take in the stunning scenery, as well as guided tours of Manuel Antonio National Park which offers some of the best wildlife viewing opportunities in Central America. Other activities include yoga classes and nature hikes through vibrant jungle trails.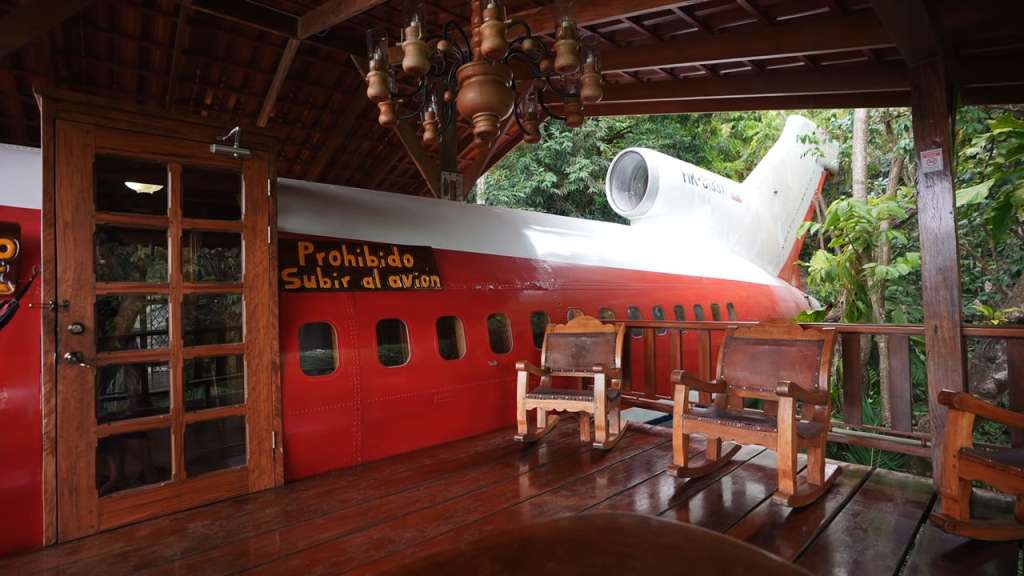 No visit to Fuselage Home would be complete without trying out some of the local cuisine at one of its two restaurants; La Boca Loca serves delicious seafood dishes while Vista Mar specializes in traditional Latin American fare with a modern twist. Whether you're looking for adventure or relaxation, Fuselage Home is sure to provide an amazing experience that will stay with you long after your travels come to end.
Choose a Place to Stay
Visiting a unique hotel is like taking a journey of the senses. From Winvian Farm's outdoor activities to Kakslauttanen Arctic Resort East Village's special accommodations, travelers can explore and experience new horizons with each stay. North Island Resort offers guests luxurious rooms while Haima in Dakhla Spirit Camp provides an exquisite desert oasis. To top it off, Finn Lough Resort boasts specially crafted packages for all types of visitors.
The beauty and wonder of these one-of-a-kind hotels offer unforgettable experiences that will leave you wanting more. Whether your ideal vacation involves exploring nature or simply relaxing in luxury, there are plenty of remarkable places around the world for you to choose from. A night spent at any of these resorts is sure to be full of adventure and discovery – just don't forget your camera!
These unique hotels provide an escape from reality as if stepping into another world. With every visit, expect something different and extraordinary that will make lasting memories for years to come. So why not take a chance on a once-in-a-lifetime getaway? You won't regret it!