Are you ready to go into the heart of Italy's cuisine? So saddle in and get ready to sample some of the most delicious foods and gorgeous locations that nation has to offer. In this article, we're going to take a closer look at five must-visit places in Rome that will tantalize your taste buds and leave you with memories to last a lifetime. Whether you're a fan of pasta, pizza, gelato, or all of the above, these five Italian eateries are sure to provide you with a truly unforgettable experience.
1. Alfredo alla Scrofa – Fettuccone Alfredo
If you're looking for a culinary journey that will take your taste buds on a wild ride, then Alfredo alla Scrofa is the place to be. This historic Roman restaurant has been dishing out platefuls of deliciousness since the early 1900s, and they've been perfecting their art ever since.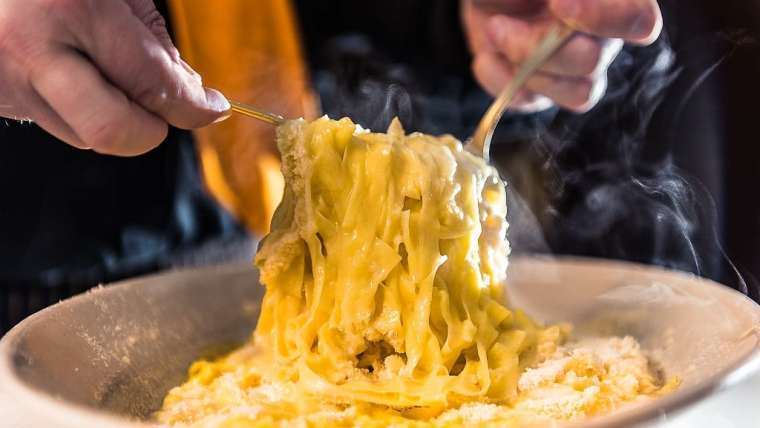 Here is where you'll have the chance to try the legendary "Fettuccine Alfredo."
This dish is like a symphony for your taste buds, with its rich, buttery sauce smothered over silky strands of pasta, and then sprinkled with a generous sprinkle of parmesan cheese. This flavor explosion will have your taste buds doing cartwheels and your belly singing with joy!
And for those of you who want to go for the gold, the "Fettuccone Alfredo" is the ultimate pasta experience, and trust us, you won't regret it.
Get ready to twirl your fork and savor every bite! Buon appetito!
2. Pizzeria Da Baffetto – Roman-style pizza
Attention, all pizza lovers! Are you ready to take your taste buds on a wild, cheesy ride? If you answered yes (and let's face it, who wouldn't?), then you need to head over to Pizzeria Da Baffetto in Italy. This bustling pizzeria is the place to be if you're looking for hot, sizzling, and absolutely delectable pizzas that'll have you smacking your lips in satisfaction.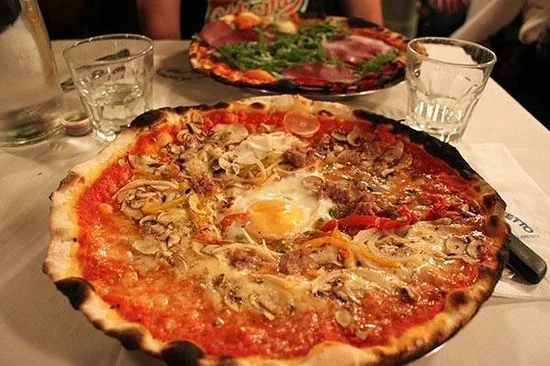 And trust us, the fun doesn't stop there. You'll also have a blast watching the pizzamakers perform their magic tricks with the dough, spinning it in the air like a scene straight out of a foodie circus. It's an experience that's as entertaining as it is delicious.
But enough about the show, let's talk about the real star of the menu – the pizza.
At Da Baffetto, they serve up some of the best Roman-style pizzas you'll ever taste. With crispy crusts and fresh, flavorful toppings, every bite will be a flavor explosion in your mouth.
Grab a group of friends, grab a slice (or two), and prepare to be transported to pizza heaven. Pizzeria Da Baffetto, we bow down to your greatness.
3. Felice a Testaccio – Cacio e pepe
Now, we're taking a trip to Felice a Testaccio, a cozy trattoria. We will be savoring traditional Italian meals inspired by the city's illustrious culinary legacy here. This isn't just any regular Italian restaurant; with each meal, history and flavor converge here.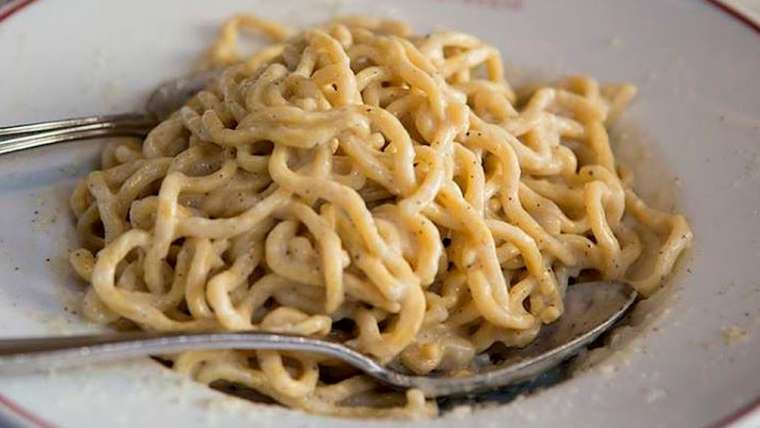 First up on our menu is the mouth-watering "Coda alla Vaccinara", a slow-cooked oxtail stew that's so flavorful, you'll be licking your lips for days. Trust me, this is not your grandma's stew. Each bite is packed with tender, juicy meat and a rich, savory sauce that will have you swooning.
And don't forget about the "Saltimbocca alla Romana", a dish made with thin slices of veal, prosciutto, and sage. This dish is a symphony of flavors that will have you singing with joy. It's the perfect balance of salty, savory, and just a hint of herbs to give it that extra pizzazz.
But wait, there's more! Are you a fan of pasta?
Then you won't want to miss the "Cacio e Pepe". This classic Roman dish is the epitome of simplicity and flavor. It's made with just three ingredients: spaghetti, pecorino romano cheese, and black pepper. And let me tell you, the end result is nothing short of magic.
These dishes are so delicious, you may be tempted to skip dessert. But don't do it! Save room for a sweet treat, because you don't want to miss out on the best part of the meal. So head to Felice a Testaccio restaurant for some seriously delicious Italian cuisine!
4. Piccolo Buco – Neapolitan pizza
We're taking a trip to the heart of Italy to feast on one of the most beloved foods in the world – PIZZA! And we're not just talking any old pizza, we're talking Neapolitan pizza, the creme de la creme of all pizzas. And the best part? We're taking you to the best place in Rome to get your hands on this cheesy, saucy, doughy delight – Piccolo Buco.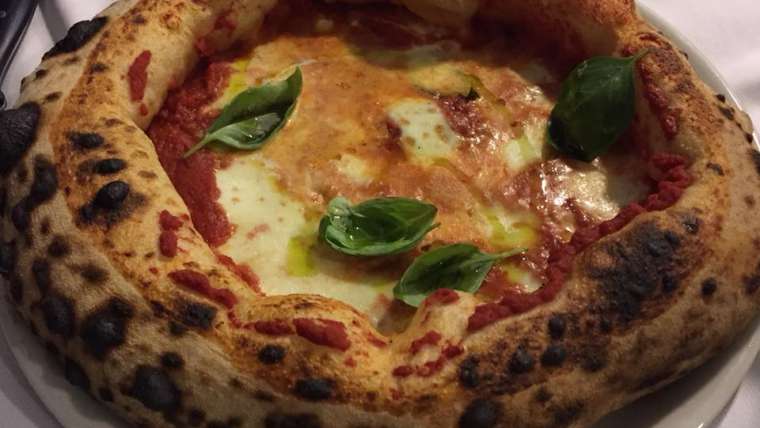 Imagine walking into a charming eatery that's bursting with the aroma of fresh, wood-fired pizzas. The ambiance is cozy and intimate, perfect for a romantic dinner or a special celebration with loved ones. The menu changes seasonally, ensuring that you always have access to the freshest and most inventive dishes possible. And of course, the pièce de résistance is their Neapolitan pizza – a masterpiece of a dish that's as beautiful as it is delicious.
The dough is soft and chewy, the sauce is made from juicy San Marzano tomatoes, and the cheese is a combination of mozzarella and parmesan. The toppings are carefully selected to create a harmonious balance of flavors, from the classic Margherita to the adventurous Funghi e Salsiccia.
Every bite is like a symphony of flavors that'll have your taste buds dancing in euphoria.
But wait, there's more! Piccolo Buco isn't just a pizzeria, it's also a one-stop-shop for all your food cravings. Whether you're in the mood for a hearty bowl of pasta, a delicate piece of fish, or a juicy steak, they've got you covered. The menu is bursting with dishes that are as beautiful as they are delicious, making it hard to choose just one.
5. Giolitti – For gelato
Get ready to scream 'Gelato, oh gelato!' because we're headed to Giolitti, the oldest and coolest gelateria in Rome that's been serving up sweet and creamy dreams for over 100 years! That's right folks, this place has been a local favorite for a solid century and counting, and we're here to tell you why.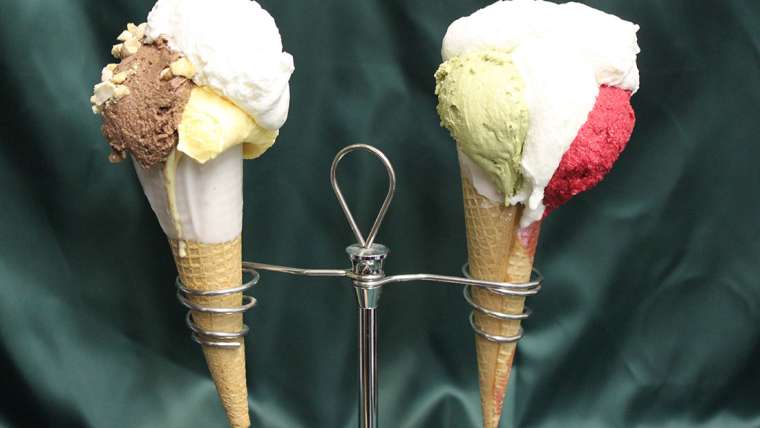 First things first, Giolitti is a flavor wonderland, where you'll find gelato in every hue and taste under the sun. From classic and comforting vanilla to daring and delightful creations like "crema di Giolitti," a creamy custard flavor that will leave you in a state of pure bliss. And the flavor combinations are so good, you'll be hard-pressed to choose just one.
Giolitti also offers three ways to enjoy their gelato: in a cone, in a cup, or sandwiched between two warm, fluffy wafers. Can you even imagine the goodness? It's like a gelato sandwich! The perfect dessert trifecta, if you will.
So, if you're looking for a sweet and savory adventure in the heart of Rome, look no further than Giolitti. This historic gelateria will tantalize your taste buds and leave you smiling from ear to ear.
So, there you have it, foodie friends. Whether you're a fan of pasta, pizza, gelato, or all of the above, these five Italian destinations are sure to satisfy your cravings and leave you with memories to last a lifetime. Happy eating!"