History of the "KI"
Kangaroo Island is rich in history. In 1802, British explorer, Matthew Flinders landed near Kangaroo Head on Dudley Peninsula. French explorer, Nicolas Baudin, followed soon after him and mapped most of the island.
Kangaroo Island became Australia's first free settlement with sealers, escaped convicts and runaway sailors calling the island home. In July 1836, the barque Duke of York anchored on the island and began the first formal settlement in South Australia.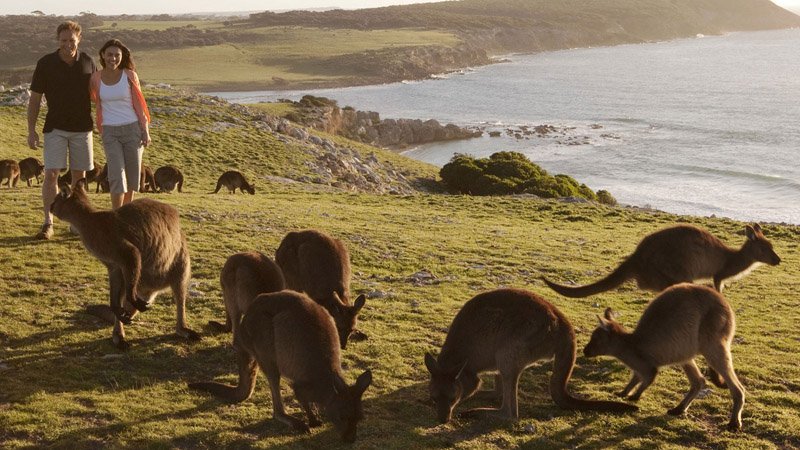 At its peak, some 300 people lived on the island and 42 dwellings and other buildings were constructed. While the formal settlement lasted just four years, some persistent individuals stayed on and formed the basis of a community that still prides itself on a strong sense of independence.
Today, life on Kangaroo Island is a lot easier but still boasts unspoilt white beaches, gourmet food and wines and a real holiday spirit.
Visit Kangaroo Island. You'll see why it's a tourism icon.
The Southern Ocean
Wildlife surrounds Kangaroo Island. The ocean is teeming with fish, sea lions and little penguin colonies. Stand on the shore in the cooler months and watch migrating southern right whales and their calves.
This place is like a zoo without fences, with rare bird life, tammar wallabies, short-beaked echidnas and plenty of kangaroos and koalas.
Accommodation options
There are loads of accommodation options, from simple lodgings to breathtaking luxury.
Try a permanent tent fitted out with modern conveniences; wilderness lodges or historic lighthouse keepers' cottages.
At the spectacular eco-resort Southern Ocean Lodge, be pampered with a day spa and beauty treatments, then go straight to the dining table for exquisitely prepared regional produce.
Beachside self-contained is a popular style of accommodation on the island and is perfect for families and couples.
Sleep in a swag under the stars. You'll have no trouble finding a beautiful place to camp. The clarity of the night sky on Kangaroo Island is something you'll never forget.
See the stunning scenery
Boasting wildlife, wildlife and more wildlife, the best way to truly appreciate Kangaroo Island's animal residents is on a tour. In addition, you'll see a spectacular and diverse coastline including the tallest coastal cliffs in South Australia and gorgeous hidden coves.
You can take it at your own pace by car or four wheel drive (4WD), with a self-guided audio tour.
Join a coach journey, boat trip or fishing charter for something different